All activities should be supervised by an adult. As an Amazon Associate, I earn from qualifying purchases. This post may contain affiliate links.
Handprint crafts are incredibly popular with children. We've had a blast creating various handprint arts and crafts, and now we're excited to share a spooky Halloween-themed one with you – the Spooky Handprint Witch Craft!
This craft can serve as a fantastic Halloween decoration or a personalized greeting card for your loved ones, featuring your child's handprints.
Download the free witch template that you can use to create this craft. It's easy and fun!
We also have a multitude of other creative Halloween craft ideas for you to explore, so be sure to check them all out.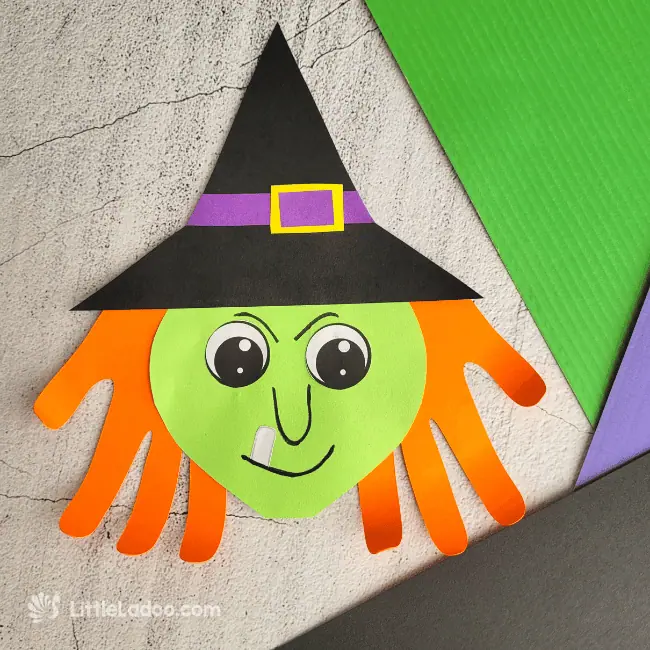 Materials you'll need for this Witch craft
And, of course, your child's handprints!
Watch a Video on how to make the Handprint witch
Related: Handprint Haunted House
Directions to create the Witch Handprint Craft
Download the template from the end of this post and print it out. Use the template to cut out the pieces from the coloured papers.
Cut the witch's hat and parts from purple, yellow and black paper. Cut the witch's face from the green paper.
Take an orange paper and trace your child's hands. Cut out two handprints. These will become the witch's hair.
Once all the pieces are ready, start assembling the handprint witch as follows. First, assemble all four hat parts and trim any excess purple paper.
Attach the two handprint pieces to the back of the green face.
Place the hat over the face and glue it in place. Stick the eyes. You can add additional facial details like eyebrows, nose, and mouth.
Here are some tips to get creative! You can make a smile or even a spooky mouth. We even added a tooth for an extra touch. For added flair, curl the witch's hair with a pencil.
You can also use the same template to make a cute witch card craft. Simply fold your green construction paper in half and trace the face template along the edge so that it opens like a card.
Now you can download the template from the end of this post and get started right away.
You can also pin the step-by-step instructions image to your Pinterest board for later reference
Best Witch Book for Kids
These books are our Favourite Witch books perfect for Halloween.
1. Room on the Broom by Julia Donaldson
– Join a friendly witch and her animal companions as they embark on an enchanting adventure. Will there be room on the broom for everyone?
2. Winny and Wilbur Series by Valerie Thomas and Korky Paul
– Delight in the magical escapades of Winny the Witch and her trusty black cat, Wilbur, in a charming series of picture books. There are more than 20 books in the series.
3. How to Catch a Witch by Adam Wallace
– In this whimsical tale, follow a group of kids as they devise clever plans to catch a mischievous witch, written by Adam Wallace.
More handprint Crafts for kids
For more handprint crafts for kids, explore our wide selection at Little Ladoo:
More Halloween crafts for kids
Download the Free Witch Template
Download the free printable Handprint Witch Template to get started on this fun and spooky craft!