All activities should be supervised by an adult. As an Amazon Associate, I earn from qualifying purchases. This post may contain affiliate links.
Thanksgiving is coming up, and that means it's time to start thinking about Holiday Crafts! This Turkey handprint craft is a great one for kids of all ages. The free template makes the project super easy, and the finished product is sure to be a Thanksgiving hit!
I have shared directions, Video tutorials, and a free printable template to make your own Turkey Handprint craft in this blog.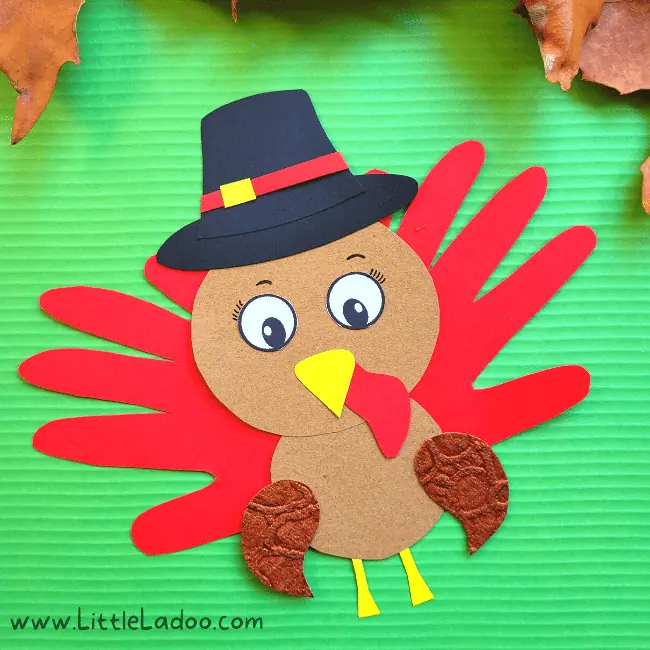 This post contains affiliate links. As an Amazon Associate, I earn from qualifying purchases.
Turkey Handprint Craft
Handprint Holiday crafts are always popular among children. Because it is fun to make and a beautiful way to create a keepsake craft. Read on to learn how to make a Turkey handprint craft with your kids' Handprints.
Things you will need
Template (Download at the end of the post)
Googly Eyes (Optional)
Scissors
Watch the Video
This video shows how to make a Thanksgiving Turkey Craft with Handprints. It also has a few Snippets of my 4-year-old daughter making her Handprint Turkey.
Directions to make the Handprint Turkey Craft
Download the free printable at the end of the post and print the page you need. Cut all the pieces out. These are the Template to trace and cut the Turkey craft elements.
Use the template to trace and cut the elements with the craft Paper (Head and body) and Cardstock (Rest of the pieces. You can use construction paper as well.
Begin by sticking the head and body using Glue Stick (Remember the head is the bigger one)
Next, add Beak, Snood, and Wings at the respective position on the head and body. Add the 2-piece Hat as well. Cut a strip of red and a patch of yellow and Paste it on the Hat. Also, Attach the legs in Yellow.
Cut out the eyes from the Template and paste them on the Face. We have added some details like Eyelashes and eyebrows to make Turkey look adorable. You can optionally use Big Google eyes.
Lastly, make a pair of Handprints in orange, yellow or Red and paste them on the rear of the body.
The Handprint turkeys are all set to decorate your Wall.
For Younger Kids
This craft temple is Suitable for Kindergarten kids who can use the Template to cut and make a craft. For younger kids, you can Pre-cut the pieces using the Template. So that the Toddlers and Preschoolers also would be able to do this Craft.  They will simply glue the pieces together and make this paper Turkey.
How to download the Free Template?
Sign up here in the form below, and I will send the PDF with the Turkey craft Template to your mail ID.
These are only for personal and single-classroom use. Thank you!
Please note: The Template also has a pre-coloured one, which you can use to make a cut-and-paste craft activity.
Pin this Handprint Turkey Craft
Don't forget to pin this on your interest board. Be sure you are following Little Ladoo on Pinterest for awesome Craft Ideas and Fun Printables for kids.
Please share this blog with your friends if you liked our post – Handprint Turkey Craft for kids.  Thanks:)
Looking for more thanksgiving themed Activities for Young children?
Check out 11 Activities from Thanksgiving Busy Book
Get printable, make your book and have fun!
Related Thanksgiving Ideas
Check out all the  Thanksgiving crafts and fun Activities. 
If you are looking for a similar Handprint craft like this, check out the Handprint Reindeer Craft.