All activities should be supervised by an adult. As an Amazon Associate, I earn from qualifying purchases. This post may contain affiliate links.
Celebrate Father's Day with a sizzling twist! Ignite your creativity and surprise Dad with our Handprint Father's Day grill card.
Crafted with love, this unique project pays homage to the grill master in your family. Download the free printable template at the end of this post and fire up the fun!
If you haven't seen our past Father's Day Ideas for kids, make sure you don't miss them either!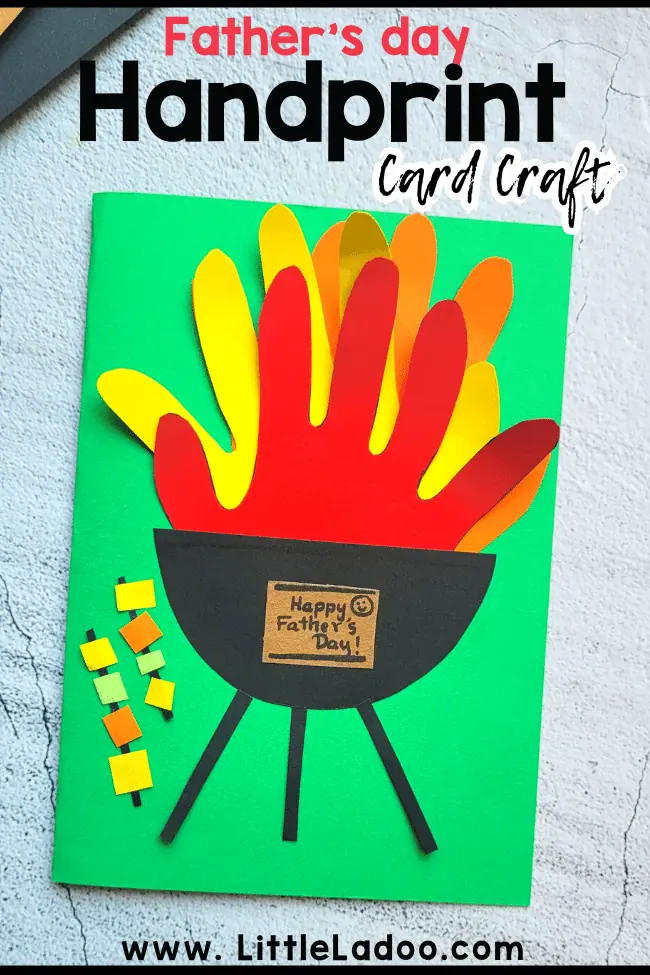 Supplies you will need to make a Handprint Father's Day card
Card Stock Paper
Brown craft Paper
Black craft Paper
Scissors
Glue
Watch a Video Tutorial
Directions to make the Handprint Father's Day Grill card
Crafted with love, this DIY grill card is perfect for BBQ-loving dads. Our handprint grill card is not only adorable but also incredibly easy to make.
The best part? You don't need any templates—just your child's hands! So Let's get started with the steps:
Step 1: Cut the Pieces of Handprint Grill Card
Trace your child's hands onto yellow, orange, and red paper, then carefully cut them out. These colourful handprints will serve as the flames for the grill.
Next, cut out a semi-circle from black paper, approximately 8 cm in diameter, to create the grill. Finally, cut three long strips of black paper to be the legs of the BBQ.
For an extra touch, grab a small patch of brown craft paper to write your greeting.
Feel free to choose any colour for the base card—green, blue, or any shade that catches your eye!
Step 2: Glue the Pieces Together
Now that you have all the pieces ready, it's time to assemble the card.
Start by glueing the black semi-circle onto the card, applying glue only along the curved line and leaving the top open.
Attach the legs of the BBQ under it.
Next, carefully position the handprints on top of the grill to resemble flames.
Stick the brown craft paper in the centre of the grill
Step 3: Write a Heartfelt Message
Finally, Take a moment to write a special message for your Dad inside the cards well as on the Brown craft paper path on the grill.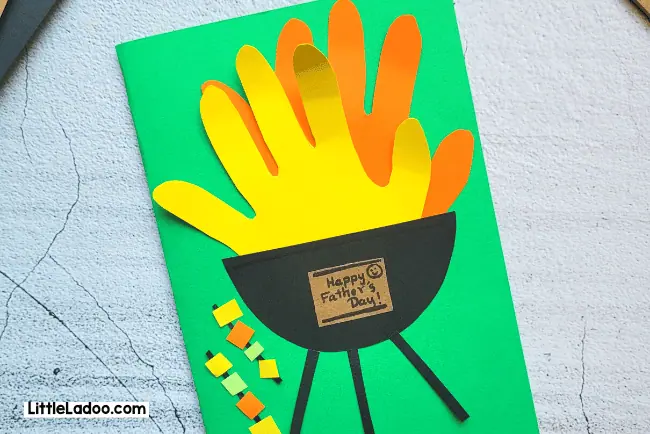 For more fun, Use grill-themed phrases like
"Sending sizzlin' Father's Day wishes your way!"
"Grilling up love for you on Father's Day!"
"The King of the Grill"
"From your Favourite BBQ Buddy"
As an optional addition, you can include skewers with food ready to be grilled or add some grill accessories like a spatula or tongs—whatever suits your Dad's style!
When your masterpiece is complete, present it to your father, and watch his face light up with surprise and joy.
This handmade card will undoubtedly be a cherished keepsake, symbolizing the love and appreciation you have for the BBQ-loving dad in your life. Happy Father's Day!

Father's Day Art Printable – 8 designs
Looking for Handpint fathers Day card templates to print and capture handprints? We have got eight amazing Templates. These Art templates are perfect for infants to Kindergarten kids!
More Father's Day ideas
More Handprint Crafts
Love Handprint Crafts? Here is a Fabulous list of Easy Handprint Crafts for kids