All activities should be supervised by an adult. As an Amazon Associate, I earn from qualifying purchases. This post may contain affiliate links.
This Father's Day, why not surprise your dad with a truly personalized and heartfelt gift? Download the  Father's Day Shirt Card colouring Template and colour it to make a cute card!
With its stylish checked design, you can choose your own colours and bring this Father's Day colouring card to life with your artistic touch.
Also, Make sure you also check out all our Printable Father's Day cards here.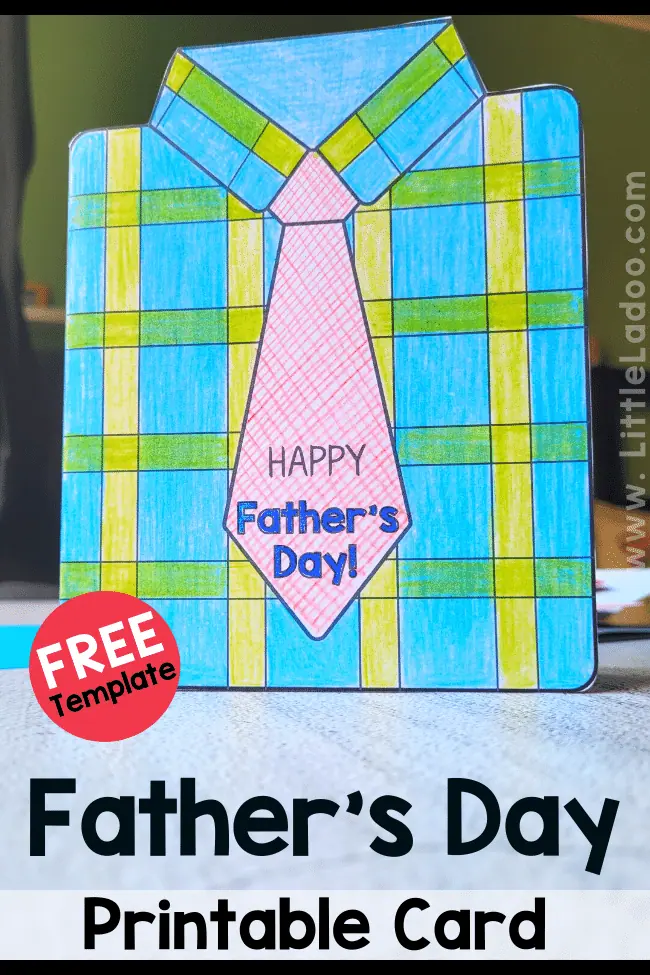 Things you need to make Father's Day craft
Shirt colouring template
Scissors
Coloured Pencils or any medium of your Choice.
Directions to make Father's Day Shirt Card
Begin by downloading the Free printable Shirt card Template at the end of the post!
For optimal results, we recommend printing on sturdy cardstock, particularly if you plan to use markers or other colouring materials. Cardstock ensures durability, preventing any ink from bleeding or tearing the paper.
Unleash your creativity and bring the card to life with vibrant colours. Whether you prefer crayons, pencils, or markers, make the design uniquely yours by infusing it with your personal style.
Once the colouring is complete, Cut out the extras and fold the card along the centre line, following the guide, to complete the card's basic structure.
Kids can utilize the inner page to pen a heartfelt message or draw something special for their dad or granddad.
Whatever they choose to write, their dad will undoubtedly appreciate the thought and effort put into creating a unique card just for him.
This Free printable Father's Day card is suitable for all ages, making it a delightful activity for kids, teenagers, and even adults who enjoy the therapeutic benefits of colouring.
Father's Day Handprint Art for Babies
Create adorable personalized Father's Day gifts by printing these designs and capturing handprints of your infant, toddler, or preschooler.
Give these heartfelt creations to their dad, making them a perfect gift for little ones!
More Homemade Father's Day Card Ideas
Download the Father's Day Card Template
Download this Printable colouring card for Father's Day by signing up here!