All activities should be supervised by an adult. As an Amazon Associate, I earn from qualifying purchases. This post may contain affiliate links.
Spring is here! Now that the days are becoming longer and warmer, you might be looking for new craft activities to do with your children. Why not try this special project that will last for years: a Handprint flower craft! 
This is an inexpensive and fun way to get creative with your little ones. Explain to the child how they can use their handprint to make the petals of the flower and then they can use different colours of their choice. They'll be amazed at what they can create with just a simple craft session.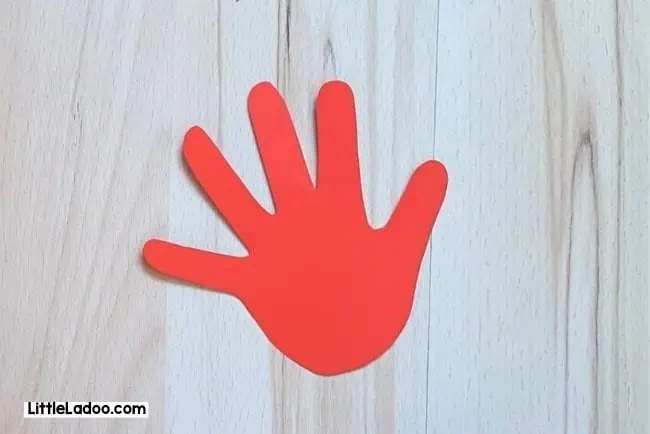 This flower can be a great keepsake craft or a gift for grandparents. Besides, This one is very easy to make and doesn't take long. 
Let's start!
Things you will need to make a Handprint paper flower
You'll need a few supplies – all of which can be found around the house or at any art store.
Straw
Tools: Scissors, paper glue, hot glue gun
Handprint paper flower Video Tutorial 
Directions to make a Handprint paper flower
Place the baby's palm on a cardstock sheet and trace around with a pencil. Cut out the handpieces. Altogether, make 5 pieces
Using a straw, roll the finger edge slightly to make it curvy.
 Next, make a small cut at the bottom of the handprint and make a small overlap and seal the cut with paper glue. This is to add contour to the petal of the flower.
Then cut a circle for the central part and make dots with a white marker(optional). I used a handmade sheet because of the beautiful bicolour texture it has.
 Next,  glue the petals to the centre circular piece. Arrange the petals equidistant to one another.
Finally, Glue the paper straw on the rear. 
Add some leaves as well. All done. You have made a Handprint paper flower. 
Would you love to try Spring Flower Craft with your child's little hands?
Once the flower is complete, encourage them to take pride in their art by hanging it in their bedroom as a reminder of how special they truly are! What better way to capture these cherished memories than through crafting together?
More Handprint Crafts
If you looking for an Easy Mother's Day Handprint Craft, check out this Printable Handprint Art Pack. 
We love Handprint crafts! you might like the Handprint reindeer craft and Handprint Turkey Craft! Both have free printable Templates to make the work easier. 
Also, check out the Fall tree keepsake art with a child's Handprint. 
More Mother's Day Ideas for Kids
More Flower Crafts for Kids