All activities should be supervised by an adult. As an Amazon Associate, I earn from qualifying purchases. This post may contain affiliate links.
Every year around this time of the year, Kids love making Christmas crafts, and This Handprint Reindeer craft is a great project that you need to try this year with your kids.
"Rudolph the red nose reindeer" has been the favourite Christmas rhyme for my daughter since she was one year old. She Totally loved doing this project and having it on her display wall.
This blog has Step by step directions, Video tutorials, and a Free printable Crafts Template to make your own  Handprint reindeer craft.
This post contains affiliate links. As an Amazon Associate, I earn from qualifying purchases.
Reindeer Handprint Craft
This Craft is perfect for Toddlers/ preschoolers and Kids of any age. These crafts allow kids to create beautiful Keepsake crafts that will last long after the holiday season.  Read on to learn how to make it with your kids' Handprint.
You will need
Template (Download at the end of the post)
Scissors
Watch us make a Handprint Reindeer Craft
This video shows how to make a Reindeer craft with Handprints for this Christmas season. It also has a few Snippets of my 4-year-old daughter making her Handprint Reindeer.
Step By Step Instructions
Download the free printable at the end of the post and print the page you need. Cut all the pieces out. These are the Template to trace and cut the Reindeer craft elements.
Use the Template to trace and cut the elements – Ears, Nose, part, the upper part of the head with the Cardstock paper. You can use construction paper as well. Note that the Big Oval Piece with Eyes is the Base piece you will use for the Craft; You need not cut another piece using this Template.
You can also cut the Shawl elements on Page 2 if needed. Page 2 also has a Face with a Different Eyebrow.
Now, let's Glue the pieces together. Begin by sticking the brown upper part of the head over the base (Oval white)  using Glue Stick.
Glue the Nose at the centre of the face over the tip of the Brown part.
Next, Add the ears.
Drae outline of your child Hands-on Brown paper and cut it out. We need Handprint pieces of both hands. This will be the Antler of the Reindeer. Glue them behind either ear.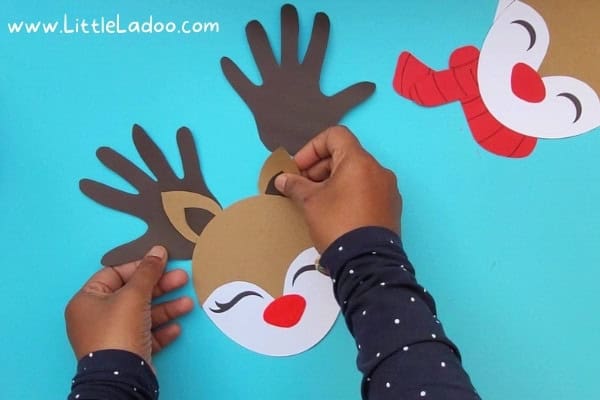 Finally, the Shawl pieces, You can cut this in any colour and Add your favourite patterns. There are three pieces; one will adjoin the chin, while the other two wave down as in the image below.
Your reindeer is all set to decorate the wall. I think this Handprint reindeer craft is the Cutest and the easiest Christmas craft ever. What're your thoughts?
For Younger Kids
This craft template is Suitable for Kindergarten kids who can use the Template to cut and make a craft. For younger kids, you can Pre-cut the pieces using the Template. So that the Toddlers and Preschoolers also would be able to do this Craft by glueing the pieces together and making this paper Reindeer.
This is the one done by my 4-year-old daughter. We love it!
So what are you waiting for? Print and try this cute Christmas craft with your child now.
How to download the Free Template?
Sign up here in the form below, and I will send the PDF with the Reindeer craft Template to your mail ID.
These are only for personal and single classroom use. Thank you!
Do you have any other requirements to suit it for the classroom environment? Kindly let me know so that I can include it in my future templates. I am also planning to share SVG files so that you can easily cut them in Cricut. But let me know if it will be helpful for any of you.
Pin this Reindeer Handprint craft
Don't forget to pin this Christmas craft on your Pinterest board. Be sure you are following Little Ladoo on Pinterest for awesome Craft Ideas and Fun Printables for kids.
Please share this blog with your friends if you liked our post – Handprint Reindeer Craft for kids.  Thanks:)
Related Christmas Ideas