All activities should be supervised by an adult. As an Amazon Associate, I earn from qualifying purchases. This post may contain affiliate links.
In search of a special handmade gift for Dad? Give this Shirt Card Craft a try and present it today!
This craft is incredibly easy and suitable for anyone to create using a pattern sheet or texture sheet.
It is the perfect gift that kids can make for Father's Day, his birthday, or any time of the year.
Additionally, we have numerous other Father's Day ideas for kids! Be sure to explore them all.
Things you will need to make this Shirt Card Craft
A5 size Pattern Sheet (Design Sheets)
Cardstock sheet for Tie (Any colour of your Choice)
Scissors
Glue
Tie Template (Download at the End of the Post)
I've discovered a 2 collection of 60 beautifully designed patterned sheets that could be perfect for creating your Shirt Craft. If you're interested in purchasing, I recommend checking these out.
Directions to make the Shird Card
To create your own Shirt Card, start with an A5 sheet of paper in your desired design and fold it in half.
To ensure easy cutting, make a pencil mark as a guide on the sheet. Please refer to the accompanying picture for assistance.
Measure 2 cm from the top and mark it across the entire length of the Backside. Repeat the Same on the front side, But leave a 5 cm gap at the centre.
Cut off the entire strip on the backside.  On the front side, make two small cuts on each end, ensuring you leave approximately 5 cm at the centre.
Fold the flaps and securely glue them together.
Using the Tie template provided at the end of this post, carefully cut out a tie in a colour of your choice.
Glue the tie at the centre behind the collar. Your card is now ready to be gifted to Dad.
Enjoy the process of creating lasting memories. This craft only takes about 5 minutes to complete, so feel free to have fun making as many as you want. They're small and incredibly adorable!
Father's Day Handprint Art
Here 8 Amazing Templates that you can simply Print and capture your little ones' Handprints. These unique and sentimental creations will warm any dad's heart.
More Father's Day cards
More Father's Day Ideas
To save this Father's Day craft for future reference, pin the accompanying image and return to it whenever needed.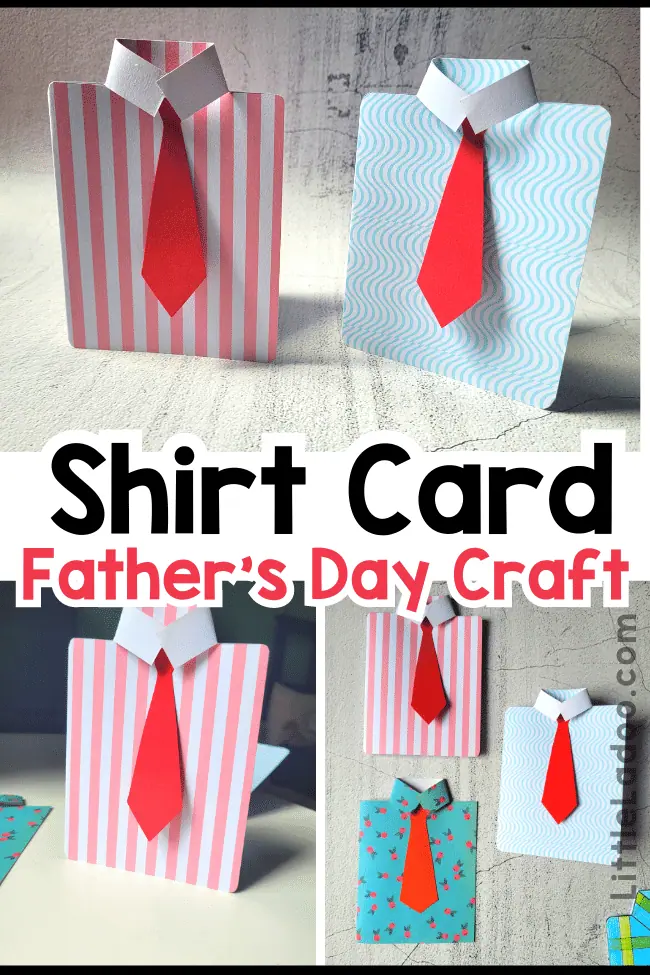 Download the Tie Template for the Shirt Card Craft
The Tie Template provided enables you to accurately cut the tie shape for your Shirt Card using an A5 size paper.
In addition, I have prepared a Tie Template for those interested in creating a larger card using an A4 sheet.
To download and print the Tie Template in your preferred colour, please click on the button below.
Enjoy your crafting experience and have fun!