All activities should be supervised by an adult. As an Amazon Associate, I earn from qualifying purchases. This post may contain affiliate links.
Mother's Day is a special occasion where we celebrate and show appreciation for the amazing women in our lives. What better way to gift her than with a personalized and creative Mother's handprint art project?
We have created 8 unique Designs with cute Message and Mother's Day wish.  Simply add the child's handprint and give it to their mom!
This easy and budget-friendly activity is perfect for making keepsakes that will be cherished for years.
In this blog, I will show you how we made these Keepsakes with our 5-year-old daughter. Also, check out all the Handprint ideas we have on the blog.
Supplies you will need to make Mother's Day Handprint Art
The affiliate links here will take you to products on Amazon that are similar to the supplies we used to make this craft:
Directions to Make Mother's Day Handprint Art
Even if you're not an artist, creating these handprints is a breeze! The designs have already been done for you, and the process is as easy as making potato stamp art.
Your child's handprints will yield the beautiful result you see here, and it's incredibly effortless!
Follow these simple steps to make your Mother's Day handprint art:
Step 1: Download and Print the Handprint Art
Download the Mother's Day handprint art printable, which features designs such as hearts, flowers, and butterflies. Print the designs you want on cardstock or photo paper for the best results.
Step 2: Paint the Child's Hand
With the sheets ready, paint the child's hand with washable and non-toxic tempera paint. Use a big-size brush to speed up the process.
You can also use a Circular stamp pad if you want to feel paint makes a messy activity.
Step 3: Make Handprints
Before the paint dries, firmly press the hand over the sheet, making sure to press it all over the hand, including the fingers.
Then, remove the child's hand from the paper. Let the sheets dry.
Step 4: Add Details with Markers
Once the handprints are dry, you can add details with a black marker on sheets that need additional designs. For example, you can add spikes on the cactus card.
Step 4: Personalize with Names and Dates
For a personal touch, add the date and the child's name to the artwork. Repeat the process if you want to create more than one card.  We decided to do all the cards to keep as keepsakes!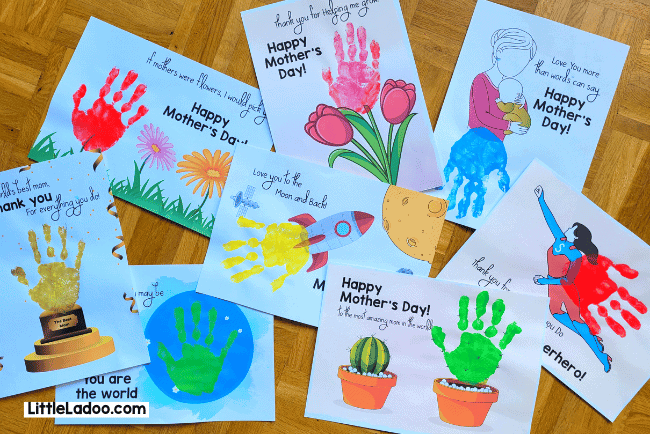 Which one do you like the most?
Making Mother's Day handprint art is an easy, fun, and memorable activity to do with kids.
It's a great way to show appreciation for the special women in our lives, and the resulting artwork makes a perfect gift for any occasion.
Get the Mother's Day Handprint Art pack
This features 8 beautiful and unique Designs to choose from in both A4 and US Letter Formats.
Enjoy making memories with your little ones!
Tips and Tricks to Avoid a Mess
Here are some tips on how to avoid making a mess while enjoying this art activity:
Lay down some newspaper or plastic drop cloths in an area where the paint won't damage any furniture or flooring.
Have a wet or paper towel around to wipe up any spills or accidents.
Wash your hands before using a new colour of paint to avoid mixing colours.
To make this activity even easier, you can use a circular stamp pad instead of paint.
What are the designs included in the Mother's Day Handprint Art Pack?
 Superwomen Handprint Art

Mom Hugging Baby Handprint Art

 Spring Flowers Handprint Art

 The best mom Award Handprint Art

 Cactus handprint Art

 Rocket Handprint Art

 World Handprint Art

Tulip Handprint Art
With the help of these printable designs and simple supplies, you can create a memorable gift for Mom or even Grandma.
Get it by clicking the link below:
Mother's Day Handprint Art Printable
More Handprint Art Printables
This handprint art pack isn't just a fantastic option for a handmade gift, but it also makes for great seasonal or holiday decor!
We recently used our daughter's handprints with the Spring handprint art pack to create some beautiful spring decor.
Don't forget to take a look at the keepsakes we made with the Easter handprint art pack as well.