All activities should be supervised by an adult. As an Amazon Associate, I earn from qualifying purchases. This post may contain affiliate links.
We absolutely adore creating charming and simple crafts, especially when it involves handprints! This Handprint Flower Craft is the epitome of simplicity and beauty, making it the perfect choice for celebrating Mother's Day.
Whether you're seeking a heartfelt card or an adorable gift, this craft is an excellent option.
For an extra special touch, pair it with our "All About My Mom" printables to create a fantastic gift combo that will surely melt any mother's heart.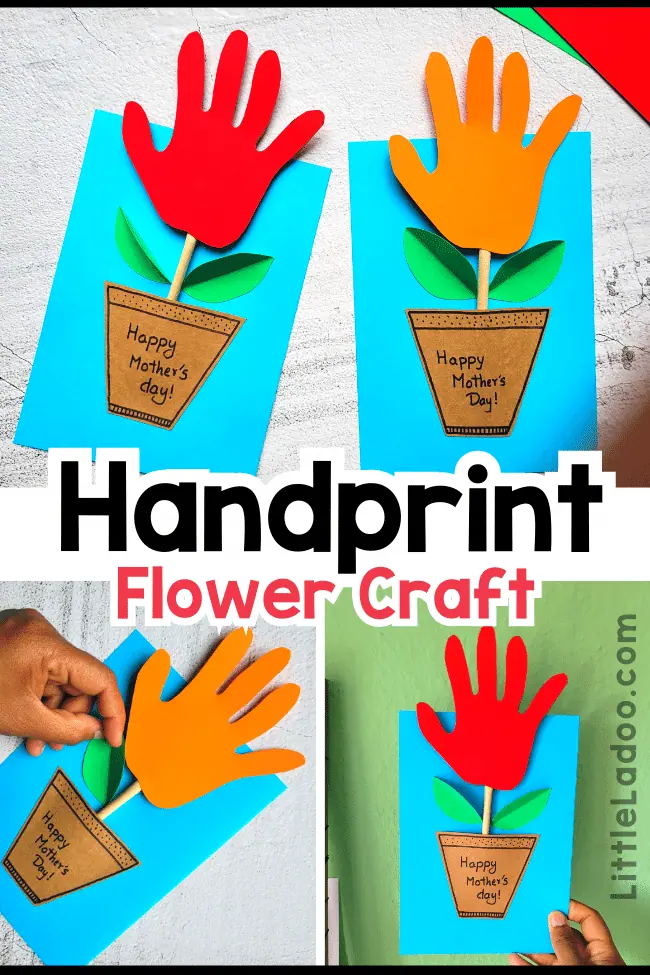 Additionally, you might enjoy our Mother's Day Handprint Art, where you can simply print out the cards and have your child make handprints with paint to present a personalized and heartfelt gift.
Things you need to make this Mother's Day Handprint Flower Craft
Cardstock paper in 3 Colours – Green, 2 colours of your choice for Flower and cards
Brown craft Paper
Sharpie Black Marker Pen
Glue
Straw
Tape
Scissors
Directions to make the Flower Handprint Craft
First Cut out the pieces for the craft
Handprint: Trace the child's hand on a cardstock paper of your choice colour and cut it out.
Card base: Cut an A4 size sheet in half to make it an A5 size.
Flowerpot: Cut a trapezium shape out of brown craft paper.
Green rectangles: Cut 2 green rectangles for leaves.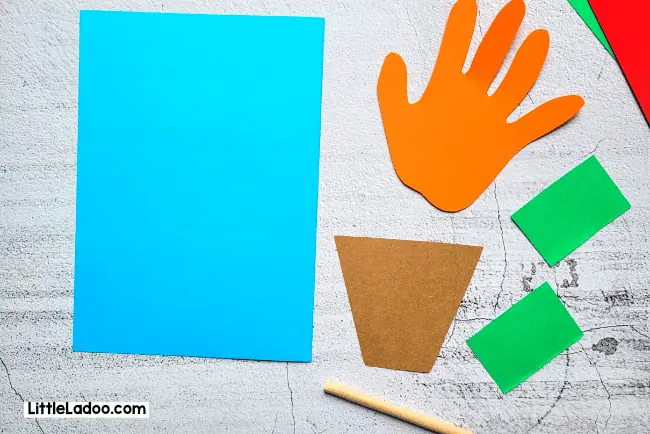 To easily cut leaves for crafts, follow these steps:
Fold the rectangular piece of green paper in half along the longer side, creating a crease in the centre.
Using scissors, cut a curve along the folded edge.
When you unfold the paper, you'll have beautiful leaves with natural folds at the centre.
These cut-out leaves can now be used to enhance your crafts and add a touch of nature to your creations.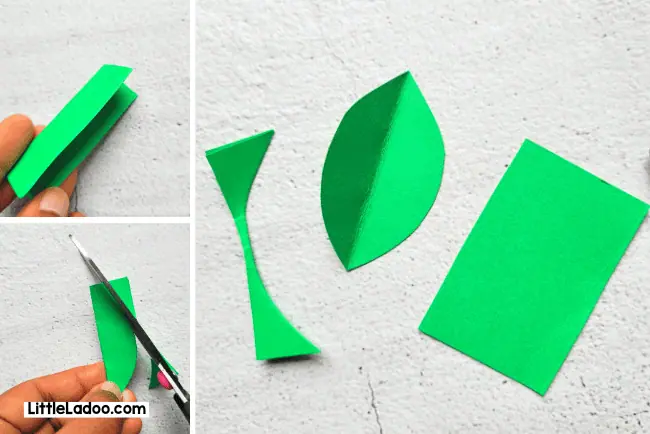 Next, let's Make the flower using the handprint and a straw. Cut the straw at the centre and press the ends. Use white tape to attach it to the handprint. The flower is now ready!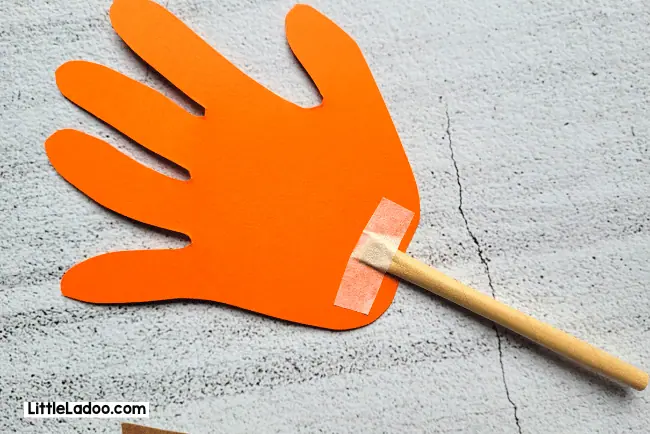 Decorate the flower pot and write the Mother's Day wish on it.
Apply glue to three sides of the flower pot and paste it on the card, leaving the top side open for inserting and removing the flower.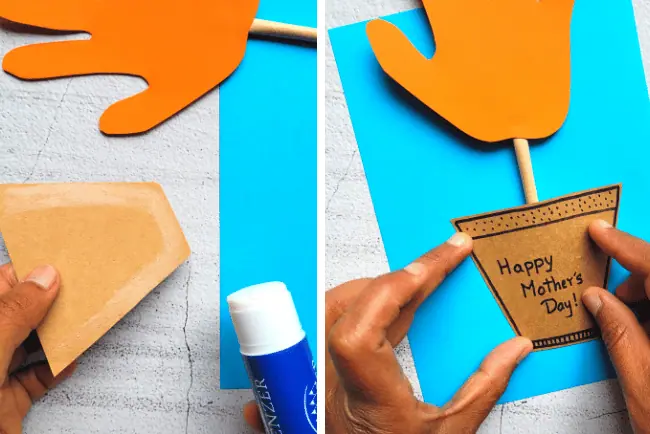 Finally, add the leaves on either side of the straw. The handprint flowers are now ready! These adorable crafts make wonderful gifts for moms.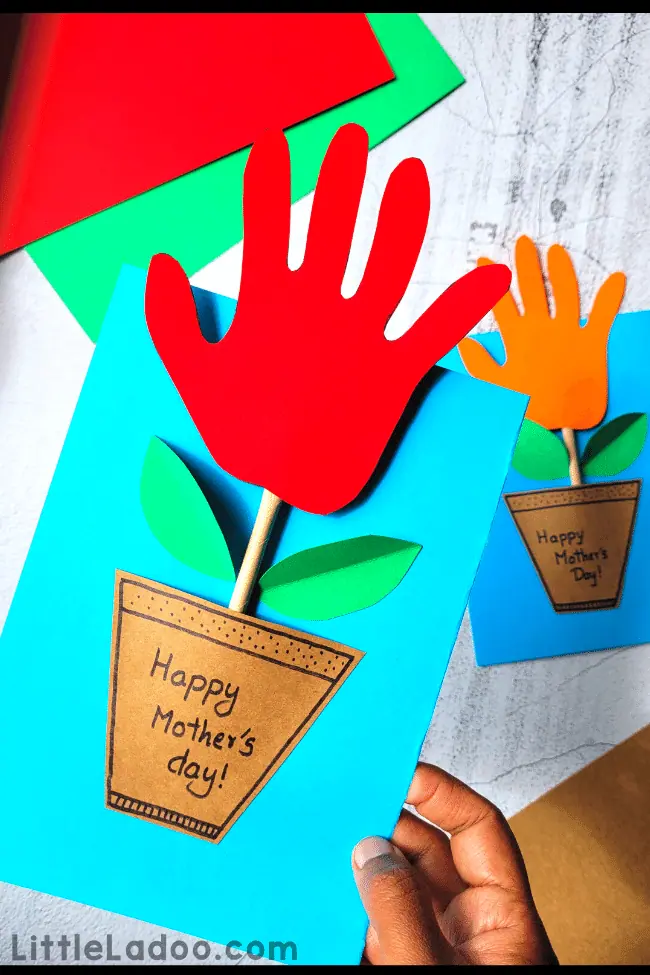 Note: This craft doesn't require a template, but if you need one for cutting the flower pot, feel free to let us know in the comments, and we'll be happy to provide it.
Also, be sure to check out our other Handprint Paper Flower Craft featuring five petals, each made from a handprint.
More Mother's Day Ideas for Kids
More Handprint Crafts for kids
More Flower Crafts For Kids