Your child will love making a QTip skeleton Craft and Learning about the Skeletal system.  This cotton swab skeleton craft is so simple to put together and a great activity to do during Halloween.
This blog has a video tutorial, Step by step instructions with pictures to make the Q- Tip Skeleton. I have also included some facts about bones that will help you to teach the skeletal system.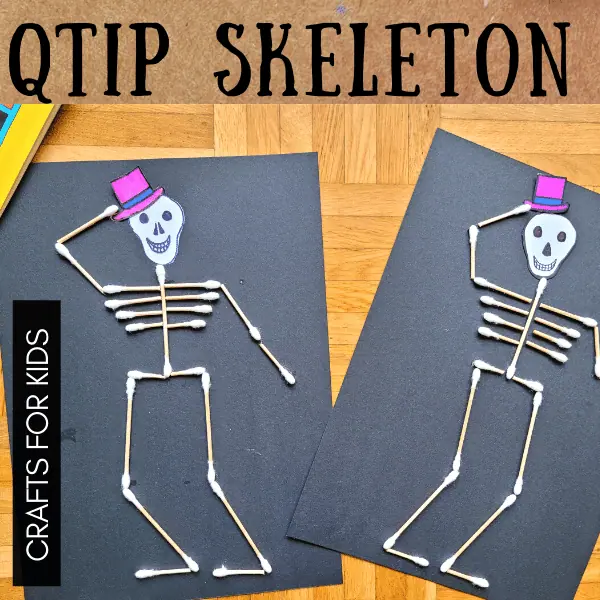 This post contains affiliate links.  As an Amazon Associate, I earn from qualifying purchases.
How to make a Qtip Skeleton craft? 
Things you will need: 
Dark and Thick Cardstock (Preferably black) 

White Paper (to draw a skull)

13 QTips 
Black marker – I always prefer Sharpie
A quick video to show how to make
Instructions
Pro-tip; to keep the paper mess-free, do not apply glue on the paper. Instead, dip the edges of the Qtip on the white glue and place it on the paper. 
Break eight Qtips into halves. Some Q tips need to be trimmed shorter for proportions. 

First, start with the spine. Dip the Qtip in glue and place it at the centre, leaving a space of 7 cm above for the skull. 

Next, Leave a little space for the neck and add half q tips on either side of the spine. 

Trim the Q tip shorter and add the hip bones. 

For legs, we use full Qtips and half Qtip for the foot bones. You can play around with the orientation of the leg bones, as well as the hand bones. 

Next, you can add the skull. Either Draw a Skull with a black marker or print out our free template and cut it out. 

Finally, add the hands with four Half Q-Tips. 
To make the Skeleton craft adorable, we have added a Hat, as in the book Funnybones. 
Teach the Skeletal system with this q tip craft
You can teach the names of a few Important bones like skull, spine, ribs etc. We learned 6 Bone names using small handwritten Name cards. 
Human skeletal bones facts for kids: 
Fun facts make learning enjoyable, especially with a cute Q-tip skeleton craft like this. 
Babies are born with more than 300 bones, but while growing, many bones fuse together. Thus, The human adult skeleton has only 206 -213 bones. 

Bones are filled with a spongy substance known as Bone marrow.

The smallest bone in the body is in our ear, known as a stirrup. 

The femur, the leg bone, is the longest bone in our body. 

The Hyoid bone in the throat is the only bone not connected to any other bones. 

Our Knee is the largest joint in our body. 
Two books, that I recommend for the
Anatomy study unit are by DK and Usbourne.
Did you Like this idea? Pin it on your child learning board for later.
Fun Halloween Ideas,
Anatomy related activities,