All activities should be supervised by an adult. As an Amazon Associate, I earn from qualifying purchases. This post may contain affiliate links.
Blast off into Creativity with the Torn Paper Rocket Firework Craft! 
Whether you're looking for a fun family activity, a captivating party decoration, or simply a creative outlet, this craft is sure to delight both young and old alike.
This Torn Paper Rocket Firework Craft suits any occasion, from Diwali to New Year's Eve.
See the instructions and start right away by downloading the Free Rocket Firework Template at the end of this post.
Don't forget to explore the plethora of Torn paper craft ideas we have on this website.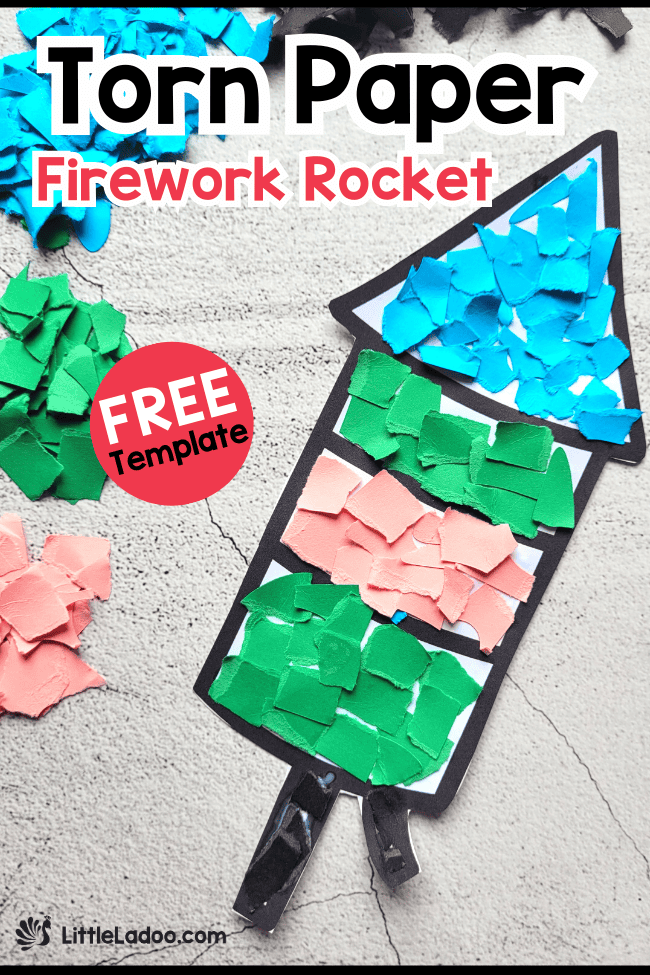 Things you will need to make a Torn Paper Rocket Craft
Rocket Firework Template
Card stock paper 4 to 5 colours of your choice
Glue
Scissors
Note: you can use construction paper as well instead of cardstock for this craft.
Watch Video Tutorial
Directions to make Torn Paper Rocket Firework Craft
Begin by tearing coloured cardstock paper into small pieces, each about 1cm x 1cm, using colours of your choice.
Don't hesitate to repurpose leftover craft paper from previous projects, giving you a chance to recycle older materials and add a burst of colour to your craft.
To make your Rocket Firework as vibrant as possible, select 4 to 5 different colours.
Download the Rocket Template provided at the end of this post and print it on sturdy paper.
Ensure that you avoid using regular printing paper, as it may become damp and tear when adhesive is applied.
Once you've gathered a colourful assortment of torn paper pieces, you're ready to begin your Rocket craft.
Apply adhesive to one section of the Rocket template at a time, then start affixing the torn paper pieces individually.
Continue this process until every section of the rocket is covered in torn paper, resulting in a splendid and vibrant creation.
Once your craftwork is complete, carefully cut out the Rocket Shape, and you'll have an exquisite decoration ready for display.
Hang your rockets from the ceiling or in a doorway, or use them as decorations for a party or event.
Creative Rocket Firework ideas
Here are some more Variation that you can try with the Template
– Make rockets in various colours and sizes.
– Use different types of glitter and sparkles to give your rocket a unique look.
– Add other materials to your rocket, such as feathers, beads, or buttons.
– Personalize your rocket by pasting a passport-size photo of a child on it.
– Create a fire effect at the bottom of the Rocket firework by adding a handprint.
Let your imagination take flight and have a blast with this creative Torn Paper Rocket Firework Craft!
More Diwali Crafts for Kids
Torn Paper Ideas for Kids
Download the Free Printable Rocket Firework Template