All activities should be supervised by an adult. As an Amazon Associate, I earn from qualifying purchases. This post may contain affiliate links.
Diwali, the Festival of Lights, is just around the corner and we have a fun paper plate craft to share with you! This Paper Plate Diya craft is Easy and perfect for preschoolers and can be made in just a few simple steps. So gather your supplies and get creative!
This post contains affiliate links. As an Amazon Associate, I earn from qualifying purchases.
Paper Plate Diya Craft
Creating Diya crafts and decorating houses during Diwali week helps kids get into the festival's spirit. This Paper Plate craft is effortless and suitable for Toddlers as well. All kids have to do is Cut the plate in half, paint it and add a Yellow patch of fire. Let me show you the process with pictures and a Video Tutorial.
Supplies you will need
Scissor and Glue
Glitters and Stuff (If required for decoration)
Watch the Video Tutorial
Directions to Make Paper Plate Diya Craft
Take a 9-inch Paper plate and Fold it in half. Cut along the fold in two equal halves.
Start painting on the rear side of the plate. You can choose any bright colour. We are using Crayola Washable Paint. If you would like to skip this step, you can use a colour plate instead of a white plate.
Once it is fully covered with paint, let it dry for a While.
Now, its time to decorate it. We have used Flourosent paint from Ikea Brand (Gold colour) It is very easy to draw details with this paint. It is very dense and gives good embedding. you can also use glitter, and stones to decorate the Diya as you wish.
Finally, Cut out a piece of yellow paper in the share of a Fire and Paste it at the top centre.
Your Diya is ready! It takes less than 15 minutes to make this (Excluding the drying time) and is a perfect craft for Preschoolers to make during Diwali.
You can make 6 to 7 Paler Plate Diyas and make a Huge Diya Garland. Or Just affix them over the window as Diwali decoration.
Check out all the Diwali Activities and Ideas for kids
Did you like this Paper plate craft Idea? Pin it for later.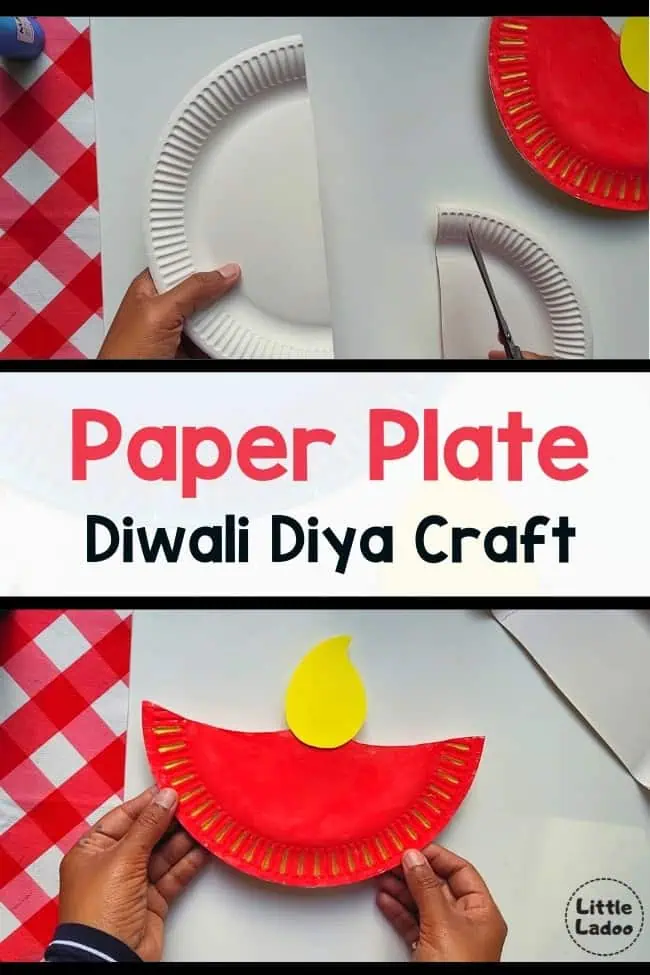 Related Diwali Activities