All activities should be supervised by an adult. As an Amazon Associate, I earn from qualifying purchases. This post may contain affiliate links.
Whether you're celebrating Diwali, New Year's Eve, or the Fourth of July, our Popsicle Stick Rocket Firework Craft is the perfect activity to ignite your child's imagination and celebrate any occasion in style.
Popsicle Stick Crafts are not only enjoyable but also provide an excellent opportunity for kids to make their own sturdy toys for play!
Get Ready for this delightful crafting adventure!
On our website, we've curated a diverse collection of Fireworks crafts specifically designed to spark your child's creativity and keep them happily engaged.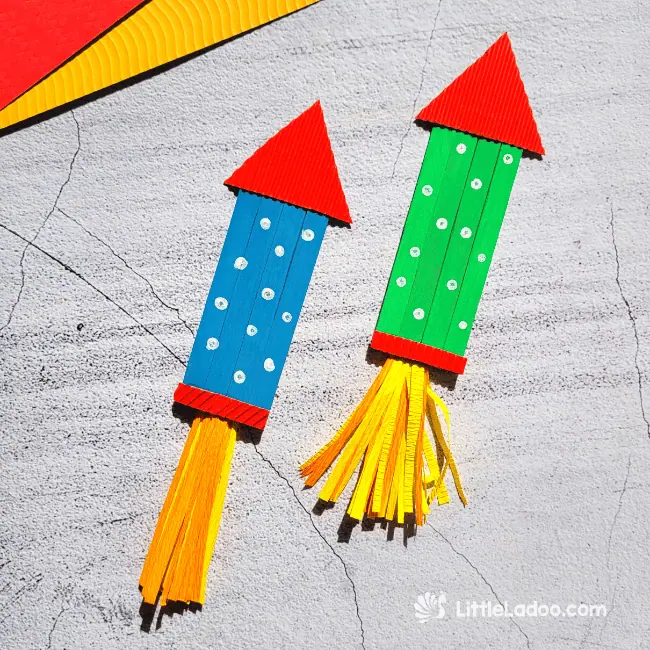 Things you will need to make a Popsicle Stick Rocket Firework
Corrugated paper serves as an excellent canvas for adding texture to any craft. If corrugated paper is not available, you can achieve the same effect using any coloured paper, whether it's construction paper or cardstock.
Directions to make Popsicle Stick Rocket Firework
To start, assemble four popsicle sticks side by side and secure them together using masking tape to keep them in place.
Flip the assembly over and choose a colour of your preference to paint it.
While the paint is drying, grab a Red Corrugated sheet and cut out a small triangle and a thin rectangle. Ensure that the width of the rectangle matches the combined width of the four popsicle sticks, approximately 4cm.
Stick the rectangle to one end of the popsicle stick arrangement and affix the triangle to the opposite end, making sure the pointed edge is facing outward.
Next, take three small rectangular pieces of crepe paper, two in yellow and one in orange, each measuring about 3cm x 10cm. Be sure to cut the crepe paper sheets with the longer side parallel to the stripes of the crepe paper.
Layer these pieces on top of one another and proceed to make small 2mm cuts along one of the shorter sides, taking care not to cut through the entire length. This will create an attractive fringe, as shown in the image.
This activity provides an excellent opportunity for kids to practice their scissors skills.
Once done, glue these crepe paper pieces together and attach them behind the popsicle sticks at the bottom.
For an added touch, consider decorating the popsicle sticks with designs. For example, you can create white dots using Q-tips.
The rockets are prepared! Craft as many as you desire in various colours. They are robust and make fantastic Diwali decorations. This also serves as an enjoyable playtoy for kids.
More Fireworks Crafts for Kids
More Diwali Crafts for Kids