How to Make a Stunning Paper Lotus Flower (with template)
This Paper Lotus is so Adorable and Super-Easy to make with our Printable Template. These would look great on a greeting card, a floral wreath or can also be Standalone decor. 
This post contains affiliate links, meaning that I will be compensated if you click through and take action at no additional cost. As an Amazon Associate, I earn from qualifying purchases.
This little crafty project is suitable for Kindergarten Kids or elder ones. In this blog, You can find a Video tutorial, Step-by-step Instruction, and a Printable template to make your flower. 
So let's get started. 
How to Make a Paper Lotus flower?
Begin by downloading the Paper Lotus template here. 
With the given template,  you can make approximately a 7cm Flower. You can also scale it up as per your need. 
Here is a 3-minute video on how to use this template and make one flower. 
Things needed
Scissors
Download my free template here
Step-by-step Instruction to make a Paper lotus
1. Make the Lotus Stigma
Begin by cutting a Yellow strip of approx 1.5cm in width. Then, make slits at regular intervals of 2 mm. Afterwards, roll the strip and glue it. This is the stigma or the centre part of the lotus.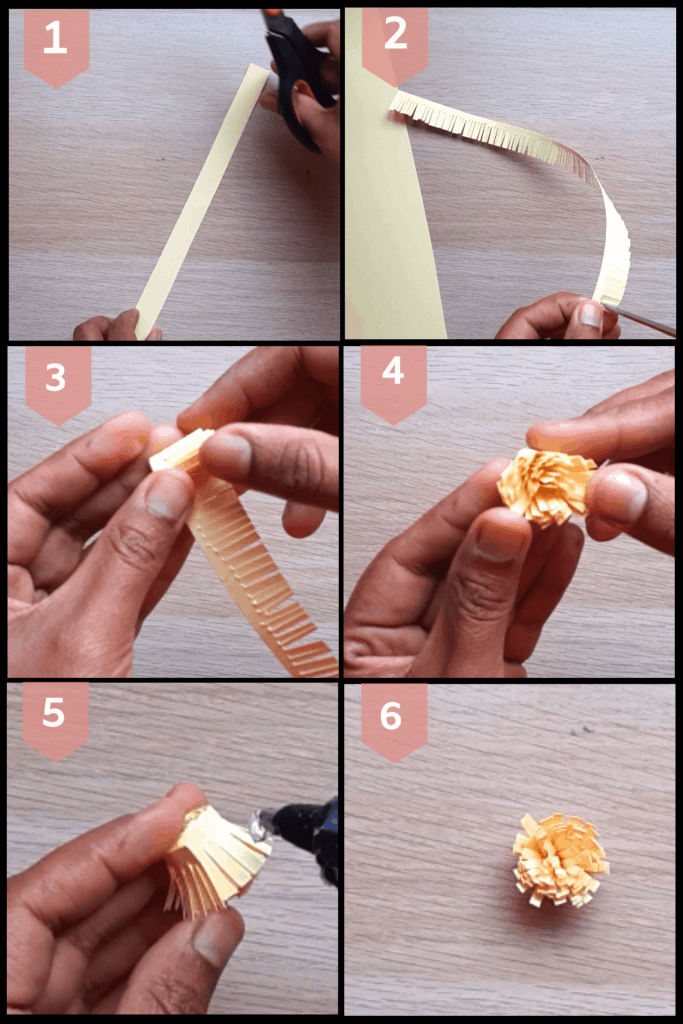 2. Inner petals
Cut the "Inner petal" Template from the printable. Lay the template over the Pink sheet and trace with a pencil. To be precise, we need 6 Petals adjacent to one another ( refer to image). Mark them and cut.
Using a glue gun, stick together the Flaps at the bottom of each petal so that the petals get curvy. Finally, stick either end together, forming a ring of petals.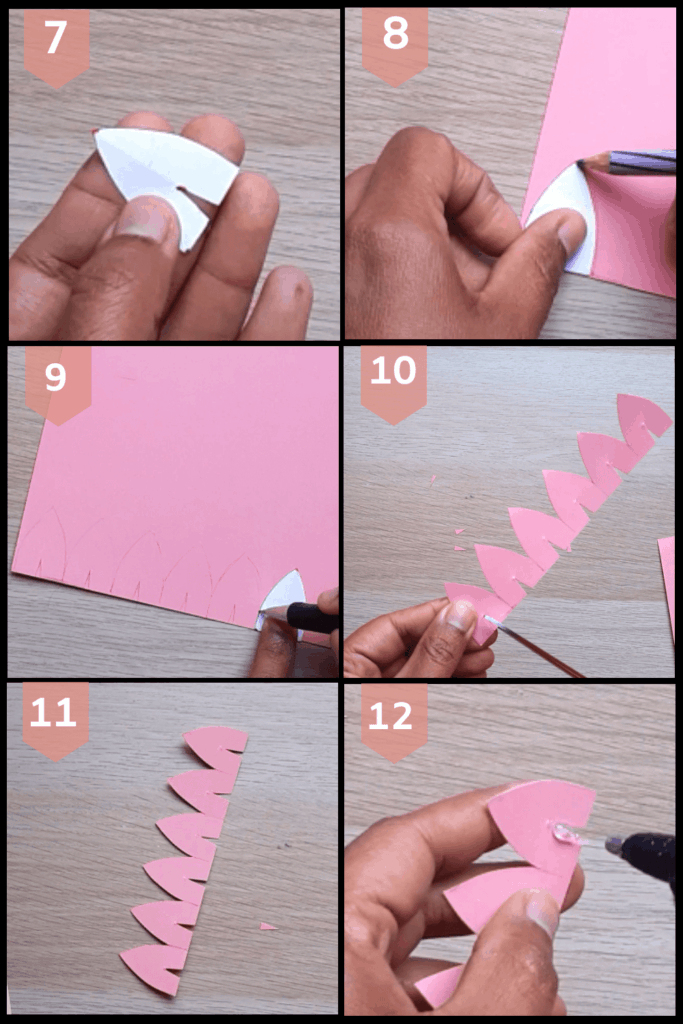 3. Outer petals
Make the outer petals in the same way how we made the inner petals. However, in this case, each petal will be a separate one.
Cut out the template, trace, cut and stick the bottom flaps of each petal. We might need a minimum of 12 petals.
4. Flower Base and pad
Next, we will make the base for the lotus flower and a Lotus Pad that would be a great compliment.  Make use of the Template "Base" and "Pad" and cut the pieces.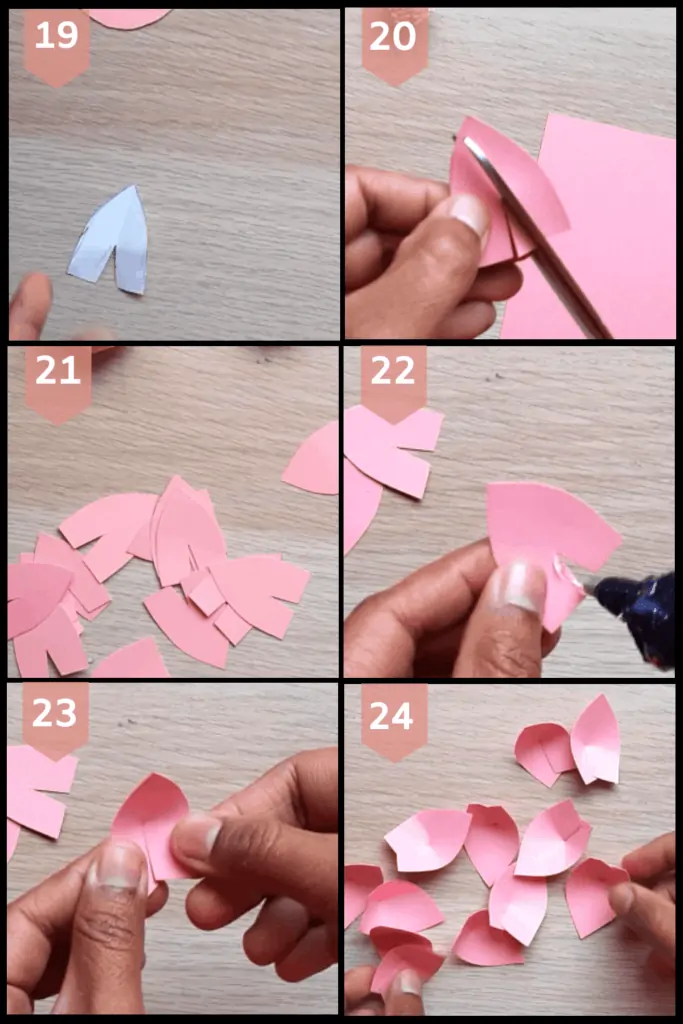 5. Glue them all
Over the base, assemble everything using a Hot glue gun. It would be best if you started from the outer edge—first, all outer petals, Then the ring of inner petals, and finally, the stigma.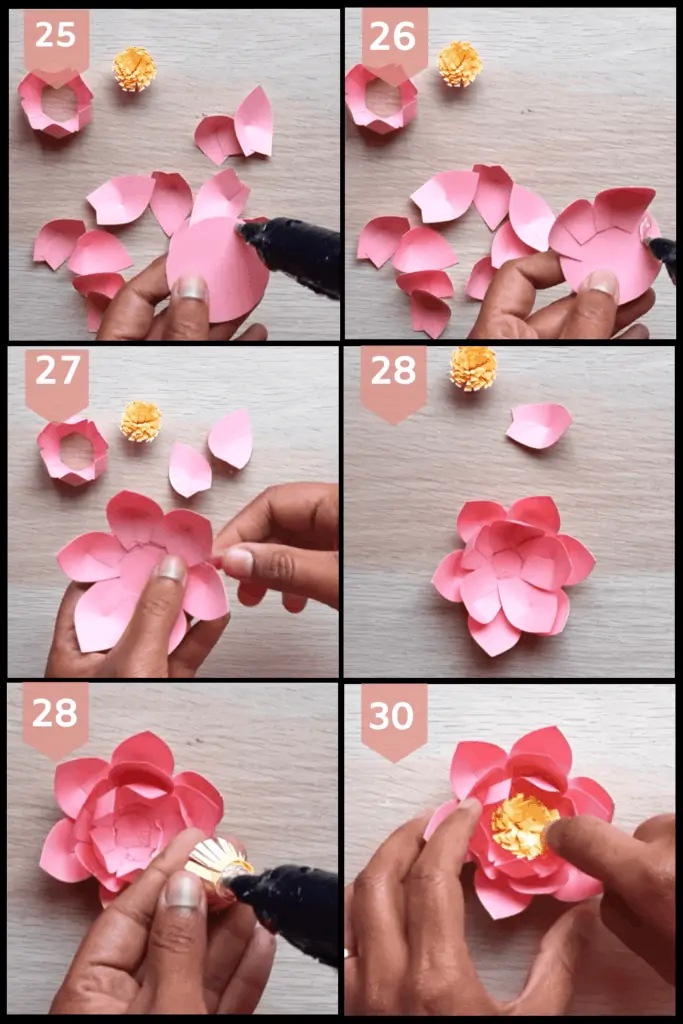 Place the paper Lotus over the Green lotus pad. It is ready! 
Do you know how Solid these paper lotuses are?  My daughter has been using it as a Toy in her Park Mini-World play. Even after two years, it is still in shape.
Thanks to the Thick cardstock that I used for this project. But you can also use Construction paper as well. 
Pin this Easy Paper Craft
Don't forget to save these Paper Lotus craft for later! Also, be sure you are following Little Ladoo on Pinterest for fresh awesome ideas and printables.
Related Paper Crafts for Kids
Similar Flower projects