All activities should be supervised by an adult. As an Amazon Associate, I earn from qualifying purchases. This post may contain affiliate links.
Transform the Timeless Tradition into a Kid's Project with this Simple Rangoli Paper Craft!
The Free Printable Rangoli template Lets you craft hundreds, if not thousands, of Unique Rangoli designs and patterns. We thoroughly enjoyed experimenting with various colours and patterns to create diverse Rangolis.
This project offers an exceptional opportunity for you to engage with your kids this Diwali or any festival throughout the year. Be sure to explore all our Diwali ideas for kids!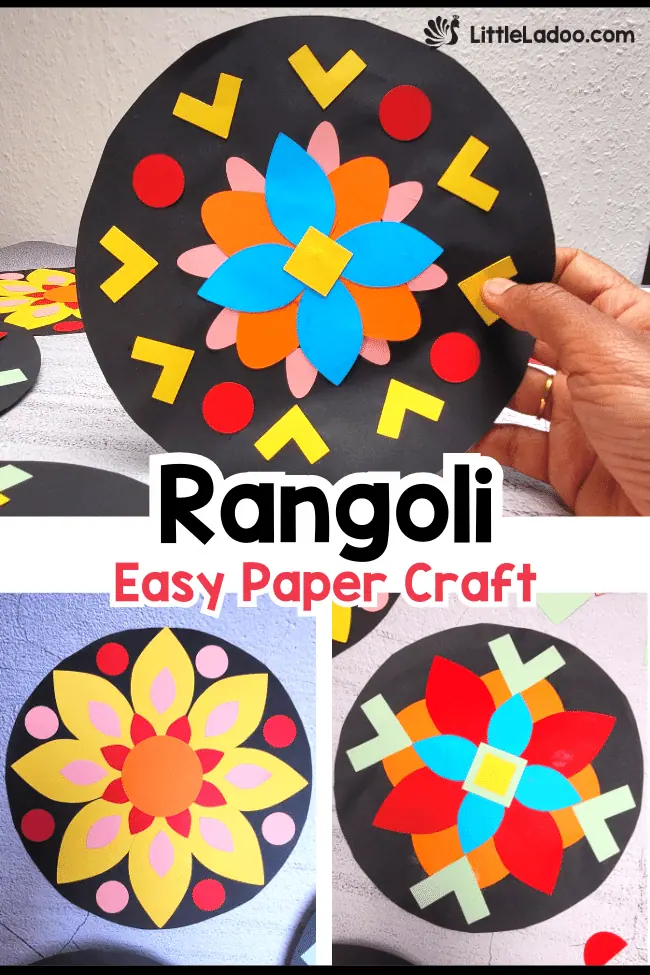 Things you will need To make Rangoli Paper Craft
Watch a Video on how to make the Paper Rangoli Craft
Directions to make the Rangoli Craft
Download the Rangoli Template provided at the end of this post. Print the template and use it to cut pieces from cardstock paper in various colours. Create as many pieces as needed.
A beautiful Rangoli typically requires a minimum of 20 pieces. So cut accordingly and keep in mind that this is the most time-consuming aspect of the crafting process.
With the Rangoli pieces cut and ready, you can move on to assembling the craft.
Choose either brown craft paper or black construction paper for the base. Black is recommended for a vibrant look.
Make a 9″ circle and cut it out to serve as the base for your Rangoli.
Begin arranging the Rangoli pieces on the circular base until you are satisfied with the design.

Once pleased with the arrangement, start glueing the pieces in place. Feel free to experiment with the arrangement of pieces to create a unique and beautiful Rangoli design.
Start with larger pieces and add smaller ones gradually. There is no fixed process, and you can rearrange the pieces as you go along but before sticking them.
Aim for a radially symmetrical design, a key aspect of Rangoli art.
Use contrasting colours for a vibrant output. Make as many Rangolis as you desire. It's an enjoyable activity, especially for kids.
This craft is suitable for classrooms and other group settings.
I'm sure that children will thoroughly enjoy engaging in this delightful art form! Here's a glimpse of our six-year-old daughter enthusiastically creating her Rangoli craft using the pre-cut pieces.
Engaging in Rangoli craft is an ideal way for kids to unleash their creativity! As mentioned before, you can craft 100 unique designs using these 8 shapes.
These designs serve as excellent wall decorations for Diwali. Showcase them on your walls or fashion lovely Rangoli garlands!
Effortless Methods for Cutting Paper Patterns for Kids' Crafts
Wondering about the process of cutting the Rangoli pieces? If the thought of manually cutting numerous pieces seems daunting, fear not. There's a straightforward solution: The Cricut Maker.
While I wouldn't necessarily recommend the Cricut Maker for every craft project, it's exceptionally beneficial for this particular one. Though it comes with a relatively higher cost, it proves invaluable if you frequently engage in crafting at home or need to cut out pieces for a classroom setting.
Here's how to go about it:
The Free Rangoli template consists of multiple pages. The first page contains the template for manually tracing and cutting the pieces from cardstock paper in the colour of your choice.
The subsequent pages feature repeated designs. Import these pages into Cricut Design Space and proceed to cut out the patterns. This process is remarkably simple and takes just 1 or 2 minutes to cut patterns from an entire A4 paper.
We've personally crafted hundreds of pieces in various colours and patterns using the Cricut, enhancing our enjoyment in creating vibrant Rangolis.
Don't forget to download your free printable template at the end of the post. If you want to keep this craft project for future reference, be sure to pin it.
Feel free to share your creations and let me know if you'd like a "step-by-step guide on using Cricut for cutting craft pieces" in the comment section. I'll create a separate post to guide you through it.
Should anyone require the SVG file, kindly express your interest in the comment section, and I'll make arrangements to share it. This will also be provided as a freebie.
Happy crafting!
Behold, a collection of the Rangolis we've crafted. Feel free to pin this image for future reference.
More Rangoli Ideas for Kids
More Diwali Ideas for Kids
Download the Free Rangoli Printable Template
RANGOLI PATTERNS CRAFT TEMPLATE