All activities should be supervised by an adult. As an Amazon Associate, I earn from qualifying purchases. This post may contain affiliate links.
The most popular Indian festival, Diwali is just a few days away. Today I am excited to share with you a Rangoli Maze Activity made with cardboard and popsicle sticks.
Mazes are so much fun! Do you know that Mazes like these are great for spatial awareness and fine motor skills.
We have already made many mazes in different shapes and difficulty levels. But this maze is Slightly different because I have added a few holes along the path that makes the ball drop out. This makes the play more challenging and interesting as well.
So What is Rangoli?
Rangoli is a popular Indian folk art where people make colourful designs on the floor to welcome the goddess Lakshmi. During festival seasons these Rangolis or kolams get bigger and more colourful.
Here is another one done with flowers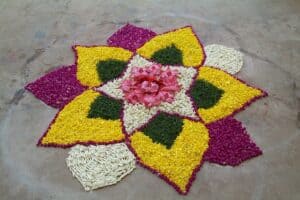 As a child, I love to help elders while making Rangoli or Kolam, Kids are mostly given tasks to Fill it with colours.
During Diwali, we wake up very early to do the rituals one of which is, Decorating the Entrances. My Grandmother makes big Kolams, The main one being atleast 8 Feet, covering the whole road. I wish I had taken some photos of them to share with you.
Let me share how I made this Cardboard maze. You need approximately 1 hour to make the maze.
Things Needed
Cardboard
Popsicle stick (Optional)
Tools – Cutter, Cutting mat, Scissors and Hot glue gun
To draw – Black Fine point pen, Sharpie black marker, and Brush pens
Instructions
Watch this video to see how it works and how to make it
Read on to learn some tips and tricks along with step-by-step pictures. Before starting to make, I suggest you make a rough sketch of how you want the Maze to be.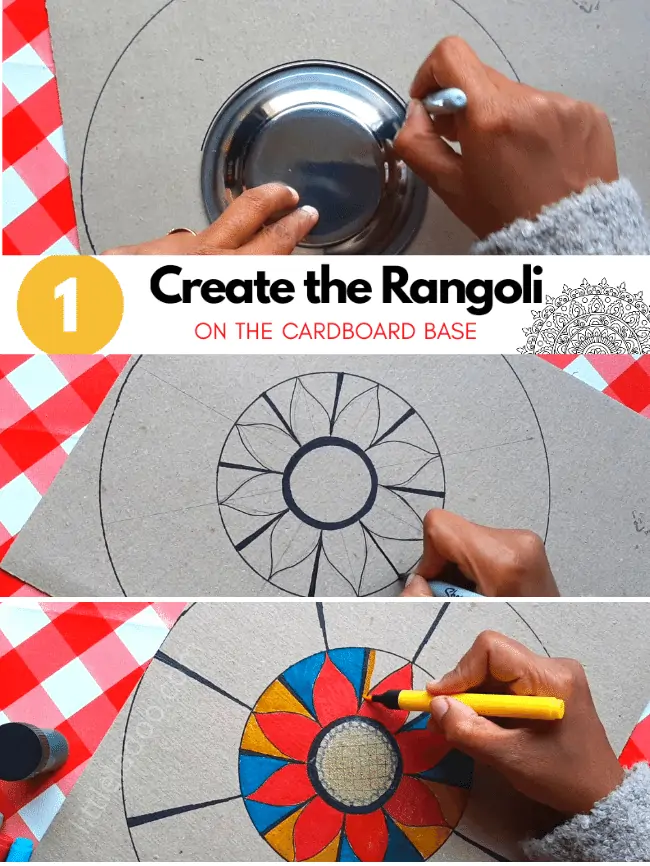 Draw and colour the rangoli on the cardboard maze. You can also print your favourite mandala art from the internet, colour it and paste it over cardboard.
Cut the drawn part out of the cardboard piece. Use a sharp cutter after placing the cardboard over the cutting mat.
Next, Cut a few long cardboard strips the same way. Ours is 1″ wide. I have used the reference of a steel scale to cut these strips.
We have to make the strips flexible so that it will be easy to stick over the curved lines. Just bend the strips bit by bit and make it curvy as shown here
Apply the hot glue gun to the lines and add the strips. Leave a small gap for the marble to pass through.
The next step is preparing small pieces for the maze. You can cut popsicle sticks into small pieces. Measure and cut the required pieces.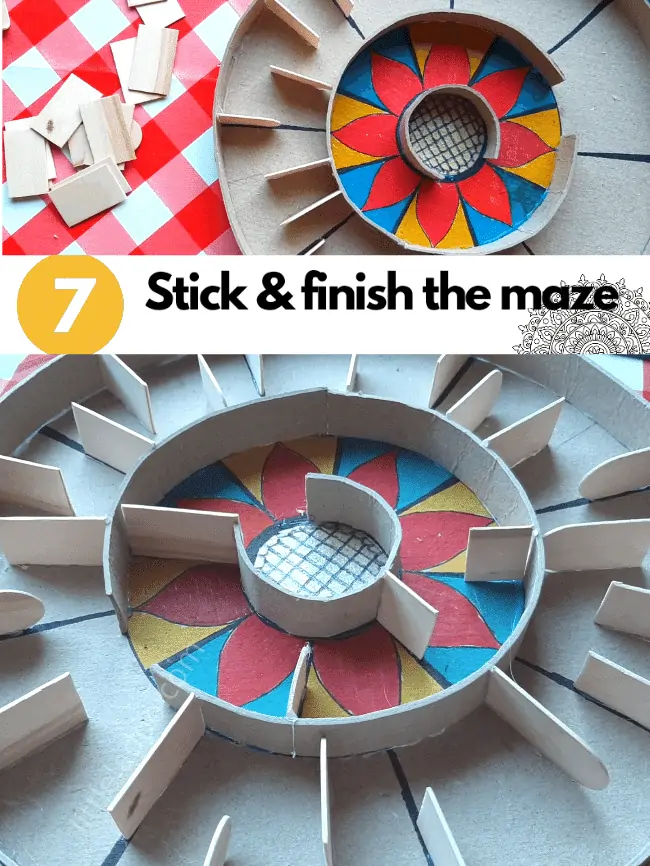 It is almost done! You can leave it as it is for toddlers who are playing mazes for the first time. For older kids, make it challenging by punching a few holes like these.
Just add marble and let the play begin.
Although it takes less time to complete the maze, Kids will love to play multiple times. And you can also easily save it for another day as it is strong enough.
If you love this Idea, Please Share it with your friends and also pin this image for Later.
You Might Also Like
Similar Cardboard Mazes