All activities should be supervised by an adult. As an Amazon Associate, I earn from qualifying purchases. This post may contain affiliate links.
Discover the Wonders of India: 20+ Crafts, Printables, and Activities for Learning!
Are you in search of engaging activities with an India theme for your preschoolers? Look no further!
This blog is your ultimate resource, offering over 20 incredible India Activities specially designed for toddlers, preschoolers and also kindergarten kids.
These activities are super-simple and can be enjoyed during Independence Day, Republic Day, or at any time of the year as part of your India Unit study.
Get ready to embark on a delightful journey of discovery and exploration with your little ones!
India Activities for Preschoolers
Our list of activities includes several simple crafts, Printable Worksheets, and Easy-prep activities.
The best part? Many of these printables are available for download at the end of this post, ensuring convenient access to additional resources.
For some activities, you can click on the image, which will redirect you to the corresponding blog where you can find and download the specific printable.
All these activities are compilations of the ones that we did since my child was a Toddler.  And I will also be updating new activities, making this blog a constantly growing treasury of India-themed activities.
So pin this blog for later reference so that you can always come back to it.  Now Let's dive in.
Explore India's Geography
I have created 2 India Location Worksheets and 2 Learning Pages for Kids to Discover India's Location in the World and its Boundaries.
Learning pages work as reference material for children to come back to if needed. Worksheets help kids to practice what they learned.
This free printable pack consists of four pages, all available for download at the end of this post.
Indulge in Joy of Colouring with India Colouring pages
For all the little artists who adore colouring activities, we present 7 awesome India colouring pages that are sure to bring delight. These pages feature simple drawings with thick lines, making them ideal for young children to enjoy.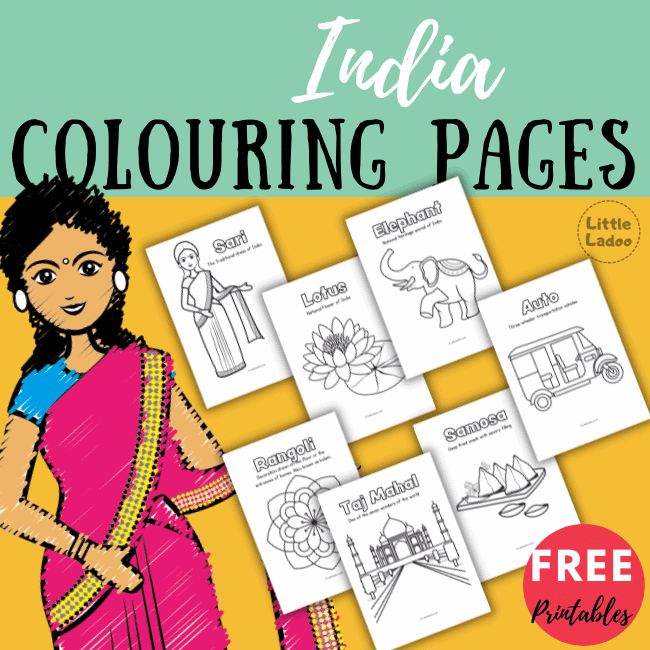 Each page showcases popular elements of Indian culture, allowing kids to immerse themselves in the vibrant world of India while unleashing their creativity.
Make Crafts with India Flag Templates
Express Your Patriotism with India Flag Templates!
Discover three India flag templates that offer endless possibilities for colouring or creating magnificent crafts. Let your imagination soar as you explore various ways to bring these templates to life!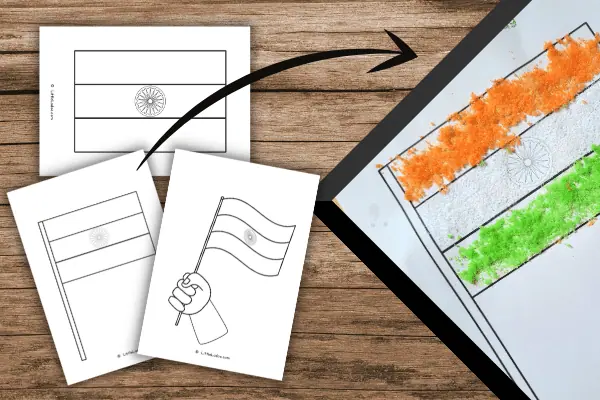 One idea we loved is making a flag using coloured salt, which can be achieved by adding food colouring to salt and creating a beautifully textured effect.
Alternatively, you can explore other materials such as crumpled papers, beads, pulses, vegetable peels, or any small items you can find around your home.
Create a Captivating India Flag in a Jar
Create a stunning flag with salt inside a mason jar or any glass container you have at home. For a smaller version, a shot glass works perfectly, requiring only a small amount of salt.
First, Mix the food colouring with the salt.  You can choose the vibrant hues of the Indian flag – saffron, white, and green.
Next, layer the coloured salt inside the jar, starting with saffron, then white, and finally green. Gently tap the jar on a flat surface to settle the salt layers and ensure a neat presentation.
This colourful creation will add a touch of patriotic pride to any space. Display it on a shelf, or desk, or use it as a centrepiece during Indian festivals and celebrations.
Learn about the Indian National Flag
Learn about India's National Flag with a Factsheet and an engaging worksheet.
Factsheet: Discover the significance of the colours, Ashoka Chakra and Important Facts about the Indian National Flag.
Worksheet: There are 10 Flags in the worksheet. Cut out the flags and Let the child sort them into right and wrong categories. Discuss the errors in the wrong flags to understand proper representation.
Enhance knowledge, critical thinking, and attention to detail through this interactive activity.
Make a Handprint Indian National Flag Craft
Get creative with a Handprint Indian Flag Art activity! Little ones will love this creative craft.
All you need is orange and green washable paints.
Simply apply the paints accordingly and press your handprint onto a piece of paper.
Add the Ashoka Chakra, and voila! Your very own Indian flag is complete.
Watch as your child's artistic skills and national pride shine through this colourful and interactive project.
Use the same technique to make any Handprint National Flag.
Engage Toddlers with India Do-a-dot-Marker Printable
Download these free pages, grab a pack of dot markers, and let the fun-filled learning start.
This printable is ideal for teaching the vibrant colours of the Indian Flag and familiarizing children with the boundaries of India.
For this activity, we recommend using the Magicfly Dot Dabbers or Do-a-Dot Art Markers.
These versatile dot markers can be used with various dot marker printables, ensuring endless creative possibilities for your little ones.
India Flag Cut and Paste Activity
Download the Printable, cut out the elements, and paste them together to create the Indian flag. A fun and interactive way to learn!
Learn the National Anthem of India
Discover the National Anthem and Pledge of India with 2 printable cards.
Embrace patriotism and engage in meaningful recitation of these important national expressions.
Download, print, and cut to create these learning tools for the National Anthem and National Pledge of India.
Explore India's National Symbols
National symbols hold great significance as they reflect a country's identity. Does your child know the National symbols of India? We have an incredible resource to assist you in teaching them!
Download our free printable pack featuring 14 India's National Symbols Flashcards.
From the majestic Indian Tiger to the iconic Lotus flower, these flashcards provide a comprehensive overview of India's rich heritage.
Discover Fascinating Facts with India Quiz Cards for Kids
Quizzes are a delightful way to engage children's curious minds. Introducing a list of simple knowledge questions about India designed specifically for young kids aged 3 to 5 years old.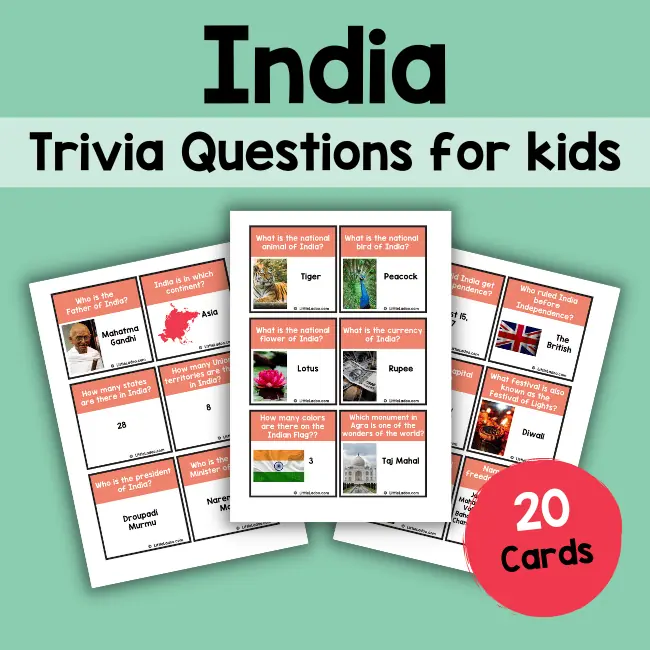 Get your hands on the India Quiz cards and witness the joy as your child attempts to answer them. Explore their understanding of India's rich heritage, geography, famous landmarks, and more.
Explore the Marvels of Indian Monuments with Flashcards
India's rich heritage is beautifully captured in a collection of captivating flashcards featuring diverse monuments.
These cards showcase high-quality images that will captivate children's imaginations and help them learn about India's iconic landmarks.
Visit our Monuments of India Blog to check out 3 more interactive activities included in the pack.
Craft Your Own Red Fort
The Red Fort stands as an iconic monument in India, built by Emperor Shahjahan. Every year on Independence Day, the Prime Minister proudly hoists the national flag at this historic site.
Now, you can create your own 3D Red Fort craft, complete with the Indian flag, using our printable craft template.
Bring the Red Fort to life with your artistic touch and showcase your love for India's heritage.
Learn "All about India" with India Learning Binder
The India Busy book has 11 interesting Topics that are perfect for young children.
Location of India
Important facts
National symbols
Freedom fighters
Spices of India
Indian cuisine
Festivals of India
Dances of India
Costumes of India
Monuments of India
Taj Mahal.
Here is a very Quick preview of the Activity pages of the India Learning binder.
Learn about the Festivals of India
India is a land of Festivals and Every Festival is welcomed with grand Celebrations. I have created a Learning pack of 20 Major festivals in India, which includes Flashcards and Factsheets.
Craft the National Flower, the Lotus
Lotus is the National Flower of India and is considered very auspicious. Make a beautiful lotus craft with my free template and step-by-step tutorial. It is a very easy craft and turns out very impressive if done with thick sheets such as cardstock paper.
Immerse in Elephant Activities
The Indian Elephant is the National Heritage Animal of India. Here are some interesting activities that you can do with your Toddlers
Immerse in Tiger Activities
The national animal of India is the Bengal tiger since 1963. We have done a few Tiger activities.
We learned the fun facts about the tiger with our Tiger book (I will soon share a printable so you can also make the book.
Five Tiger worksheets  suitable for Toddlers
Tiger cardboard Game-  All black stripes of the tiger are of different sizes, and the goal is to fit all the pieces on the tiger's face
Peacock Craft
Make the National Bird of India with a paper plate. We have a Free craft Template so you can make a Peacock craft with ease.  See the full tutorial and download the template to make your own peacock craft.
Paper Diya Craft
Diya is a cup-shaped Oil lamp made with (mostly) Clay. Most ceremonies, daily rituals and auspicious functions in India start with lightning the lamp. Make a Diya craft with our free printable template.
Make a Rangoli maze with Cardboard
Rangoli or Kolam is the Decorative pattern drawn on the floor at the entrance of the house. It is made with rice flour and is one of the Indian Folk art.
I made a Rangoli Cardboard maze game for my daughter. This Diy Toy promotes hand-eye coordination. Learn more about this cardboard toy and also check out our How to a DIY tutorial
Make a Felt Map of India
I made an India felt map t when my daughter was 2 years. She has to place the India map exactly in its location. We also used this map to do many interactive activities – Leaning Landform, Islands, Different landscapes, and where we lived. It is so easy to make! I used a map for reference and cut the felt pieces. Just check out the video to see how I made it.
Some materials that you will need to make this map: 2mm Felt (Green, blue, beige and Black), a Hot glue gun, Small pebbles, White acrylic paint and a map of India to cut out the Felt.
You can also teach the Boundaries of India- On the north is the  Himalayas, On the south Srilanka/ Indian Ocean, the Bay of Bengal on the East and the Arabian Sea on the west.
Song about India
If you allow screen time for your kids, this is a wonderful video to learn about India, the Musical Way.
Get a glimpse of important places, food, leaders, Monuments, and festivals with this fun song.
So this is all for now, But I will be adding more crafts and printables when we do new activities.
Learn about the Indian States and Union Territories
Finally, here is a Learning pack to learn the states and Union territories of India. The variety of activities makes learning fun rather than memorising States and their Capitals. This pack includes State Flashcards, location cards, a Velcro matching Activity, 2 posters and some Learning pages.
Download all the India Free printables here
Did you find this blog useful? Would you please take a moment to share your thoughts in the comments section?
Please note that all the Printable on this blog are for personal or classroom use only. If you have a family or friend who would like this, please send them over to this post to download their own copy.
Pin our India Activities for Preschoolers
Don't forget to save your favourite activities for later.  Just click on the images and save them to your child's Leaning Ideas board.