All activities should be supervised by an adult. As an Amazon Associate, I earn from qualifying purchases. This post may contain affiliate links.
This DIY cardboard maze is one of the first Cardboard Maze that I made for my Toddler when she was 18 months old to introduce the Maze concept.
It is an easy DIY that you can make with a few basic supplies at home. Surprisingly, This project takes no longer than 15 minutes to make from scratch.
This post contains affiliate links, meaning that I will be compensated if you click through and take action at no additional cost. As an Amazon Associate, I earn from qualifying purchases.
Cardboard Maze game for kids
What is a Maze game?
A maze is a solo-player game where the player moves through complex routes and finds the path to the target.
It can be a simple puzzle on paper, as shown in the image or an exciting 3D maze game. The level of difficulty could also vary according to users. For example, It can be customised for kids as young as 2-year-olds and made challenging for adults.
2D vs 3D Maze for Toddlers
Can Toddlers understand Mazes? Yes, they do if introduced the proper way.
Even though there are many printable mazes (2D)  for such young kids, it is best to start with an easy 3D maze like the one we have.
Otherwise, on paper, kids will not understand the obstacles and move along the shortest path to reach the target. Apart from this reason, 3D mazes are so engaging that kids play over and over again.
So, what's my point?  It is best to introduce 3D mazes before offering Toddlers Printable Maze puzzles, although both have many developmental benefits.
What are the Skills developed when a child plays with a maze?
This simple cardboard maze is the perfect DIY toy for a toddler, which has many basic developmental benefits, including the following.
Improves Focus and concentration,

Motor skills
Develops Problem-solving,
Builds self-esteem
Helps with Spacial skills and Cognitive skills
Improves Hand-Eye Coordination
It fully engages the children and makes them do something productive when we can have some time to relax.
How to Make a Cardboard maze?
Things Needed
Here is what you will need to make a simple Cardboard maze for kids
Cardboard sheets
Hot glue gun
A Marble
Video Tutorial
Here is a 2-minute brief video tutorial that shows how I made the cardboard maze and how it works. You can also see my 18-month-old Toddler playing with the Cardboard maze.
As I said earlier, it is so easy to make. You can make the paths more complex or simple based on how challenging you want them to be for your child.
Scroll on to read step-by-step instructions, pictures, and a few tips and tricks on making this DIY toy.
Step-by-step instructions
1. Begin by drawing the layout of the Maze on a piece of cardboard. Draw all the walls, the origin point and the target. This is the base of the maze.
2. Next, Cut a few thin long strips of cardboard with a Steel ruler and Cutter. For this project, I made 1″ wide cardboard strips.
TIP: Always, Place the Cardboard sheet over a Cutting mat while you cut the cardboard strips with the Cutter. This is to ensure that there is no damage to the working surface.
3. Now that the strips are ready, let's start making the maze. Apply the hot glue gun over one side of the cardboard strips and place it over the drawn lines on the base panel
TIP: The strips need to be cut for the length of the drawn line. Just measure the line, mark and cut the extra length before pasting it on the base.
4. Once all the walls are done, make a punch on the Origin point with a sharp pencil or a Skewer. Expand the hole so that you can place a Marble over it. This step is completely optional and can also be skipped.
That's all! The Cardboard maze is all set to play.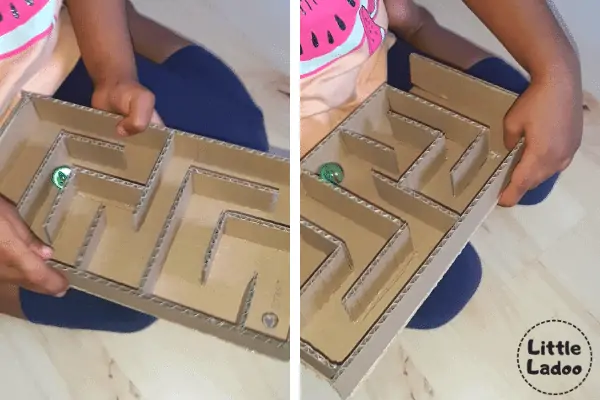 Just add the marble and give it to your child. Explain the intent of the game; Which is to get the marble to the target by moving the cardboard box.
Even though Toddlers need a few minutes to complete it, they would love to play with them over and over again. With this cardboard maze, kids can enjoy their time as well as improve their developmental skills.
Pin this Easy Cardboard maze
Don't forget to save this DIY cardboard toy for later! Be sure you are following along with Little Ladoo.
Did this post inspire you to make one for your child? Let me know in the comments section.
Do you know someone who might find this useful? Please share it
Similar Cardboard Maze projects
More Cardboard recycling projects
Thank you for reading through this post!! If you found this helpful, please let me know in the comment section because I would love to hear from you!