All activities should be supervised by an adult. As an Amazon Associate, I earn from qualifying purchases. This post may contain affiliate links.
11 Diwali Crafts and Activities to do with kids
Are you looking for fun Diwali activities to do with kids? This blog is a great source to find the Best Diwali Crafts, Books, Best videos to learn about Diwali, Printable Worksheets, Templates and more.
This post contains affiliate links. As an Amazon Associate, I earn from qualifying purchases.
The activities listed here are the ones we did with our preschoolers this year and the previous year. So every year when we do new Diwali Activities, I add them to this blog and thus this blog will be a growing list of Diwali activities. So pin this blog to your Activities board on Pinterest to check again later.
Now, Let's dive in
What is Diwali?
Diwali is the major Hindu festival celebrated throughout India, Nepal, Bangladesh, Sri Lanka and many other countries. It is also known as Deepavali or the "Festival of Lights" because it is traditionally celebrated with decorations that include many small oil lamps.
Diwali marks the return of Rama to Ayodhya after defeating Ravana, who had seized his wife, Sita. It commemorates the victory of light over darkness, knowledge over ignorance, and good over evil. This year, Diwali is on October 24th.
How do people celebrate Diwali? 
A traditional Diwali celebration includes a home puja ceremony and the Most common Tradition people do during Diwali are
Clean their homes and decorate them with lights and flowers.
Draw Rangolis at the entrances of the home to welcome Goddess Lakshmi
Wear new clothes
Exchange gifts with loved ones
Enjoy delicious feasts and sweets
Enjoy Fireworks.
It is a great time to have fun with family and friends.
Diwali 2023
In 2023,  Diwali fall on November 12, Sunday.
Diwali Activities for Kids
I have listed more than 10 activities that will keep kids of all ages interested. Celebrate the holiday with your kids by including these fun Diwali activities for kids in your day!
Playdough Indian Sweets
Diwali is incomplete without iconic sweets like Ladoos and Jalebis. Friends and Families bring sweets and we usually have a variety of sweets at home. One fun Diwali activity that kids can do is make these diverse Indian sweets with playdough.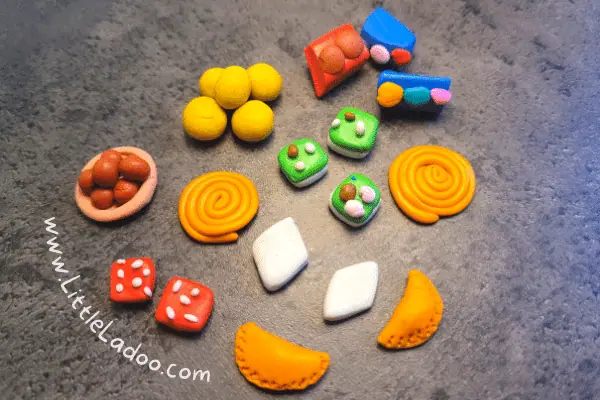 We made Thumb-size Playdough Ladoos, Murukku, A bowl of Gulab Jamoon, Milk sweets, Kaju katli, Somali and Halwa. You can Print this image for reference.
These Paper Diyas are so easy to make with a free printable template. They are so Vibrant and make a perfect decoration element for Diwali.  Click on the image to learn the instructions and get the template.
Make Art with Free Printable Diya Template
Here are 4 free Printable templates that have Diyas in Big, medium, small and one with a Bold outline. You can create many different projects with these templates. I am sharing a few ideas
Colour the Template
Make a Do -a Dot  or Qtip painting
Make a salt art Project
Use Tissue square to make a Diya Art
Make a Diya wreath with small templates.
Download the Free Diya template
On Diwali, People Worksop Lakshmi, the Goddess of Wealth. She Sits on an open Lotus which is considered to be her favourite flower. Make this Paper Lotus craft with our Free printable template and Step and step instructions.
Make a Salt Dough Diya
Salt dough Diya is a fun idea to do with the kids! Salt dough is excellent for making Diyas and other salt dough crafts like Christmas ornaments, keepsake handprints, etc.
Here is the exact salt dough Recipe:
1 Cup All-purpose-floor
1/2 Cup Table Salt
1/2 Cup Lukewarm water
Instructions: In a large bowl, mix the flour and salt. Slowly add in the water while stirring until it comes together. Knead with your hands until it is soft.
Watch this video to see how She makes Vibrant Diyas with her kids using Salt dough.
Handmade Diwali card
Handmade cards are very special, especially when made by small kids. Here is an easy Diwali card idea that even toddlers can make. Make fireworks with different colours on a black Cardstock A5 sheet and add your text at the Bottom and Tada… Your Card is ready. For making the fireworks prints, we used straw.
Here is another Diwali card that would be so much fun to make with little help from adults. So this Firecracker is Painted paper straws cut into 3 cm long pieces.
Click on the image to download the Diwali card template so that you can just print and start the craft.
You can make this tealight holder in just a few minutes with a Toilet Paper holder, and it makes for a great DIY project for the upcoming Diwali festival. Click on the image to see how to make it.
Materials we used – Toilet paper Rolls, Scissors and Paint. That is all you need. A very simple and inexpensive way to create a Tealight holder. Since this is paper, please take precautions that none of the flaps is near the flames, so they don't catch fire.
Paper plates are our favourite way to make Mega-size sturdy crafts in a few minutes. So this Diwali, we tried making a Diya and it was super-Easy. Learn Directions and catch a video of us making the diya by clicking on the image.
I am sure this will be a great classroom craft with every kid making Different coloured Diyas, it would be beautiful to put them on display.
To make the project further easier, you can buy a Pack of coloured plates and just make the decoration over it.
If you love DIYs, Create this fantastic Maze or Labyrinth for your Toddlers or Preschoolers. You can make your beautiful Rangoli with vibrant colours and add the maze layout with cardboard strips.
Mazes are so much fun and are a great way to enjoy quiet time. Here are 3 Diwali-themed Printable mazes for kids to enjoy during their quiet Time!
Diwali counting clip cards
Practice counting with these Diwali clip cards which is a great way to Practice number Identification, Counting and also fine motor skills. The Free printable pack has 15 cards and can be perfect for Preschoolers who can identify 1 to 10.
You can download this at the end of the post by signing up.
Diwali is a festival that celebrates the return of Ram after Defeating Ravana in the War. Ravana is an interesting Mythical character which has 10 heads. I created a fun activity to practice counting from 1 to 10 with Ravana.
Kids place the heads corresponding to the displayed number and practice counting.  Kids will also learn about Ravana with the factsheet.
A Busy Book is an Engaging Activity Book Perfect for Toddlers and Preschoolers to learn Basics and Spend their Quiet Time. I have created a lot of Busy books and the latest is this Diwali-Themed Busy Book.
The Book has 11 Activities and you can see them all here.

You need two hours to make the book at home. Get the Diwali Busy Book Printable, Print, Laminate, cut out the Loose parts and Affix with Self adhesive velcro Dots.
While the Busy book is recommended for Toddlers, here is a Diwali activity pack, that I created for my daughter who will be 5 in a month. It is a Massive activity pack and includes learning pages, colouring pages, Worksheets, hands-on activities and more. See the whole content in the video here.

Read the Story of Ramayana
The Ramayana story is the most well-known Hindu mythology. Written in Sanskrit, it tells the story of Rama, a prince whose wife was kidnapped by Ravana, an evil demon king. Diwali is the perfect time to learn Ramayana, the great Indian Epic, as Diwali marks the return of Rama to Ayodhya after defeating Ravana.
Make Ramayana Puppets
Puppets are great for storytelling. And as Ramayana is a great story to read during Diwali, these puppets are a great companion for young kids. It is a part of our Diwali Activity Pack, which includes a 3-page story of the Ramayana as well.
Books about Diwali for kids:
Here are a Hand–picked collection of books to learn stories about the festival of light.
Amma Tell me about Diwali
Binny's Diwali
The Diwali Gift
5 Days of Diwali
Watch the best videos about Diwali
Kids love to learn through videos. If you allow screen time for your Kids, Here is a list of the best Diwali videos that kids can watch to know why it is celebrated and what people do during Diwali.
First, learn the story of Ramayana in this animated video.
Do you know that while the North Indians celebrate Diwali for Ram's return to Ayodhya, it is celebrated for an entirely different reason in the South? Watch the video to learn the story of Naragasura.
The following Video by Twinkl is our favourite to learn what people do during Diwali.
Another Video by NatGeo shows clips of the 5-day celebration.

Practical Life activities for kids
Practical life activities are essential for the development of self-esteem and independence. Here are some ideas to involve kids in practical life activities during the week of Diwali.
Before Diwali, we give away all the unneeded things at home and clean them. Kids too can declutter their space by giving away old toys, clothes, and books and cleaning their rooms.
Involve kids in the preparation of sweets. Some simple tasks would be making Gulab Jamoon balls or preparing Dough for Ladoo.
Kids can colour the Kolam or Rangolis, which they would also love.
Kids can decorate the house with Flower garlands and lights (with supervision)
Did you love all these Diwali Activity ideas and recommendations? I will be adding more great ideas to this list every year. So pin this blog for later.
How to download Diwali Counting clip cards?
To receive your Diwali free printable pack of 15 cards right in your inbox, Please enter your details in the form below. I will send the PDF file to download and print.
If you liked our post – Diwali activities for kids, please share this blog with your friends.  Thanks.
Don't forget to check the Diwali Printable Packs from the shop.