All activities should be supervised by an adult. As an Amazon Associate, I earn from qualifying purchases. This post may contain affiliate links.
The Ramayana, one of India's most treasured epic tales, is a story that has been passed down through generations, captivating the hearts and minds of people. Bring this timeless epic to life in a fun and educational way with our Ramayana Printable Puppets Template!
Children can craft these puppets themselves and engage in imaginative play. Alternatively, adults can create these for storytelling sessions with little ones.
Either way, it's a fantastic method to introduce children to the captivating story of the Ramayana and its fascinating characters while providing hours of enjoyment!
Let me show you how to make the Puppets in a few minutes! It is a Breeze!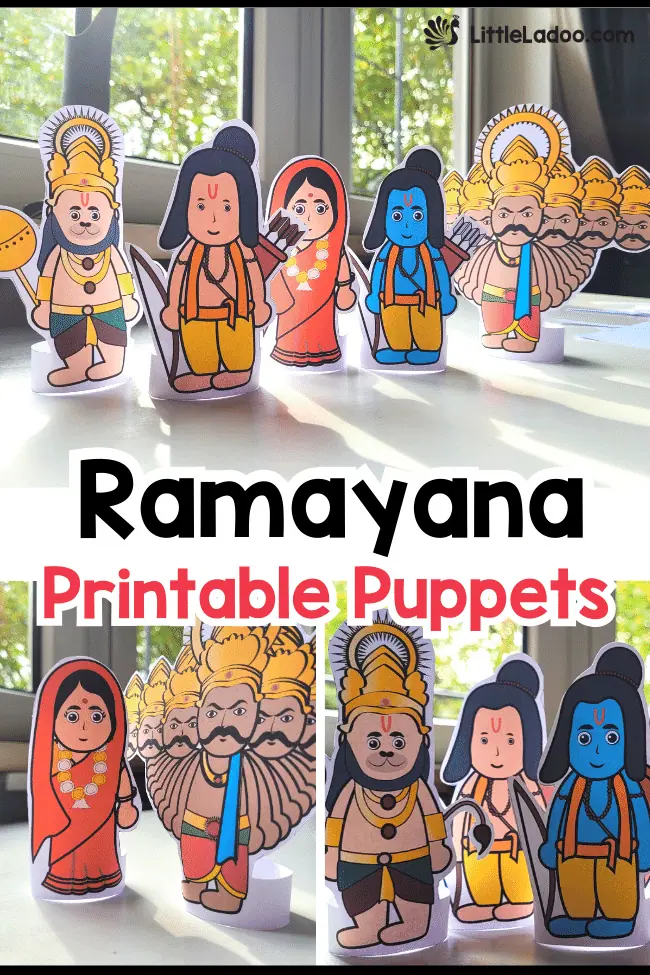 5 Central characters of Ramayana
We will be Making Puppets for the following major characters of Ramayana
Rama: The prince of Ayodhya and the hero of the Ramayana.
Sita: Rama's wife and the daughter of King Janaka.
Lakshmana: Rama's younger brother and his loyal companion.
Hanuman: The monkey warrior who helped Rama rescue Sita.
Ravana: The demon king of Lanka who kidnapped Sita.
Things you will need to make the Ramayana Puppets
Watch the Video Tutorial on How to make the Puppets
The printable features a stunning and intricate illustration of Goddess Lakshmi. Her four hands holding symbolic elements like lotus flowers and gold coins beautifully capture her essence.
Directions to make your Ramayana Puppets
Our template comes in two versions – one is pre-coloured for easy assembly, while the other is black and white, allowing children to personalize their own Ramayana characters with colours of their choice.
For this guide, we'll focus on the coloured version.
Print the pages on high-quality paper or cardstock.
With precision, cut along the template's edges to separate all the pieces. Little ones might need some assistance during this step.
Next, Apply glue on the Yellow Region and Fold the flaps to make the Puppet.
That is all you need to do – Cut, Fold and Glue.
Repeat the same process for all other Puppets. The entire Ramayana cast is ready in no time!
The printable is in high resolution, ensuring that the final craft is sharp, vibrant, and visually captivating.
The puppets approximately measure 15 to 18 cm!
Feel free to add your creative touches with colours, embellishments, or additional decorations to make the craft uniquely yours.
Use this craft as an opportunity to educate children about the Ramayana during the occasion of Diwali!
These puppets are truly one-of-a-kind, featuring original illustrations that you won't find anywhere else. They are perfect for captivating kids and adding a special touch to their imaginative play.
Get the Ramayana Puppets Printable
Pin this Step-by-step instruction for a Quick Glance!
We have a very similar Puppet craft for Christmas – Printable Nativity Puppets
More Diwali Activities for Kids