All activities should be supervised by an adult. As an Amazon Associate, I earn from qualifying purchases. This post may contain affiliate links.
Over 10 Diya Template Printable for your Diwali Arts and Crafts Projects! Make your Diwali celebrations more fun by downloading these Free templates and making Crafts!
In this blog, we've also shared some great Diya craft ideas you can make with these templates. Check out the different templates and how to use them.
If you want more Diwali ideas, make sure to visit our Diwali Activities for Kids. It's full of exciting stuff to make your Diwali celebration awesome!
10+ Creative ideas with Diya Templates
Decorate your home – Make a Diya garland, Diya Wreath or Wall hangings
Make Kids Craft – Fun painting projects, Paper crafts and more
Colouring Pages – colour, decorate, and personalize the Diyas
Greeting Cards – Create Diya Cards
Interactive Games – Create Interactive Games using these Diyas – Like Sight word Match, Number matching Etc
Diya Outlines Drawings in different sizes
Diya Outline Template opens up a world of creative opportunities. Here are a couple of great ideas you can try with these Diya templates:
torn paper art
q-tip painting
sponge brush painting
Dot marker art
marble painting
Have fun with colouring activities
Diya Outline Templates – Variations
Here are some variations – Diya outline with bold lines and Diya facing sides
Diya in colour Printable Templates
Sometimes, kids want colourful Diyas, whether it's for wreath decorations or simply making greeting cards. We have traditional terracotta-coloured templates and small Diyas in a variety of colours.
You can print as many as you like and use them to decorate your house. They are the perfect choice for creating vibrant Diya garlands.
Another great idea is to write an alphabet on each Diya and make a name craft or a name garland. This adds a personalized touch to your decorations!
Diya  Writing Template
These Writing templates are perfect for kids to write about Diwali!
Kids can use it to write words that describe a Diya or craft simple sentences about the festival. This writing template offers endless possibilities for engaging young writers.
Diya Card Template
Our Diya card template helps kids make sweet Diya cards by cutting and folding them.
These cards serve as a canvas for heartfelt messages, and you have the option to choose between coloured and black-and-white card templates based on your preference.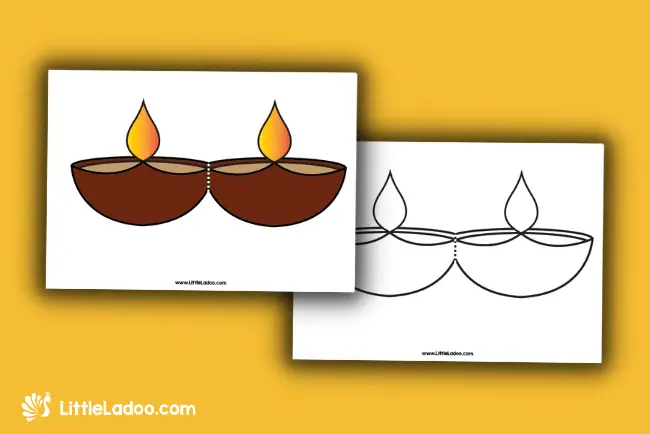 Experience the joy of Diya Arts and Crafts by downloading these Free templates at the end of this post.
More craft Templates Printable
More Diwali Ideas for Kids
Download the Diya Template Printable