All activities should be supervised by an adult. As an Amazon Associate, I earn from qualifying purchases. This post may contain affiliate links.
Discover a bunch of Apple Template Printable perfect for fun Arts and Crafts with kids.
These Apple Templates collections are fantastic for making charming crafts during September and early October!  You can try out different materials and methods to make them.
So Let's start the fall season with some adorable apple crafts, okay?
Apple Outlines Drawings in different sizes
Among the most frequently used templates is the Apple Outline Template, which offers a multitude of possibilities for artistic expression.
Here are a Few Excellent ideas to explore with these apple templates:  Torn paper art, q-tip painting, sponge brush painting, apple peel mosaics, dot marker art, marble painting, or simply indulging in colouring activities.
For those seeking smaller apple cut-outs, I have thoughtfully included apple templates in four distinct sizes. Whether you opt for the petite 1×8 Apple template or prefer larger renditions, the choice is yours to make.
Apple Outline Templates – Variations
There are two more Apple outline templates. catering to specific needs. Whether your craft calls for a leafless apple or an Apple with bold, thick lines, these adaptable templates are at your disposal.
Apples in colour Templates
Sometimes you need colourful apples for decorating or other crafts. You can print these and design your own apples. Consider Making an Apple garland with the small apple Template.
Alternatively, consider fashioning a personalized name craft by incorporating individual letters into each apple, and spelling out a name of your choosing.
Apple Writing Template
If you want to write about an apple-picking experience, we have a writing template for that. Ideal for children proficient in writing, this template is available in two sizes, providing ample space to recount and illustrate their memorable experiences.
Apple card Template
Our special apple card template helps kids make sweet apple cards by easily cutting and folding.
These cards serve as a canvas for heartfelt messages, and you have the option to choose between coloured and black-and-white card templates based on your preference.
Experience the joy of apple-inspired crafting by downloading these templates, available free of charge at the conclusion of this post.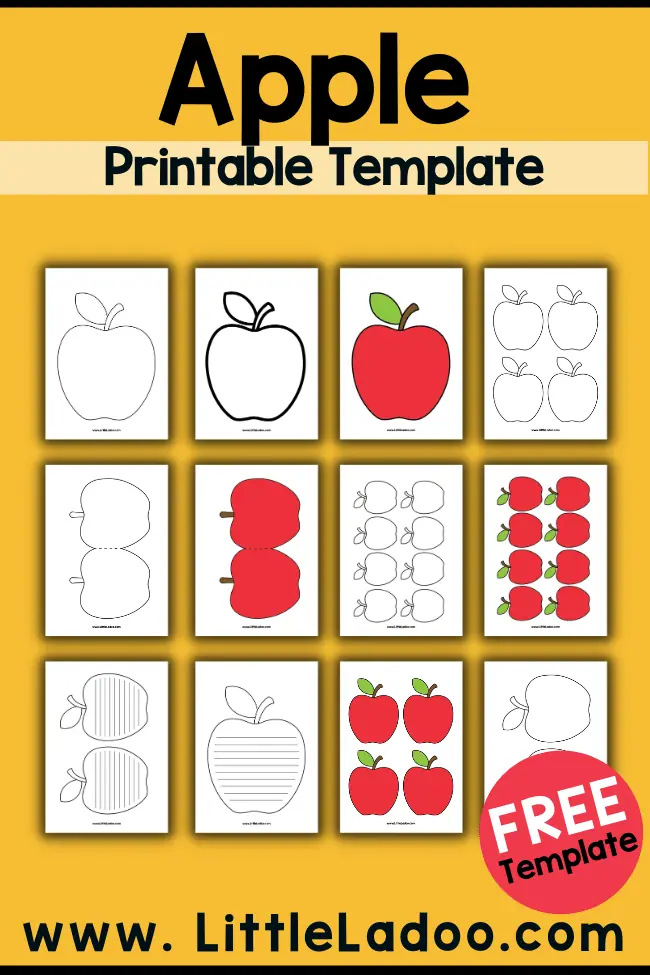 If your creative pursuit calls for a specific Apple template not yet featured, don't hesitate to communicate your request in the comments section. I will add the Apple Template Printable
To save this Apple template Printable for future inspiration, feel free to pin the accompanying image below.
More Easy Fall Crafts for Kids
Fall Printables for Kids
Download the Apple template Printable