All activities should be supervised by an adult. As an Amazon Associate, I earn from qualifying purchases. This post may contain affiliate links.
When you think of Hedgehogs, the first thing that comes to mind is probably their cute and spiny exterior. But have you ever considered the artistic potential of these animals?
In this post, I will show you a Hedgehog Art/Craft made with nothing but a fork! All it takes is just 2 to 3 minutes to make this Fork Painted Hedgehog Craft.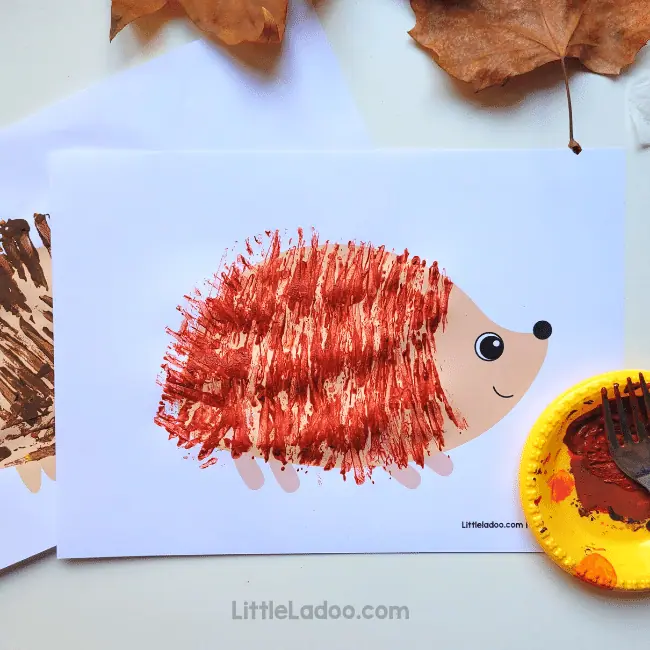 This post contains affiliate links. As an Amazon Associate, I earn from qualifying purchases.
Fork-Painted Hedgehog Craft
Painting a hedgehog with a fork is so much fun!  Plus, I've included a free printable template to make it even easier. You don't want to miss making this beautiful Art.
Supplies you will need
This process art project is super easy and only requires a few supplies.
Directions to make a Fork Painted Hedgehog Craft
First, print out the template on a thick sheet of Paper.
Next, have your child dip a fork into some Brown paint and then press it onto the paper.
Continue until the entire Hedgehog Body is covered in paint.
Use different shades of brown when you want to make the hedgehog spikes denser.
The Forks are perfect tools to make the pricky spikes of the Hedgehogs.
Allow the paint to dry completely before displaying your Hedgehog Art!
Fall is the perfect time to get creative with hedgehog art. Download the Template at the end of the post and start making the cute Critter craft.
I hope you liked this easy craft idea made with Fork.  On our Website we have a number of Fork Painting Art Ideas, check them out!
Fork Painted Christmas trees
Fork Painted Turkey
Pin this Fork painting idea for later!
Download the Template
Get the Hedgehog Template for free now by Signing up in the form here.
You might also like