Easy corn craft to do during Thanksgiving week
Grab a handful of corn kernels and some glue because we have a wonderful Corn Craft idea for kids.
It is such a simple craft project that kids will love to make and display on the wall.
We have actually made a template for the craft, but it is not necessary that you need it as it is very easy to draw.
In case if you would like to download it, then the download link is available in the next section of the post.
This post contains affiliate links, meaning that I will be compensated if you click through and take action at no additional cost. As an Amazon Associate, I earn from qualifying purchases.
Easy corn craft for kids
It is a very easy project that will take just 5 to 10 minutes. All you need is the Printable, A dab of glue, scissors and a handful of corn kernels. That's it.
If you need the corn template, downloading the printable (from the links below) and print it. Or else draw this easy drawing on an A4 sheet. 
The downloaded template has corn clipart that looks like this in the picture below. Cut out the lower part along the line and also cut the two leaves out before giving the sheet to your child.
Place the Kernels on a tray and give instruction to your child to stick the corns over the yellow part of the paper.
Scroll down to see some of the pictures of my 3-year-old creating her corn art.
We used white glue. You just need a generous amount of glue so that the corn kernels will stick perfectly. Yes, corn sticks well with just white glue.
Once this is done, let's stick the green leaves over the black outline space below the corn.
A densely and uniform arranges corn can look cuter, However, I did not want to intrude on what she wanted to craft and just love the way did. So this is the final output. We wrote her name and displayed it on the wall.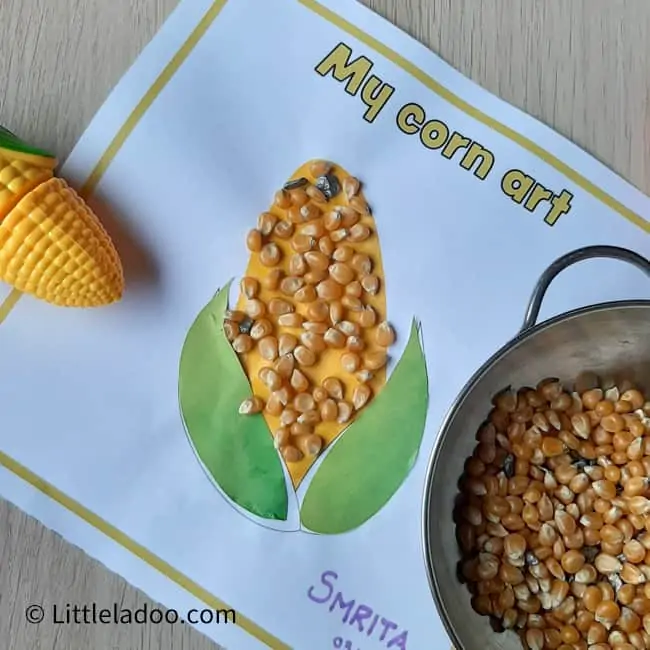 This is one of the first crafts that my daughter did without any help from us. So just try this easy corn craft idea and let me know how it came out.
Happy crafting!
Or else save this Easy corn craft for later.
We also have a few more thanksgiving printable activities for toddlers and preschoolers. Check them out!
Do you know someone who would love this corn craft? Share it
What else would you like to see from Littleladoo? Let us know in the comment section.