All activities should be supervised by an adult. As an Amazon Associate, I earn from qualifying purchases. This post may contain affiliate links.
Are you looking for a Heart Template Printable for your Art and craft project? Get ready to unleash your creativity with these wonderful Free heart templates printable!
You can make Craft projects with kids, Make Home decor or Homemade gifts. Let's get started on celebrating all things loving today.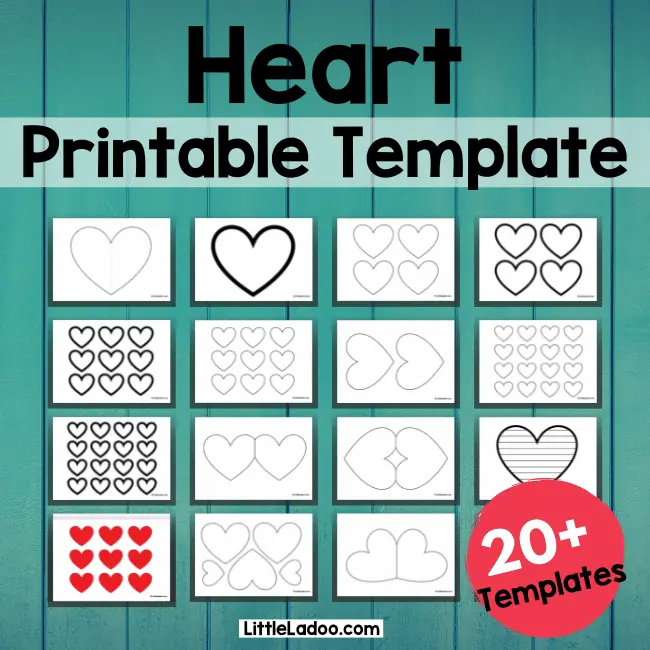 Simple Heart templates in all Sizes
Our selection of heart templates comes in a range of sizes and styles, so you can find the perfect one for your project. From large, traditional hearts to mini shapes and everything in between, there's something for everyone.
Our library of heart templates includes a variety of shapes and sizes to make sure no design is left out! With our selection, you're sure to find the perfect template for your project.
Heart Card Templates
This Valentine's Day, make your own special cards with our adorable heart-shaped folding card template! Select from a template that folds at the top or side, or opt for the smaller version which contains two cards per page.
Perfect for making mini-cards or reducing paper usage, creating your own beautiful, one-of-a-kind cards is now easier and more fun than ever. Get creative this February and show your loved ones how much you care with a handcrafted token of affection!
Lined Heart Templates
Looking for a fun and creative way to write a note? Our lined heart templates are the perfect solution! With both small and large versions available, these paper hearts feature lines for writing, offering an ideal canvas for expressing your thoughts.
Use them to craft a heartfelt message for a loved one, or make them part of an art project with kids; they're sure to bring an extra touch of love to any activity!
Assorted Heart Templates
If you've ever had a craft project in mind where different sizes of hearts are required, these two assorted heart templates are the perfect solution. All that's needed is some colour paper and before you know it – voilà! A bunch of heart shapes to use however your creative vision leads.
Red Heart Template
Let your creative juices flow with our red heart templates! The small ones make a great addition to lunchbox notes, while the larger hearts can be used for craft projects or greeting cards.
Get those pens and markers ready – personalise these hearts by adding colour, fabric scraps or sparkles; let imagination take over and create something unique today.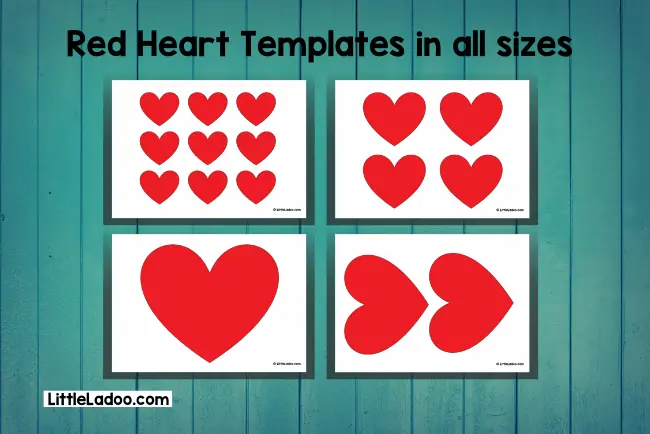 From stencils for craft projects, Valentine cards and decorations, writing love notes… the sky is the limit. Make homemade gifts or home decor – even create paper chains of hearts!
Is there a specific heart template you need for your project? Share in the comments and I'll add it to my list! Pin this image for later.
Download the Template
Ready to get your free printable Heart Template? Just fill out the form below and we'll deliver it straight to you!
You might also like these Easter egg Templates