How to Make a Paper Nativity Scene with our Printable
If you are looking for an awesome and fun resource to teach the nativity story to kids, then this is for you! 
Billions of people worldwide celebrate the birth of Jesus, making it a huge cultural and traditional practice, and no Christmas is complete without preparing the Nativity scene. 
Even though we are not Christians, we love partaking in the tradition. Hence, I created a nativity scene to introduce the story to my child.
As you can see in the picture, the scene elements are fully made with paper. All you have to do is get our printable, print, cut, fold, and glue them together.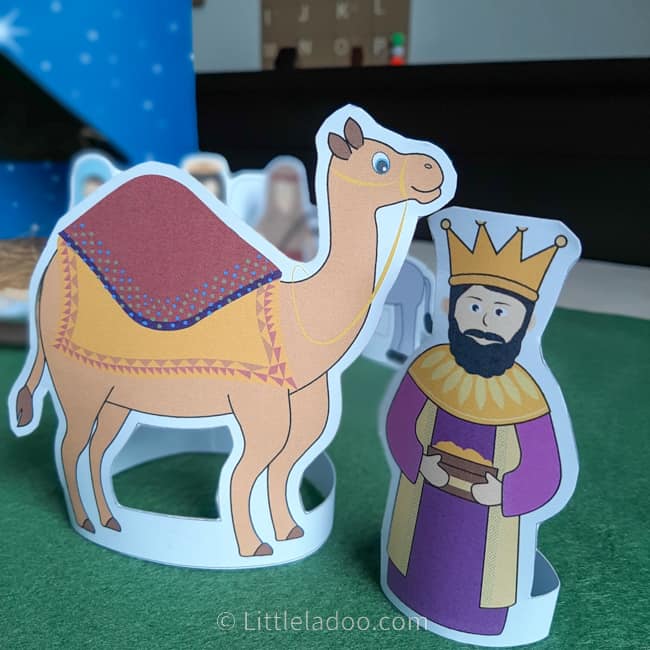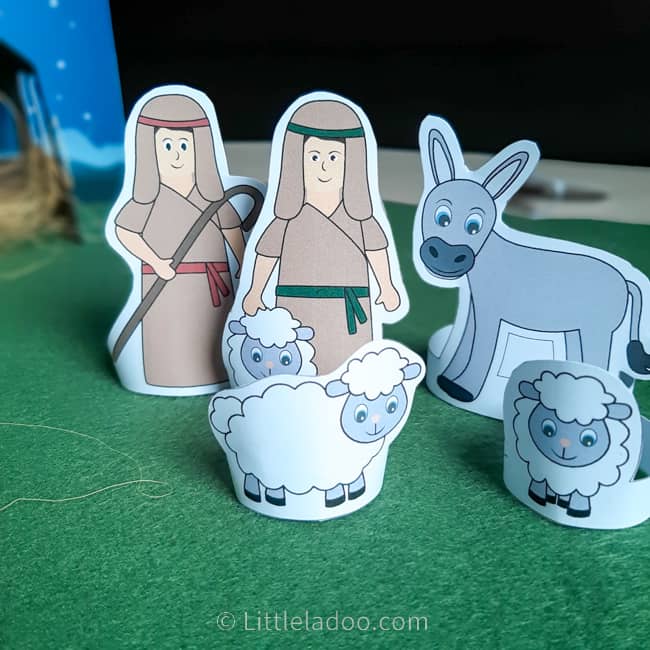 I do all these illustrations with great love, and I am happy that my work brings the joy of Christmas to many families. So, if you would like to have it, This is available on ETSY and TPT.
The making process is actually very easy!
Scroll further to know how to create the set from scratch with the printable. I have also included some tips and tricks. 
Things needed to DIY this Paper nativity set
(Affiliate links included for convenience)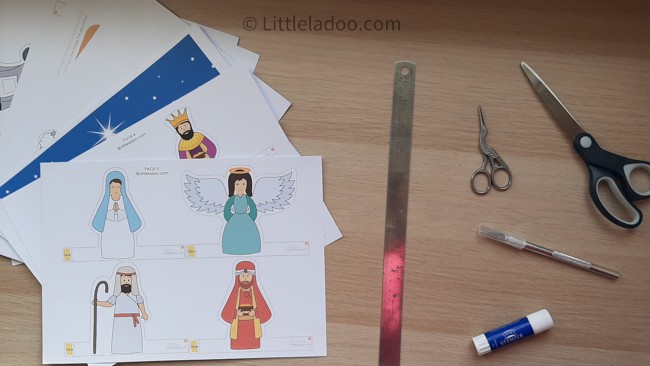 Our nativity Printable 

Paper glue

Scissor / cutter

Ruler
How to make a nativity scene?
It takes about 60 to 90 minutes to finish making the set from scratch.
First, you need to print the pages on either cardstock or photo paper.
This video explains the entire process in 3 easy steps. 
Please read further for some instructions as I made two changes that aren't explained in the video. 
1. I added a cardboard sheet to the background to make it stiffer.
2. The palm tree was thin and tall and thus wasn't that steady. So I had Stuck a popsicle stick on the rear.
In the video & above images, I have used cardstock paper(Standard printing). Recently, I printed a few characters in a Photopaper, and it came out vibrant and super awesome. 
So, I recommend using photo paper if your printer supports it.
Please note that you need to use a cylindrical bar like this for folding the characters as the photo paper is too stiff. 
Storing the nativity set:
If you would like to set it up again for next year, store it in a cardboard box. Just stack the characters one above the other like this. It will be fine! 
I hope you love our nativity scene. If you love to make your own set, this printable is available on Etsy. 
I believe this would be a really great craft project, and older kids can have fun making this with little help from elders.
Please let me know if you have any doubts while assembling it. Just leave a comment below or send a mail to [email protected]
Do you have any scenes like this in mind that kids would love? Let us know; I would love to create them.
Merry Christmas and a Happy new year to you!