All activities should be supervised by an adult. As an Amazon Associate, I earn from qualifying purchases. This post may contain affiliate links.
Diwali is an upcoming holiday that is celebrated by Hindus, Sikhs and Jains. For preschoolers, it can be a fun opportunity to learn about the culture and celebrate with some fun activities. This Mega Activity bundle printable includes Learning pages, games, puzzles, colouring sheets and more to help get your little one in the Diwali spirit!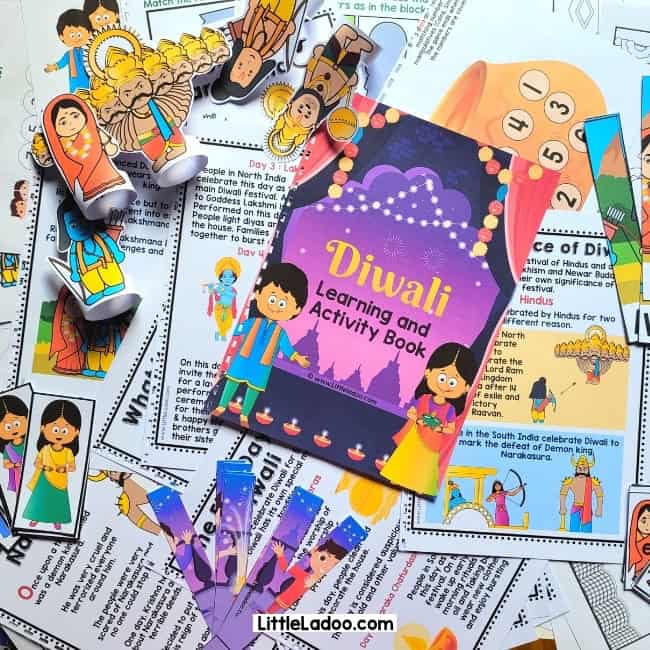 This post contains affiliate links, meaning that I will be compensated if you click through and take action at no additional cost. As an Amazon Associate, I earn from qualifying purchases.
What's included in the Diwali Bundle?
This printable bundle has everything you need to learn about Diwali and keep your little ones entertained during the festive week. Let's have a Quick glimpse of the contents of the pack in the video.
I made this printable pack for my daughter who will be 5 years in a month. My Idea was to make a complete Activity book that has various fun things to do along with information Pages that teaches about Diwali. So this book has learning pages, Hands-on activities, a ton of worksheets, colouring pages, drawing props, quizzes and more.
I am sure that this will keep little ones engaged for a week.
The Mega Diwali Activity Printable Bundle
Part one is the information Pages where you have facts and stories about Diwali. Kids will be learning
What is Diwali
How do we celebrate Diwali?
5 days of Diwali
Significance of the festival
Story of Naragasura
Story of Ramayana
Map of Ramayana
Key Facts
Roll and Cover mat is a fun way to Practice Subitizing and Number recognition. This pack includes 5 Mats with Rangoli, Diyas, lanterns, and Sweets perfect to work on math during Diwali.
Visual perception puzzles and interesting as well as challenging. Kids look for colour and pattern combinations and solve them.
Diya Counting is another hands-on way to practice counting from 1 to 10. There is another activity to practice Uppercase vs lowercase with Ram and sita.
A ton of Worksheets, colouring pages and Scissors skills are sure to provide a fun-filled day.
These are Ramayana puppets, which kids can make easily by folding and glueing. Perfect for storytelling! The pack also has Quizzes and would you rather questions.
How to make the bundle? 
You can print the pages as required and bind them all as a book. I recommend comb binding or organising them in a Ring-binder.
For learning pages, quizzes and Handson activities we used thick paper for printing. For worksheets and Colouring pages, we used thin 80 GSM papers for printing.
Get the Diwali Activity Bundle Printable

You can also Visit my shop to learn more about the Diwali Activity Bundle
If you get this pack, I would love to learn how your child enjoyed these activities. Do share your feedback with me.
Do you know someone who would love this Bundle? Please share this blog with them.
If you are looking for Diwali Activities for Toddlers, Check out our Diwali Busy Book
Want to save this blog for Later? then pin this image.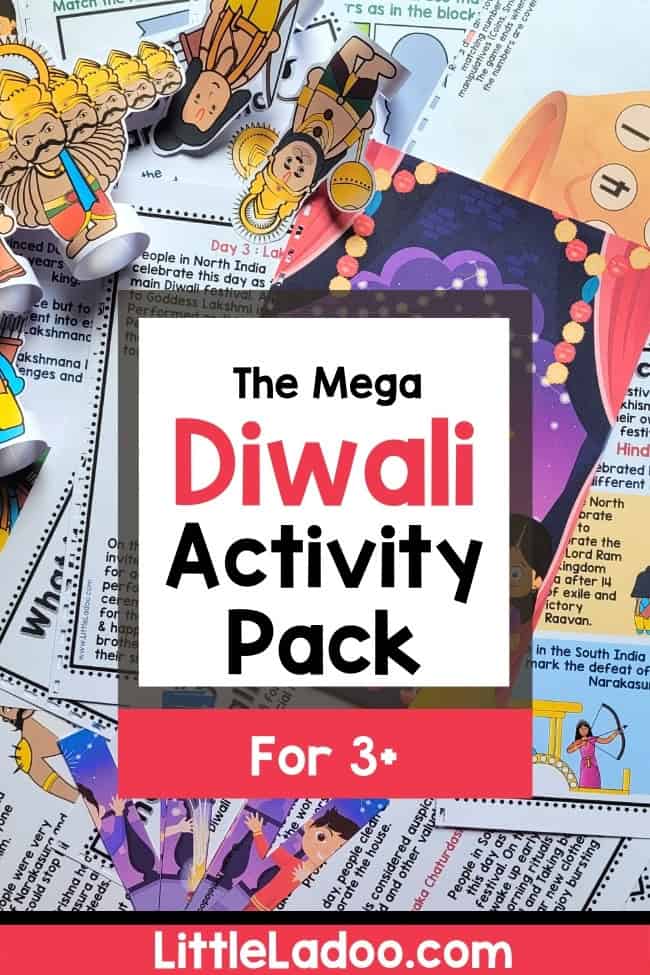 You might also like 10+Diwali Activities for Kids