All activities should be supervised by an adult. As an Amazon Associate, I earn from qualifying purchases. This post may contain affiliate links.
Introducing our Diwali Activity Bundle – a celebration of light, learning, and joy!
Diwali, also known as the Festival of Lights, is one of the most cherished and vibrant festivals celebrated by millions around the world.
To make your Diwali celebrations even more special, we've put together a collection of exciting and educational activities that capture the essence of this beautiful festival.
Our Diwali Activity Bundle Printable is designed to engage and inspire learners of all ages.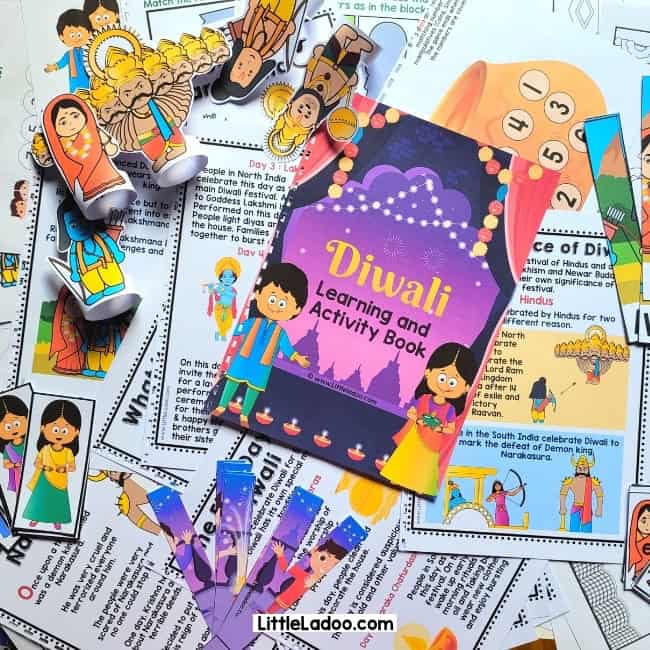 Whether you're a teacher looking for classroom resources, a parent eager to bond with your children over creative projects, or simply someone who loves the magic of Diwali, our bundle has something for everyone.
From colourful crafts to enlightening lessons about Diwali's significance, you'll find a treasure trove of activities that will add a sparkle to your festivities.
What's included in the Diwali Bundle?
This printable bundle has everything you need to learn about Diwali and keep your little ones entertained during the festive week. Let's have a Quick glimpse of the pack's contents in the video.
My goal was to craft a comprehensive activity book that offers a wide range of enjoyable activities, coupled with informative pages about Diwali.
Inside this book, you'll find educational materials, interactive hands-on activities, a plethora of worksheets, colouring pages, drawing tools, quizzes, and so much more.
I'm confident that these engaging resources will keep young ones entertained during Diwali Week!
The Mega Diwali Activity Printable Bundle
Part one is the information Pages where you have facts and stories about Diwali. Kids will be learning
What is Diwali?
How do we celebrate Diwali?
5 days of Diwali
Significance of the festival
Story of Naragasura
Story of Ramayana
Map of Ramayana
Key Facts
Roll and Cover mat is a fun way to Practice Subtitling and Number recognition. This pack includes 5 Mats with Rangoli, Diyas, lanterns, and Sweets perfect for working on math during Diwali.
Visual perception puzzles and interesting as well as challenging. Kids look for colour and pattern combinations and solve them.
Diya Counting is another hands-on way to practice counting from 1 to 10. There is another activity to practice Uppercase vs. lowercase with Ram and Sita.
A ton of Worksheets, colouring pages and Scissors skills are sure to provide a fun-filled day.
These are Ramayana puppets, which kids can make easily by folding and glueing. Perfect for storytelling! The pack also has Quizzes and Would you rather Questions?
How to make the bundle? 
You can print the pages as required and bind them all as a book. I recommend comb binding or organising them in a ring binder.
For learning pages, quizzes and Hands-on activities we used thick paper (120 GSM) for printing. For worksheets and Colouring pages, we used thin 80 GSM papers for printing.
Get the Diwali Activity Bundle Printable

You can also Visit my shop to learn more about the Diwali Activity Bundle
If you get this pack, I would love to learn how your child enjoyed these activities. Do share your feedback with me.
Do you know someone who would love this Bundle? Please share this blog with them.
If you are looking for Diwali Activities for Toddlers, Check out our Diwali Busy Book
Want to save this blog for Later? then pin this image.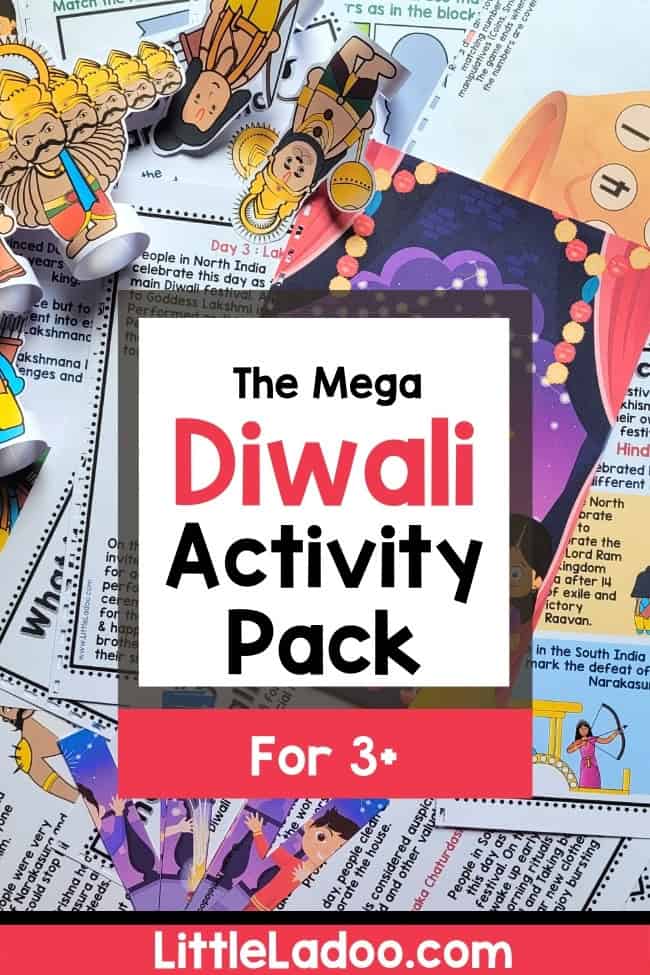 You might also like 10+Diwali Activities for Kids