All activities should be supervised by an adult. As an Amazon Associate, I earn from qualifying purchases. This post may contain affiliate links.
Summer is here, and it's the perfect time to create a Paper Plate Beach Craft!
Imagine making a tiny beach on a paper plate – how cool is that? This craft is super fun and interesting, and you're going to love making it.
Also, It's a great Summer craft that won't break the bank. You can find all the supplies you need at a dollar store.
We've made many Paper Plate crafts before, but this one is extra special with its 3D diorama. Don't forget to check out all our other craft ideas too!
Things you will need to make this Paper Plate Beach Craft
White Paper plate
Blue and brown Washable paint
Coloured Corrugated Paper
Paper Straw
Scissors
Glue
Small SeaSheels (optional)
Human Wooden Pegs (Optional)
Watch a Video Tutorial on how to make a Beach  Craft
This wonderful Summer Craft takes less than 15 minutes to make from Scratch.
Step By Step Instruction to make Paper plate Beach Craft
Let's create a colourful beach scene on a paper plate! First, draw a curved line in the middle of the paper plate to separate the sand and water.
Then, use brown and blue colours to paint the sand and water inside the lines.
To get brown, mix yellow, white, a little black, and red together. After painting, let the plate dry.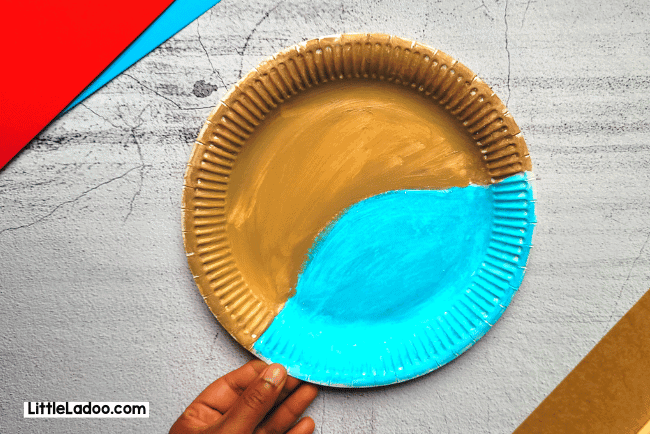 While it dries, cut out different shapes from coloured corrugated sheets.
You'll need 2 blue strips for waves, a red rectangle for a towel, an orange circle for an umbrella, green leaf-like cutouts for a coconut tree, and two surfboard cutouts.
Once all the pieces are ready, start sticking them onto the plate. First, create a wave pattern with the blue strips using a hot glue gun.
Then, stick the towel on the shore.
How to make a Beach Umbrella?
To make the umbrella, cut slits around the orange circle's perimeter and glue a 5 cm paper straw to make the handle.
Stick the umbrella on the plate near the towel.
How to make a Coconut Tree?
Now, let's make the coconut tree. Arrange six green cutouts like a flower and staple them in the centre. Stick them to a straw and add two or three more green petals on the sides to form a coconut tree. Stick the coconut tree on the Plate, just like the umbrella.
Next, stick the surfboards on the beach.
Now comes the fun part! You can draw details like flip-flops, crabs, and starfish on the shore. You can even add seashells and wooden pegs to decorate your beach.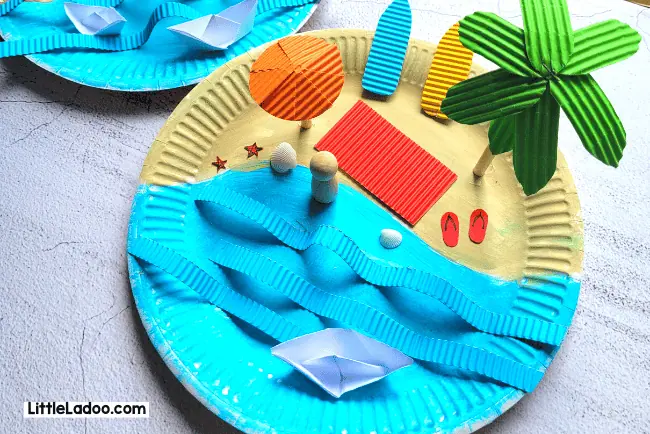 Making paper boats is a classic paper craft that most kids can enjoy. In our beach craft, you'll find two adorable paper boats floating between the waves.
If you're not familiar with it, don't worry! We've got you covered with a helpful video tutorial to learn how to make paper boats.
How to make a Paper Boat?
The best thing is you can customize the colours and objects to make your unique tiny beach scene. So, let your imagination run wild and create your dream beach!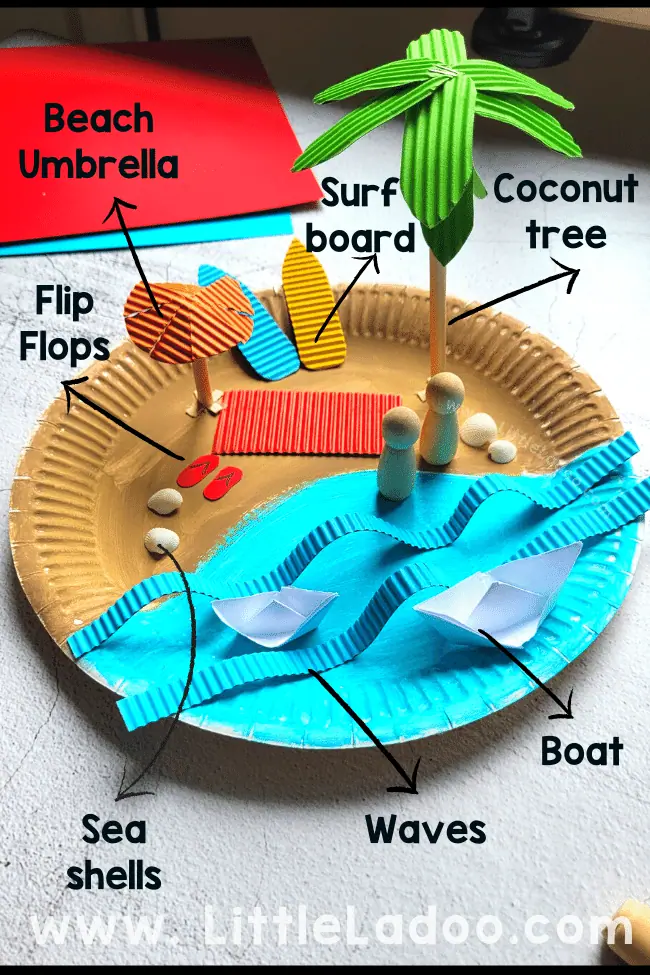 Even though most of our crafts are for kids, this beach craft is also a hit with teens.
Kids might need a little help with this project, especially when using corrugated sheets and straws. But it's definitely a must-do activity if you're planning beach-themed fun. Enjoy!
More Summer  Crafts for Kids
1. Fun Summer Paper Weaving Craft – Create your own sunny sun, yummy popsicle, and juicy watermelon using our printable template. You can also print the black-and-white version directly on a coloured sheet for extra creativity!
2. Summer Cut and Paste Craft – Make three awesome crafts that kids love – a delicious ice cream, a sailboat, and a refreshing coconut drink. It's not only fun but also helps little hands with their fine motor skills!
3. Toilet Paper Roll Popsicle –  Don't throw away those empty toilet paper rolls! Turn them into super cool popsicle toys that kids can have fun playing with.
4. Colorful Ice Cream Cone Craft – Get creative with our free printable template to make a delightful ice cream cone. Add as many scoops as you want in any colour of your choice!
More Summer Activities for Kids
Summer Activity Pack for Kids
Kids love educational play activities,  but they are often impractical due to the time and energy involved in planning and preparation. Luckily, there's a solution!
The Summer Activity Pack offers a collection of fun print-and-play games and activities, saving you the trouble. With a quick download and print, you'll be all set for the entire summer in under ten minutes.
No need to go it alone – this resource takes care of everything, ensuring your little ones stay entertained and engaged throughout the season.