All activities should be supervised by an adult. As an Amazon Associate, I earn from qualifying purchases. This post may contain affiliate links.
There are numerous reasons why you might want to create a Paper Ice cream cone Craft with kids. Not only do they make fantastic play food, but they also provide plenty of creative opportunities.
You can set up a pretend Ice cream parlour, use them to decorate an ice cream party or spend a delightful afternoon crafting them and reminiscing about sunny summer days.
With a free printable template and a few simple supplies, you can create a delicious-looking ice cream cone that will never melt.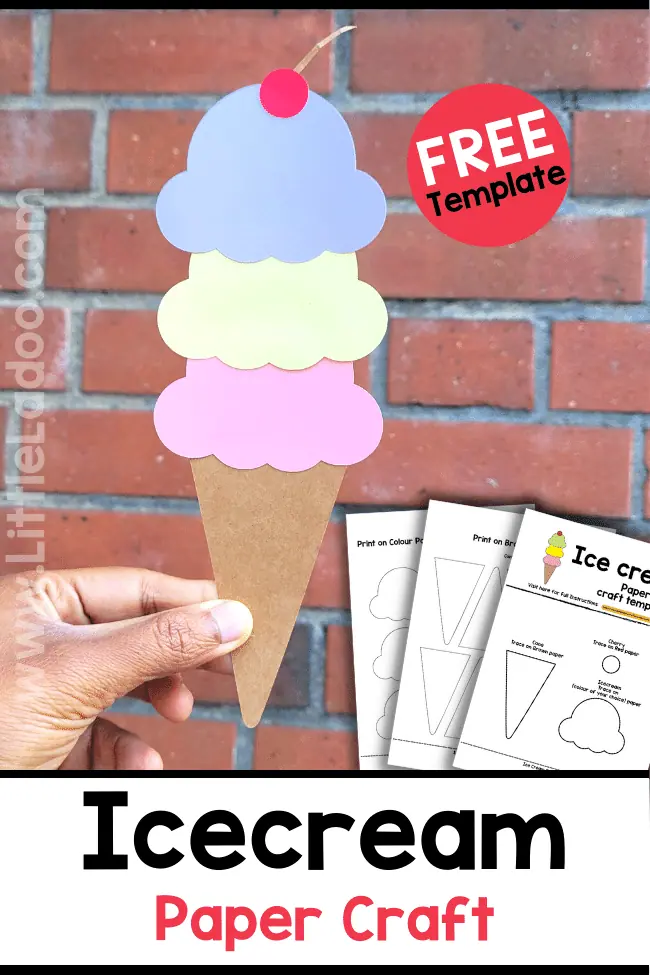 Things you will need to make this Ice cream cone Craft
Icecream cone Template (Download at the end of the post by signing up)
Scissor and Glue
That is all you need to make this simple Papercraft.
Directions to make this Ice cream Craft
Download the Icecream Template at the end of the post. Print the ice cream cone template on cardstock and cut out the pieces. You should have a cone shape, a scoop of ice cream, and a cherry.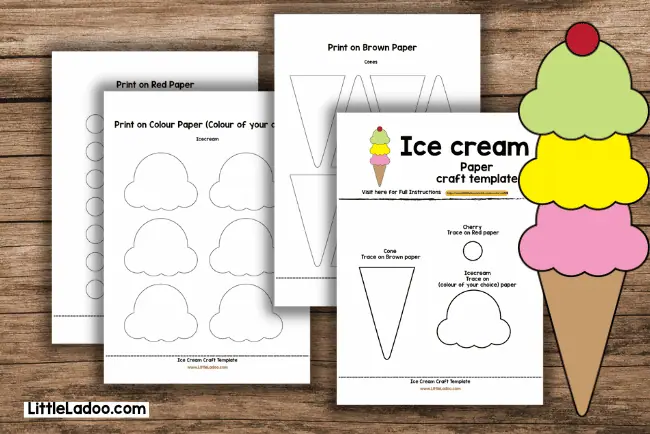 Begin by tracing the cone shape onto a sheet of brown paper and carefully cutting it out. Next, trace the ice cream scoop onto a sheet of coloured paper and cut out as many scoops as you need for your project. Finally, use red paper to cut out cherry pieces.
With all of the pieces cut out, your paper ice cream cone is ready to assemble! Glue the ice cream scoop onto the top of the cone shape.
There's no limit to how many scoops you can add – keep it simple with just one, or let your creativity run wild and make a towering ice cream cone with six or seven scoops!
Using different coloured paper for each scoop will keep the project engaging and fun for kids.
Finally, Cut out a small strip of brown paper and glue it onto the top of the red Circle to make the cherry!
Add the cherry to the Top of the Scoops to complete the ice cream cone craft. If desired, add additional decorations to your ice cream cone, such as glitter or stickers.
Display your finished ice cream cone paper craft for all to see!
This craft is a great way to get creative and have fun with your kids, or to add some colourful and whimsical decor to your home.
And since it's made out of paper, it's a low-cost and low-mess project that anyone can enjoy. So grab your supplies and get crafting!
This easy and fun Ice cream cone paper craft is perfect for summer and suitable for preschool, elementary school, or fun family activities at home.
Similar Easy Crafts for Kids
If you enjoyed making this craft, be sure to check out my other Easy Popsicle Craft Made with Toilet Paper Rolls.
You might also like this Ice cream Paper Craft  that is super simple to create
And don't forget to explore my collection of favourite crafts, which I'm always updating!
If you want to save this Icecream craft for later, Pin this Image!
Download the Ice Cream Craft Template
Join the party and get exclusive access to the Printable PDF! Simply fill in your details, sit back & relax – we'll send it straight to you.