8 Free Summer colouring pages for Kids.
Here are some Fun Summer Colouring pages with the most popular Summer elements to which most of us relate to summer. What comes to your mind when you think of  Summer? Well, for my daughter, it is Icecream, Watermelon and Popsicles.
We live in Dusseldorf, where it is Cold and Gloomy for most of the year. So, Spring and summer have always been our favourite time of the year.
In June, Sun will set only after 9 PM, and it is wonderful to have daylight that long. Trees are greener than ever, and parks are filled with lovely kids playing in the sand and water.
We absolutely love bright Summer days!
I am so excited than ever, and I have planned many summer activities for the next few months. Let's start with these colouring pages.

This post contains affiliate links, meaning that I will be compensated if you click through and take action at no additional cost. As an Amazon Associate, I earn from qualifying purchases.
What's included in the pack?
The pack includes 8 Cute Summer illustrations created for Toddlers/preschoolers with think and bold line drawings.
Sun
Watermelon
Coconut Drink
Icecream cart
Popsicles
Flip-flop
Sandcastle
Crab
Along with drawing, the words on each page can also be coloured.  This way, kids who can recognise alphabets can learn to spell the words.
How to download this free printable?
To receive your Summer colouring pages printable right in your inbox, Please enter your details in the form below. I will send all the pages listed above in one PDF file to download and print.
Please remember, these pages are for personal use only. Any redistribution or altering is not allowed. Thank you!
If you have a family or friend who would like a have this, please send them over to this post to download their own copy.
Pin this Summer Colouring pages
Don't forget to save these Colouring pages for later! Be sure you are following Little Ladoo on Pinterest for fresh awesome ideas and printables.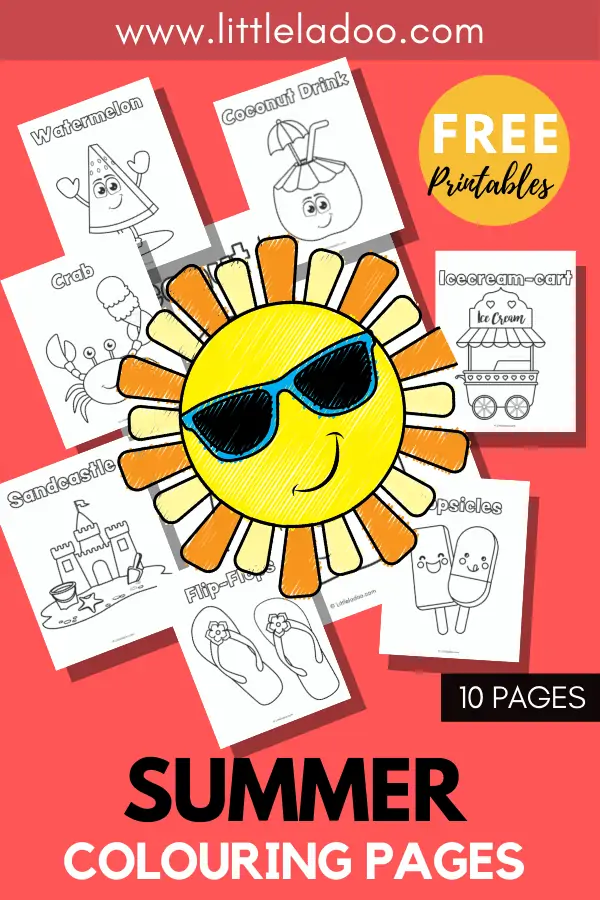 You might also Like our Summer Busy book
Similar Free Colouring pages
You might also like our other Summer Activities
Did this child enjoy this activity? What else would you like to see from Little Ladoo? Let me know in the comments section.