All activities should be supervised by an adult. As an Amazon Associate, I earn from qualifying purchases. This post may contain affiliate links.
Get ready for some summer colouring fun with our collection of 8 free Summer colouring pages for kids!
These pages feature the most popular elements associated with summer, bringing to mind warm memories and delightful experiences.
When you think of summer, what immediately comes to mind? For our daughter, it's all about ice cream, juicy watermelons, and refreshing popsicles. I have included them all!
And what better way to kick off the summer fun than with these fantastic colouring pages? Let your imagination run wild as you add vibrant colours to these summer-themed illustrations.

Living in Dusseldorf, where the weather is often cold and gloomy, spring and summer hold a special place in our hearts. The arrival of June brings us extended daylight, with the sun setting after 9 PM.
We absolutely adore bright summer days!
It's a magical time when the trees are lush green, and parks are filled with joyful children playing in the sand and water.
I'm more excited than ever and have planned numerous summer activities for the upcoming months. Stay Tuned!
Summer Colouring Pages for Kids
These colouring pages are designed specifically for toddlers and preschoolers. These pages feature 8 adorable summer illustrations with thick and bold line drawings, perfect for little hands to colour.
Inside the pack, you'll find fun and recognizable summer elements that kids love, including:
Sun
Watermelon
Coconut Drink
Ice cream cart
Popsicles
Flip-flop
Sandcastle
Crab
But there's more to these colouring pages than just colouring! Each page also includes words that can be coloured in.
This provides an opportunity for kids who are learning to recognize the alphabet to practice spelling the words associated with each illustration.
You can download these pages for free at the end of the post.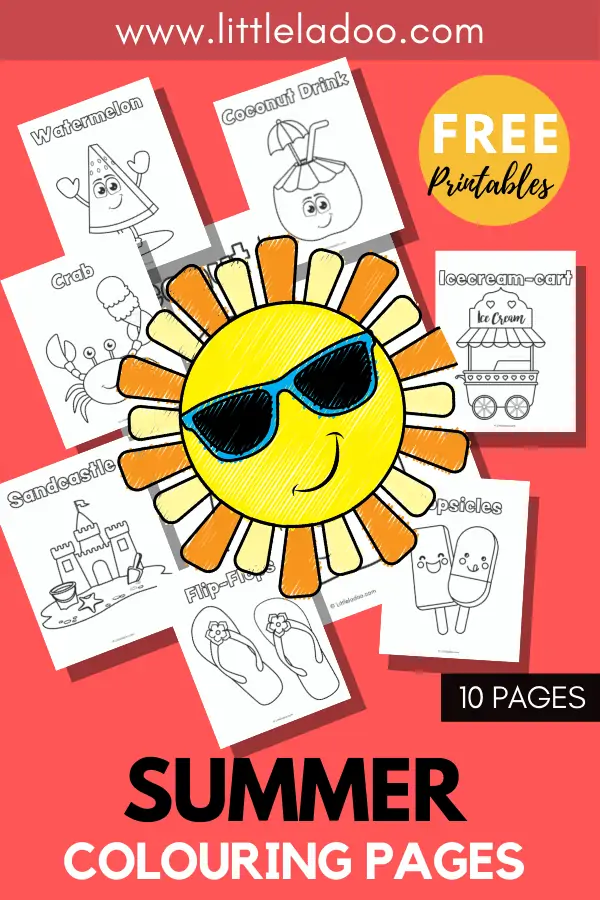 Kids can practice the alphabet with ice cream and learn numbers through flip-flops.
Dressing up dolls in summer costumes adds to the fun, and matching fruit slices enhances cognitive skills.
And that's just a taste of what our Summer Busy Book has to offer! With plenty more engaging activities, your child will have a blast while acquiring essential skills.
This is a fantastic resource for engaging and educational summer-themed activities!
More Free Colouring pages
Expand your colouring adventures beyond summer with a variety of free seasonal colouring pages! If you've enjoyed our summer colouring pages, we have more exciting options for you to explore.
If you're looking for colouring pages that are suitable for any time of the year, we have you covered as well. Explore our collection of generic themes that offer endless possibilities.
More Summer Activities
Get your colouring tools ready and embark on a vibrant summer adventure with our free colouring pages. Let your child's creativity soar as they add their unique touch to these delightful summer-themed illustrations. Happy colouring!
How to download this free printable?
To receive your Summer colouring pages printable right in your inbox, Please enter your details in the form below. I will send all the pages listed above in one PDF file to download and print.
Please remember, these pages are for personal use only. Any redistribution or altering is not allowed. Thank you!