7 Free printable pattern block mats perfect for the Summer holidays
Summer is almost here, and we have planned many Summer theme Crafts and activities to do in June.
This week, I have created a few Summer themed Pattern Block mats built with 10 to 15 pattern blocks. You can also use it for Summer or Beach theme activity week, and it is ideal for preschoolers.
Download these mats, Print them and start right playing away. Indeed, these are no-prep activities. You can also laminate them, But it is not recommended for home use.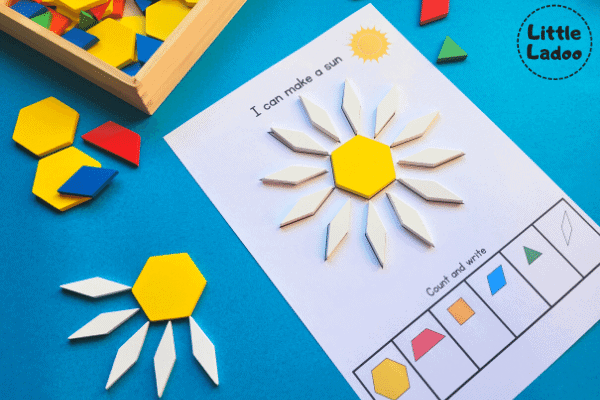 This post contains affiliate links, meaning that I will be compensated if you click through and take action at no additional cost. As an Amazon Associate, I earn from qualifying purchases.
What are Pattern Blocks?
Pattern blocks are small wooden pieces made of either Wood or Plastic. Usually, it comes in these standard shapes and colours.
Yellow Hexagon
Red Trapezoid
Blue Rhombus
White Rhombus
Orange Square
Green triangle
I recommend you to buy only a set that contains the mentioned colours and shapes because most of the pattern block printable activities on the internet are made as per this Standard.
We have Wooden Pattern blocks from Mellissa and Doug, and I also created this printable based on this Set.
What are the Benefits?
The Pattern blocks offer a variety of learning opportunities for young kids.
It helps kids get familiar with shapes And develops spatial skills, Problem-solving skills, Fine motor skills, visual discrimination skills, and so on.
What's in Summer Pattern block mats?
This free printable includes the following Pattern block mats.
Boat
Fish
Crab
Icecream
Lifebuoy
Sandcastle
Sun
Each page also has an additional counting activity; Where the child can count the number of each type of pattern block used and write.
Preparation
The pages can be printed and used for single-use, which is a no-prep activity.
However, if you use them in a classroom setup, you can laminate them for multiple usages.
I wanted to share an easy way to skip lamination (For home use). Just add a transparent tape to the bottom counting block. Now you can write with wipe erase markers and wipe them off.
How easy! Isn't it?
How to use these Mats?
Place the blocks in a container, give them one of these mats and ask them to start building.
The child recognises the shapes and places the pattern blocks directly on the mat. Older kids can also recreate it on a table using this mat as a visual guide.
Once the pattern is made, you can count the blocks and write the number in the bottom block. This helps them with their counting skills too!
It is a fantastic way to work on various early learning skills.
My daughter made these patterns (image below). To my surprise, She completed 6 out of 7 without any help.
How to download this free printable?
To receive your Summer pattern blocks right in your inbox, Please enter your details in the form below. I will send all the pages listed above in one PDF file to download and print.
Please note that the Printable is for personal or classroom use only. If you have a family or friend who would like this, please send them over to this post to download their copy.
Did this child enjoy this activity? What else would you like to see from Little Ladoo? Let me know in the comments section.
Pin this Summer Pattern block mats
Don't forget to save these pattern block mats for later! Be sure you are following Little Ladoo on Pinterest for fresh awesome ideas and printables.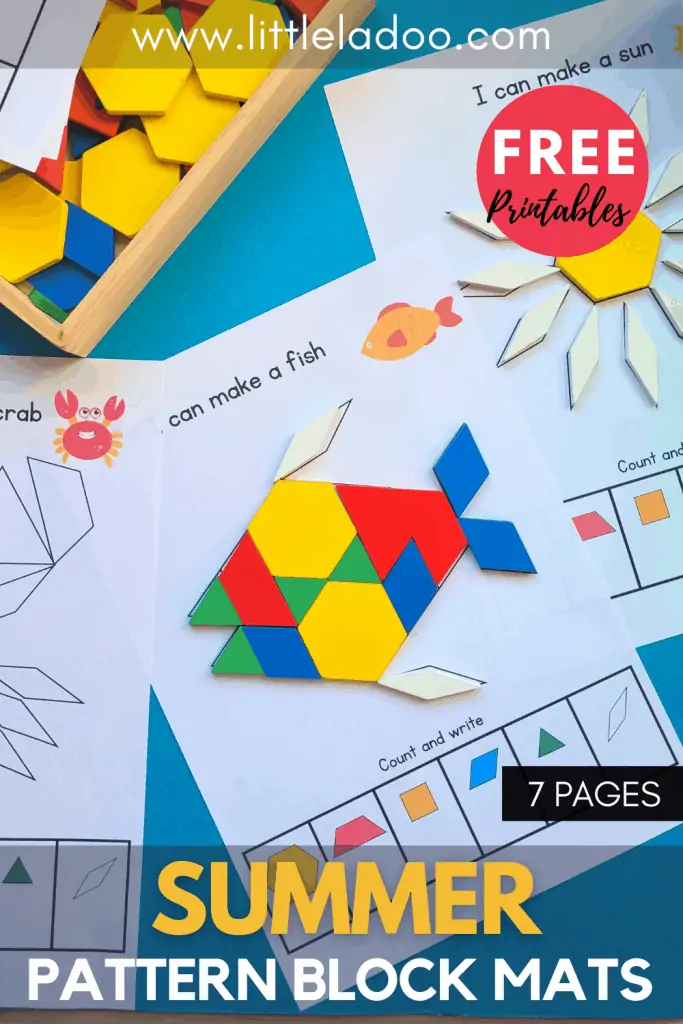 Are you looking for more pattern block mats?
Love them? I will create more printables in the future, But for now, check out Fall theme Patten block mats, Which has another seven mats.
Prekinders.com, too, has some excellent free printable Pattern block mats perfect for toddlers.
Related Free printables
Also, check out our new learning binder. It is about the 7 major Internal organs.
Thank you for reading through this post!! Please let me know if you found this helpful in the comment section because I would love to hear from you!