All activities should be supervised by an adult. As an Amazon Associate, I earn from qualifying purchases. This post may contain affiliate links.
Paper Plate Crafts are fun for kids of all ages!  You are going to love this list of Easy and Fun Crafts that your Kids will enjoy doing.
There is something here for everyone, whether you need a quick project or want them busy with activity all evening long!
Why Paper Plates?
The round shape of the plate lends itself to all sorts of projects – from Animal Crafts to Food crafts.
And because Paper Plates are fairly Inexpensive, it's easy for kids to experiment with different designs and materials without breaking the bank.
10+ Best Paper Plate Craft Ideas for kids
Each paper Plate craft is designed to be fun, engaging, and easy to make, while also promoting creativity, imagination, and fine motor skills.
These crafts cover a range of themes and holidays, from animals and nature to seasonal decorations and cultural celebrations.
Most of these crafts come with a free template. Click on the Section title to visit each blog to learn further instructions and download the templates.
Children adore creating Santa Claus crafts! This particular craft is a must-do activity over the Christmas holidays. Thanks to the included template, the project is incredibly easy to complete!
You can swiftly create four adorable reindeer crafts using just one paper plate! Grab the free template and get started now
This paper plate idea is fantastic not only for crafting a Christmas wreath but for making any type of wreath. Simply cut out the centre of the plate and utilize materials to construct the wreath!
Doing a farm unit? Grab these templates and make a Paper plate cow.
These Not-so-spooky spiders are ideal for Halloween decor! ! You need 2 Plates to create this massive paper plate spider.
Crafting paper plate monsters is a breeze! It's possible to create numerous monsters with ease using the provided sets of eye, mouth, and horn templates. All that's needed is to colour them in, cut them out and paste them! It's a thrilling and enjoyable experience.
It's true that paper plates are an excellent choice for crafting a peacock fan! The circular shape and size of the plate are perfect for creating the fan shape of the peacock's feathers. The texture and sturdiness of the paper plate also make it easy to paint or decorate in various ways, adding to the overall appeal of the craft.
This Unique craft is not only a great way to explore Hindu culture and mythology, but also an opportunity to unleash one's creativity and imagination.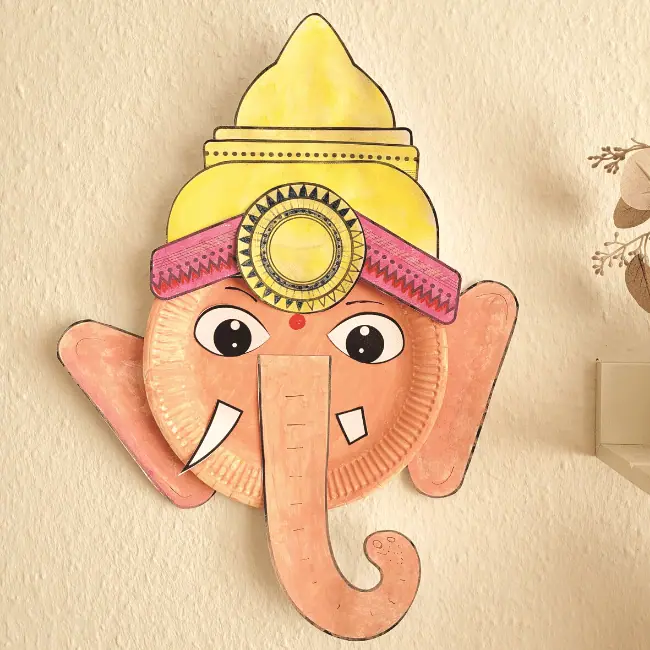 Whether it's for a festive occasion or simply a fun DIY project, a paper plate Ganesha craft is sure to provide enjoyment and satisfaction.
Make sure you display your child's creation on the wall!
These paper plate Diyas are great for making decorations for Diwali – the festival of lights.
Paper plates are an excellent medium for crafting rainbow-themed projects. By cutting the plates in half and pasting the coloured paper, it's easy to create a rainbow effect.
In this craft, we've utilized paper strips and woven them in a zig-zag pattern to produce unique and stunning rainbow crafts.
These paper plate crafts for kids are fun and easy to make.  So tell me, did you find these ideas interesting?
So next time you're looking for a fun activity for your children, consider reaching for a stack of paper plates instead of traditional craft supplies. With a little imagination, they can create unique masterpieces.
I will be adding more ideas to the list. Make sure you pin this Paper plate craft list so you can come back to these fun crafts anytime!
You might also like