All activities should be supervised by an adult. As an Amazon Associate, I earn from qualifying purchases. This post may contain affiliate links.
Toilet paper rolls are incredibly versatile – they can be painted, cut, glued, or even folded into intricate shapes. In this blog, we have compiled a list of unique and creative Toilet Paper Roll crafts that your kids can make.
So grab those empty toilet paper rolls and let's get crafting!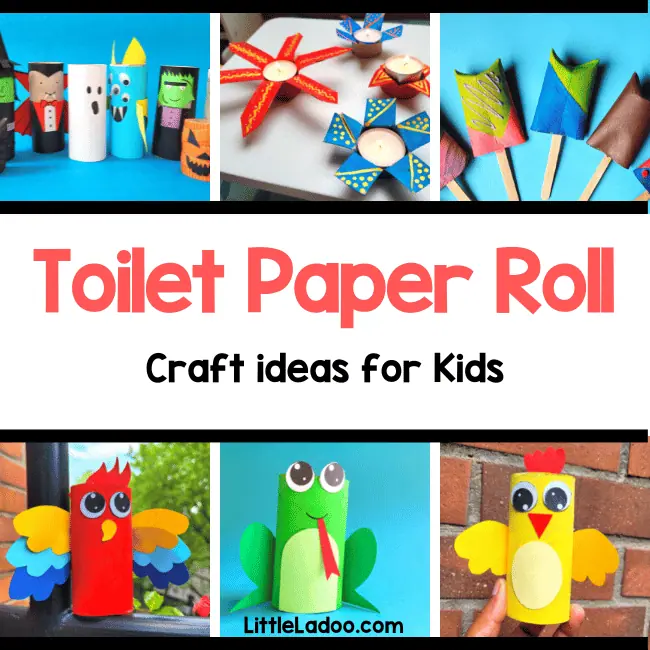 Why Toilet Paper Rolls are one of the best Craft supplies?
With most families using toilet paper on a daily basis, these simple cardboard tubes can be repurposed into exciting craft projects. Here is why Toilet paper rolls are one of the best craft supplies!
Eco-friendly material: Repurposing a material that would otherwise go to waste promotes sustainability.
Cost-effective: They are Free, easy to find and often available in large quantities.
Versatile: Lightweight, easy to cut, and can be transformed into different shapes and sizes
Offer endless possibilities:  Can be repurposed into a variety of craft projects.
8 Best Toilet Paper Roll Ideas for kids
We love making Toilet paper roll Crafts, the main reason being the fact that they make fantastic toys for kids to play with!
I've gathered 8 distinct crafts that we worked on last year, and I'll be adding more to the collection soon. Please pin this blog, so you can easily access it to see the latest updates.
Some of these crafts come with a free template. Click on the Section title to visit each blog to learn further instructions and download the templates.
Transform your empty toilet paper rolls into spooky Halloween character toys with this fun and easy craft project!
Around Halloween last year, I created these TP roll Toys for my child to play with, and we still have them stored away and bring them out from time to time. My child loves playing with these crafts and using them to tell spooky stories.
From Frankenstein to witches, you can create a whole cast of Halloween characters that will delight kids of all ages. With a little paint and some simple materials, you'll have a fun and festive decoration in no time.
Want to set up a Pretend play store? Then you will love this Popsicle craft!
Transforming toilet paper rolls into a popsicle is a breeze with a little creativity. By adding a splash of paint and embellishments, you can easily turn the rolls into vibrant popsicles for kids to enjoy.
Children will relish designing their own popsicles and making them as unique as they desire. Once the base is finished, allow them to colour and decorate their treats however they like.
Making stunning candlelight holders with toilet paper rolls is easier than you might think! In fact, it only takes a few minutes to create them, and they fit perfectly around a candle. These holders are ideal for making during Diwali, the festival of light, or any time of the year when you want to add a warm glow to your home.
Frogs are fascinating creatures that spark kids' curiosity!  Kids will enjoy making this colourful frog using a Toilet paper roll and our free template.  Let's hop into the fun!
Toilet Paper Roll Chick Craft
Chicks are adorable, and fluffy creatures that symbolize new life and growth. If you are looking for a fun spring craft or an easter craft this TP Roll Chick is perfect!
Another colourful Bird craft that kids will love is this Macaw Craft! It is super easy to make the Craft with our free printable template!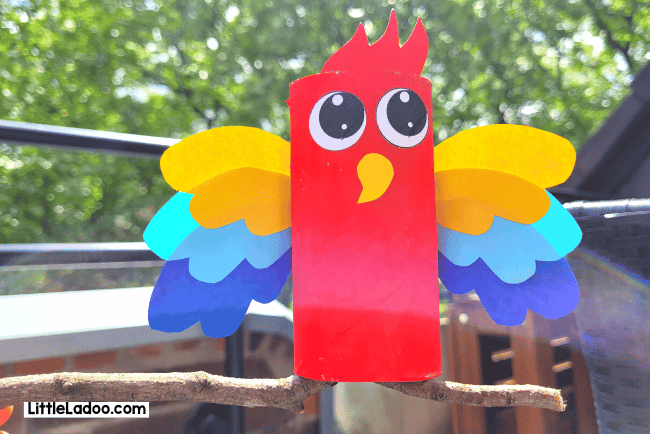 Who doesn't love cute owls? Turn an empty toilet paper roll into an adorable owl that can be used as a decoration or a toy, perfect for the Autumn season!
These Birds Toilet paper roll crafts go well with one another and you can make a collection of TP roll birds for kids to play with!
Although it's not made from a TP roll, this totem pole is a very similar craft made with a kitchen tissue roll. With a few cuts and drawings, create your own unique totem pole.
It's a good idea to have a totem pole picture for reference to inspire and guide you as you make your own version.
Ganesha is a revered Hindu deity with an elephant head, known for his wisdom and auspiciousness. Making a Ganesha craft using a toilet paper roll is a simple cut-and-paste project that kids will enjoy.
This craft also provides an opportunity to learn about and appreciate the rich cultural traditions of Hinduism.
I hope you found these ideas interesting!
So before you toss out your next roll, consider the possibilities it holds for your next craft project. Who knows – using toilet paper rolls in your crafts may even inspire others to do the same and reduce waste in the process.
Pin this Toilet Paper roll craft for Later!
Similar Craft Ideas for Kids