All activities should be supervised by an adult. As an Amazon Associate, I earn from qualifying purchases. This post may contain affiliate links.
Kids love building Sandcastles! This Build a Sandcastle Printable lets child can build an endless variety of adorable sandcastles that won't wash away with the tide.
It can be a Perfect Busy Bag Printable that will keep your child entertained during your next beach trip.
Best of all, this is totally free to download and Easy to prepare as well!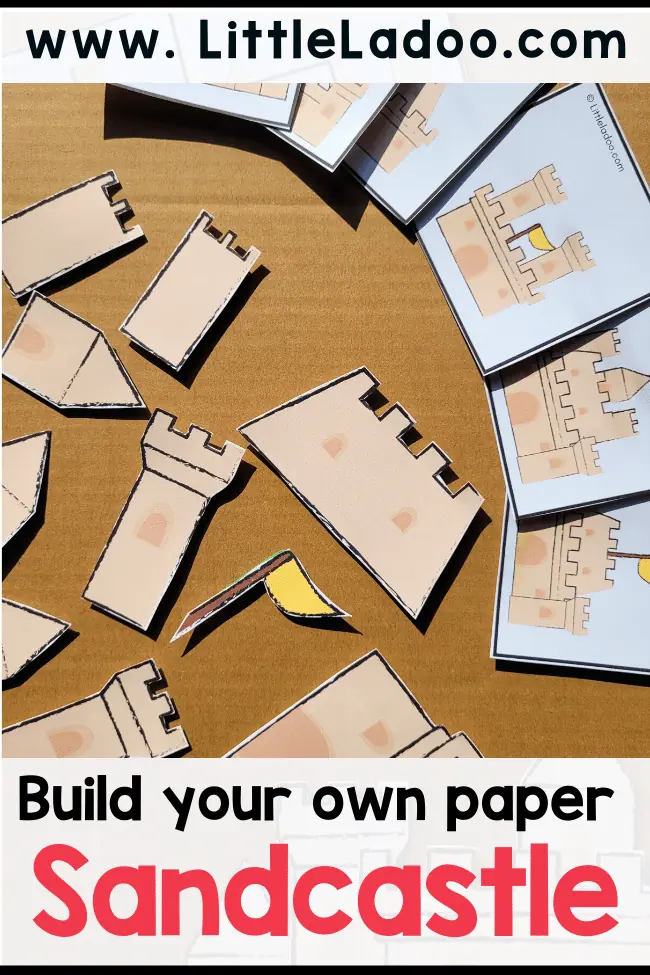 What is included in the Build a Sandcastle Printable?
The printable includes 6 visual cards with different sandcastles and 11 cutouts (Parts of sandcastle). The child builds their own sandcastle with the pieces or refers to the Sandcastle cards to build it.
This activity is not only fun but also helps to build kids' Spacial skills.
Things you will need to make the Build a Sandcastle Game
Build a Sandcastle printable
Card Stock Paper
Scissors
Envelope (Storage)
2mm Felt sheet (Optional)
Preparation
Preparing for this sandcastle activity is a breeze! Follow these simple steps to get your Sandcastle Game ready!
Download the free printable by signing up at the end of this blog post.
Print the templates on thick card stock paper for added durability.
Cut out the 11 movable pieces of the sandcastle and 6 visual cards.
If desired, add a piece of 2mm felt sheet to the back of each piece to make it easier for your child to handle and assemble. This step can be skipped if not necessary.
For repeated use, consider laminating the pieces, although it is not necessary for this activity.
With your sandcastle cutouts prepared, you and your child can now begin building and creating to your heart's content!
How to Play the Sandcastle Building Game?
Encourage your child to use the printable cards as a guide to build their very own sandcastle.
Begin with the simpler cards, which have just 4 or 5 pieces, and gradually move on to the more complex ones as they gain confidence.
Alternatively, they can let their creativity run wild and create their own unique castle design without following the cards at all.
This is a fantastic opportunity for your child to unleash their imagination and construct their dream sandcastle.
Building a Paper Sandcastle Video
How to store the Cards and the Sandcastle cutouts after play?
Proper storage is essential to prevent the loss of small game pieces, and the same applies to these sandcastle cutouts.
To keep them safe and organized, I recommend storing them in letter envelopes or pouches.
This method is not only practical but also a great way to maintain organization if you have multiple activities with similar small pieces.
Related Summer Activities
Similar Busy Bag Printables
Summer Busy Book
If you are looking for more interactive Activities like these, Check out our Summer Busy book. Kids will Learn Letters, Numbers, Fruit names, Colours, shapes and many more.
One of our Bestsellers, Icecream Alphabet Matching is part of this Book.
Download the Build a Sandcastle Printable
Sign up to be part of our newsletter and receive the Sandcastle printable as a welcome gift.