All activities should be supervised by an adult. As an Amazon Associate, I earn from qualifying purchases. This post may contain affiliate links.
When it comes to creativity, even the most ordinary household items can inspire artistic expression. In the case of fork print art, you only need a fork and some paint.
Here are eight fork painting ideas that are perfect for kids of all ages to explore and enjoy!
This post contains affiliate links, meaning that I will be compensated if you click through and take action at no additional cost. As an Amazon Associate, I earn from qualifying purchases.
What is fork painting?
As the name suggests,  Fork painting is a form of art in which the artist uses a fork as their painting tool. The artist dips the prongs of the fork into paint and then uses the fork to create lines and patterns on a canvas.
Fork painting can be used to create abstract or representational art. It is a very interesting Process Art for kids of all ages!
Fork Painting is beneficial for kids
Fork print art not only helps spark children's imagination but also encourages hand-eye coordination and fine motor skills as they grip and press the fork onto the paper.
Next time you're looking for an enjoyable creative activity for kids, why not grab some forks and let their inner artists shine through fork prints?
7 Fork Painting Ideas for Kids
The ideas listed here are easy for children to do and offer endless possibilities for creativity. Simply dip the tines of a fork into the paint, then press it onto a sheet of paper or canvas to create unique designs and patterns.
You can also experiment using different-sized forks or layering multiple colours to add dimension to your artwork.
All crafts here have free Templates for you to create the Fork art easily. You can download them and see more Directions by clicking on the images.
Hedgehogs are so cute!  With a little paint and a fork, you can child can make an adorable hedgehog craft. What more could be perfect to make the spike of a hedgehog other than a fork? Grab the template and start painting with a fork!
This Turkey Craft is Perfect for Thanksgiving! Try your hand at a new holiday craft – a fork-painted turkey! You can make the feather even more vibrant by adding more colours. It is easy and the results are sure to impress the guests!
Relates: Thanksgiving Activities for kids 
The forks are perfect to make the Needles of the Pine tree making it a very attractive Christmas craft for kids. With a Free printable template, this can never go wrong. You can add details like pom-Poms, glitters and other small decorations to make your unique Christmas tree.
Create a delightful sun craft without the need for a template, using only a few basic materials. Simply cut out a yellow circle and use a fork to stamp yellow paint around it. In just a few minutes, you'll have a stunning piece of art that's perfect for any time of year!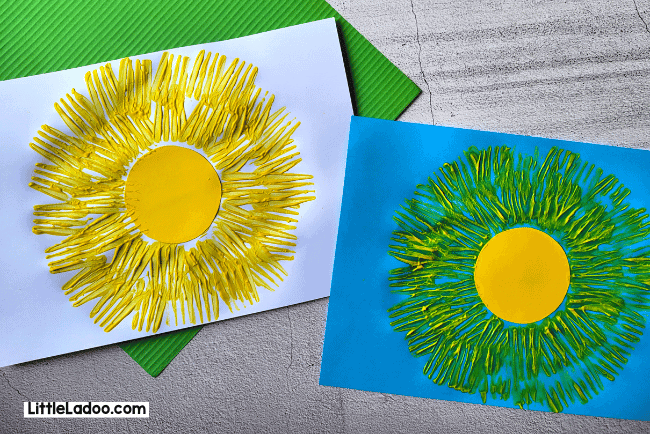 Here is another Fork-Painted Christmas Craft. Add a personal touch to your home decor with a Fork-Painted Wreath craft. This easy and fun craft is perfect for kids and adults alike.
This Campfire craft is perfect for summer or also to make bonfires Crafts for festival-themed activities like Holi or Pongal.
This lion is our favourite! It is perfect for any time of the year or while doing Zoo-themed Activities.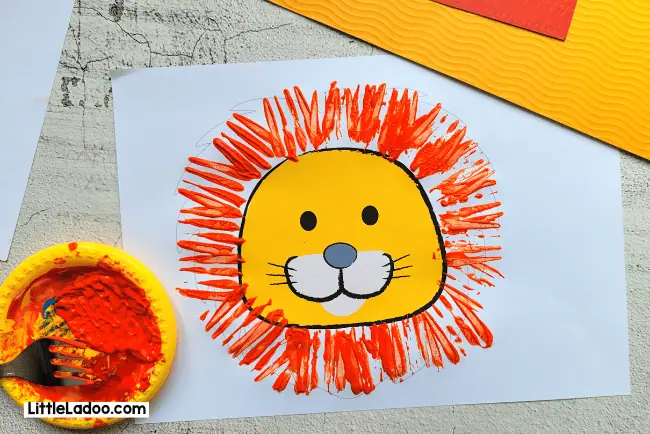 Creating a sunflower using the free printable template is an effortless task! You can use more than one shade of  Yellow to make the sunflower even prettier.
Create a beautiful tulip design that's perfect for springtime or any time of the year.
Related: Paper plate Crafts for kids
Pin these Fork Painting Ideas for kids
I will be adding more ideas to this post. So pin this blog to come back to later when you need it.
Watch the Video of Fork Painting Ideas
Watch a Video of 4 of these fork-painting ideas!
So which one would you do first?
You can visit the Links below to learn more instructions and get the Printable template.
Download the Fork Painting Template from the Respective Blogs