All activities should be supervised by an adult. As an Amazon Associate, I earn from qualifying purchases. This post may contain affiliate links.
When summer is here, it's time to play with Interactive activities from the Summer Busy Book. We absolutely love the Activities included in the Summer Learning Binder.
Have Fun Learning with Popsicles, Icecreams, Crabs and all Beach elements! Kids will learn Colours, Shapes, Numbers, Fruit Names and Alphabet with interactive loose Parts!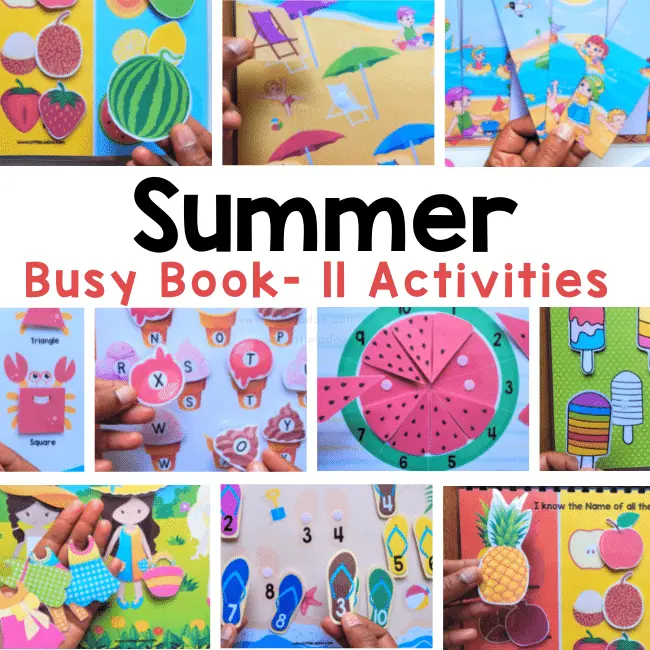 This post contains affiliate links. As an Amazon Associate, I earn from qualifying purchases.
Summer Busy Binder for Early Learners
This Summer Busy book has 13 Activity pages, excluding the Cover Page on which you can add your child's name. Check out all the Pages of the Activity book in the video here or Scroll to see the Pictures with descriptions.
How to Make a Busy book?
Here is a brief direction on how to make a Busy Book (I have included instructions with video links on the files)
Download the Busy Book Printable. (It is available in both A4 and US Letter Size) Choose your Version and Print the pages.
Laminate all the pages. ( For this Book, I used 125 Microns Laminating pouches.)
Cut out the Matching pieces from the Sheets with a Scissor mark.
Add Self-adhesive Velcro dots to affix the matching pieces.
Punch holes to Organise in a binder or Bind them in a Shop.
Now you are ready to go! Take it along on your travel or Play and learn at home.
Activities from Summer Busy Book
Most of the Activity pages work perfectly for Toddlers, and Some (Numbers and alphabet) are suitable for Preschoolers as well. Let's take a Picture tour of the pages.
Like all our Busy books, this one also begins with simple Matching Activities with 6 to 7 loose parts for Toddlers. Preschoolers will find them easy, yet they too will enjoy playing.
This Summer Busy book has many pages with scenes on the Beach because Summer is the best season to spend time on the beach and outdoors.
A fun Popsicle pattern match Game helps kids with their Visual Discrimination Skills. My daughter loves to play with these Loose parts and these are great for pretend play.
Sometimes, they stay in my daughter's play kitchen, instead of the book.
Here is a Counting Activity with a picture of the Seashore. An excellent task to practice Number Recognition with Flip-Flops.
Another Number Game with Watermelon pieces.  This Focuses on Counting as well. Kids Count the seeds and place the slices to match the Numbers.
Next is a Super-cool activity, which We really love! This Icecream Alphabet matching game is a must-have for practising Alphabets.
You can get this interactive activity separately as well in our Printable Shop
During summer, we see a lot of fruits in the market because many fruits grow in Summer. This Game Focuses on matching the Fruit Slices to the Full fruit. Kids will enjoy matching them and is a great way to learn the name of the fruits.
There is one more activity page featuring another 7 fruits.
Dressup Games are always our favourite and are just pure fun. My daughter loves to mix and match dresses and see the result. Here there are three Girls each representing a different race.
The pack includes a Male version well.
Sequencing is the ability to understand the Order of events that accuse in a logical sequential manner.  Kids can sing the Rhyme "Itsy Bitsy Spider", Think of the events and arrange the cards in order.
A simple Summer puzzle with 6 Pieces, Helps kids with spatial reasoning skills.
The Summer-themed activities are incomplete without knowing what are the signs of summer. So, here is another simple puzzle featuring the 6 signs of the summer season.
These are all the pages of the Summer Busy book. You can file them together in a File folder or do comb-binding at the shop or at home with a Comb Binding Machine.
Which one among the 11 Activity Pages is your Favorite? Let us know in the comment section.
You can get the Summer Busy Book printable here.
Have any Questions? Please leave a comment.