All activities should be supervised by an adult. As an Amazon Associate, I earn from qualifying purchases. This post may contain affiliate links.
Transform your leftover orange peels into an adorable Crab with ease! This Orange Peels Crab craft is perfect for recycling and repurposing citrus peels.
If your child loves oranges, chances are you've been throwing away a lot of peels each week. However, with a little creativity, these scraps can be transformed into a fantastic craft supply.
By making a few simple cuts and arranging the pieces strategically, you can create a charming crab in just two minutes.
Make sure you also check out all our Easy Crafts for kids.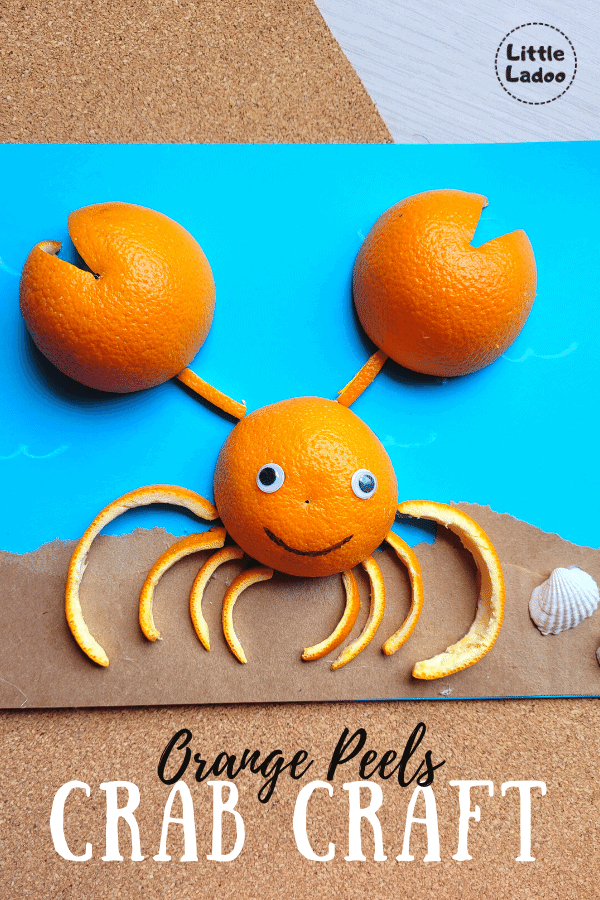 Materials that I used to make this Crab Craft
Blue cardstock
Orange peels
Shells (Optional)
How to make an Orange Peels Crab Craft
This blog post is incredibly brief since the process is so simple that it doesn't require detailed instructions. However, I have included some helpful pictures and brief guidelines for those who may require more information.
Let's get started! Begin by cutting the orange in half and removing the fruit from the peel. We'll need the perfect half-shells to construct the crab's body and claws.
To make the claws, cut out a small section of the peel as depicted in Image 1. Then, create thin slits for the legs and claws.
Our next step is to attach the orange peels to a sturdy base. For this purpose, we require a thick material such as cardboard or cardstock to support the weight of the peels.
In our case, we utilized a combination of craft paper and cardstock, and I even incorporated some wavy patterns with oil pastels.
Secure the peels to the base using a hot glue gun. Then, embellish with googly eyes and some shells. Finally, use a Sharpie permanent marker pen to add a smiley face.
That's all there is to it! Voila, your crab craft is now complete. You can even hang it on the wall for a few days until the peels change colour.
In addition to creating the crab craft, we experimented with other crafts using orange peels such as a tortoise, flower, and snail. Trust me when I say that orange peels are an incredible material to work with due to their excellent texture and ease of cutting.
If you know someone who would appreciate this concept, please feel free to share it with them!
Similar Easy Crafts ideas
Similar Crafts with Food/Things from Nature
If you are doing crab-themed activities, See also check out our Hermit Crab Bookish play.