Make a Cute Crab Craft with Orange Peels
This orange Peels Crab craft is so perfect for recycling the leftover Citrus peels.
My daughter loves Oranges, and we have been tossing a lot of orange peels every week. But, until today, it never occurred to me that these scraps can be a great Craft supply.
First, a few cuts and then a rough composition, voila! We had this Cute Crab in 2 minutes.
So here is our Crab on the shore!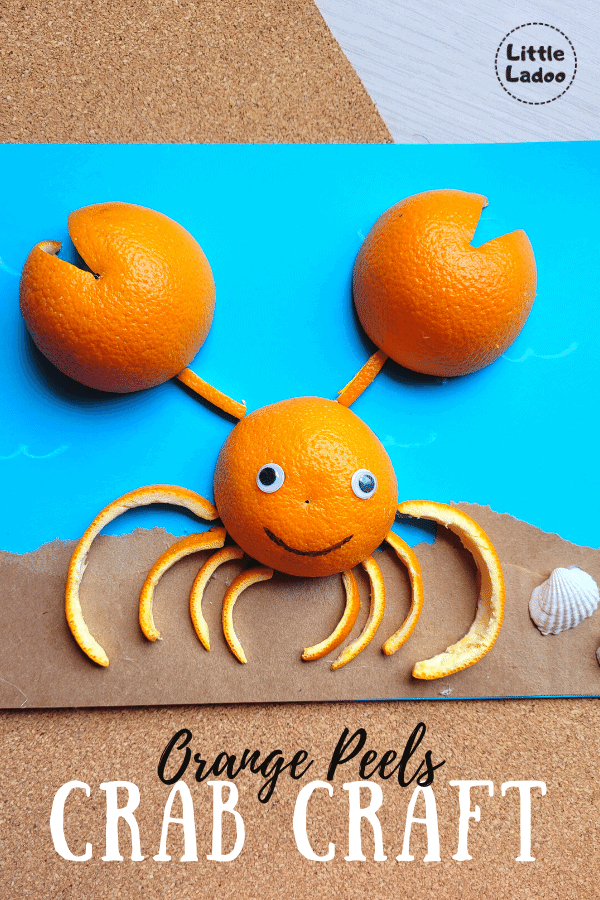 This post contains affiliate links, meaning that I will be compensated if you click through and take action at no additional cost. As an Amazon Associate, I earn from qualifying purchases.
What are the materials that I used?
Blue cardstock
Orange peels (Cut in Half)
Shells (Optional)
How to make an Orange Peels Crab craft
This blog is gonna be super simple as it is so easy and doesn't even need to be told how to do it. However, I have added a few pictures, brief instruction for the ones who may need more information.
Let begin! First, Cut the orange in half and separate the fruit from the peel. We need the perfect half shells to make the claws and body of the crab.
For the Claws, Cut out a small part of the peel like in the image (1). Next, make thin slits for the legs and claws.
Next, we need to glue the peels on a Base. The base should be a thick material like cardboard or cardstock to hold the weight of the Orange peels.
In our case, we used a combination of Cardstock and Craft paper. I also added some wave patterns with oil pastels.
Use a Glue gun to paste the Peels over the base. Next, add googly eyes and some shells around. Finally, I used a sharpie permanent marker pen to add the smile.
That's all you need to do! Here is the crab. You can also hang it on the wall for a few days till the Peels change colour.
We also tried a few more crafts along with this crab, like Tortice, flower, Snail, etc. Believe me; Orange peels are an awesome material, has great texture, easy to cut and work with.
Do you know someone who might love this idea? Please share it
Thank you for reading through this post!! If you found this helpful, please let me know in the comment section because I would love to hear from you!
Similar Craft ideas
If you are doing some crab based activity, also check our Hermit crab Bookish play.