All activities should be supervised by an adult. As an Amazon Associate, I earn from qualifying purchases. This post may contain affiliate links.
Introducing our delightful Ice Cream Math Worksheets, where learning basic math becomes a joyful experience!
Designed to strengthen Number recognition and Counting skills, these worksheets make practising math a breeze.
With six pages of content, it's a free printable resource that promises both education and entertainment.
But that's not all! Don't forget to explore our extensive collection of Preschool Worksheets, where you'll find a treasure trove of additional printables to further enhance your child's learning journey.
Ice Cream Math Worksheets
This is a  fantastic Math resource packed with six engaging activities specifically designed for kindergarten kids who are familiar with numbers 1 to 20 and have some basic math knowledge.
Unlike our other worksheets suitable for toddlers and preschoolers, this set is tailored to focus solely on math concepts, providing a targeted learning experience.
Simple Addition:
Focusing on numbers less than 10, this activity encourages children to practice basic addition. Counting with their fingers can assist them in completing these equations.
Before and After Number Worksheet:
By practising identifying the numbers that come before and after a given number, children enhance their number sequencing skills.
Odd and Even Numbers worksheet:
This activity introduces the concept of odd and even numbers, allowing kids to colour odd numbers in pink and even numbers in brown. This exercise helps them grasp the distinction between the two.
Count and Graph worksheet:
A fun activity where children count various items and graph the results. This exercise strengthens counting skills while incorporating an element of data representation.
Ice Cream Scoop Counting worksheet:
A fine motor skills activity that involves counting the number of ice cream scoops and cutting out corresponding numbers to paste them in the appropriate spaces.
This exercise reinforces number recognition.
These activities are specially crafted to reinforce numbers 1 to 20, providing a comprehensive math practice for young learners. Feel free to skip the odd and even numbers section if it exceeds your child's current grade level.
Every page of this worksheet pack is bursting with vibrant ice cream illustrations, turning the activity into an exciting adventure rather than a tedious task.
Download these worksheets for free by Signing up at the end of the post!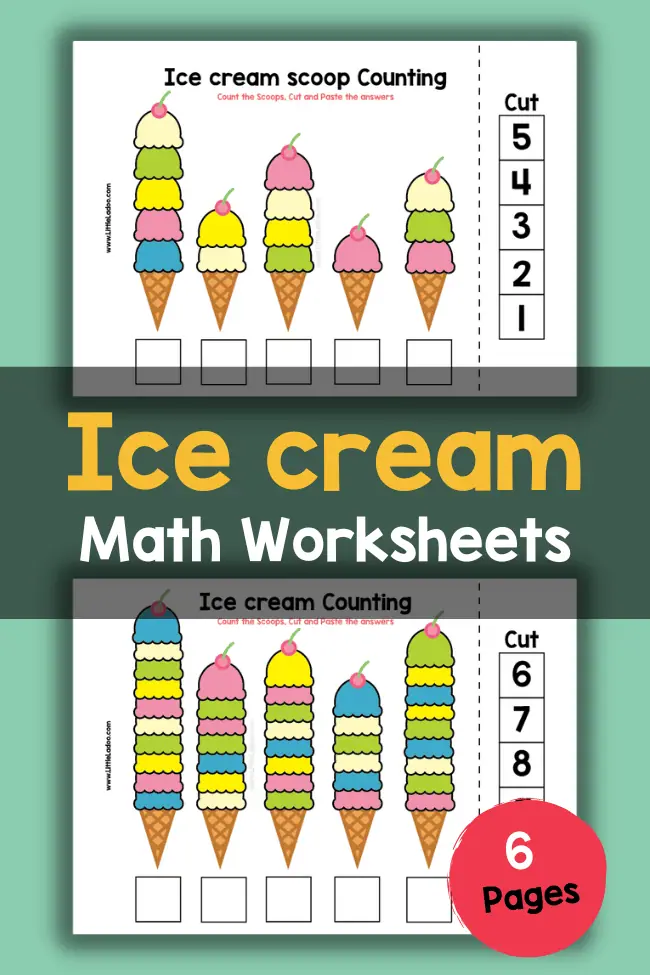 Icecream Alphabet Matching
Practice Upper case and lower case letters with this Ice cream matching Printable!
Icecream Crafts for kids
More Worksheets for kids
Download the Ice Cream Math Worksheets Pack
We hope these Ice Cream Math Worksheets bring a dose of fun and learning to your child's math journey!