All activities should be supervised by an adult. As an Amazon Associate, I earn from qualifying purchases. This post may contain affiliate links.
Engaging in activities centred around Ganesh Chaturthi allows your children to immerse themselves in the spirit of the festival. What's an effortless way to achieve this?
Simply download these free printable Ganesh Worksheets designed for kids and let the enjoyment begin!
Print these sheets for your kids to have a delightful time solving puzzles, drawing, and counting.
If you're interested in more Ganesh Crafts and Activities, explore our extensive collection of Ganesh Chaturthi-themed activities.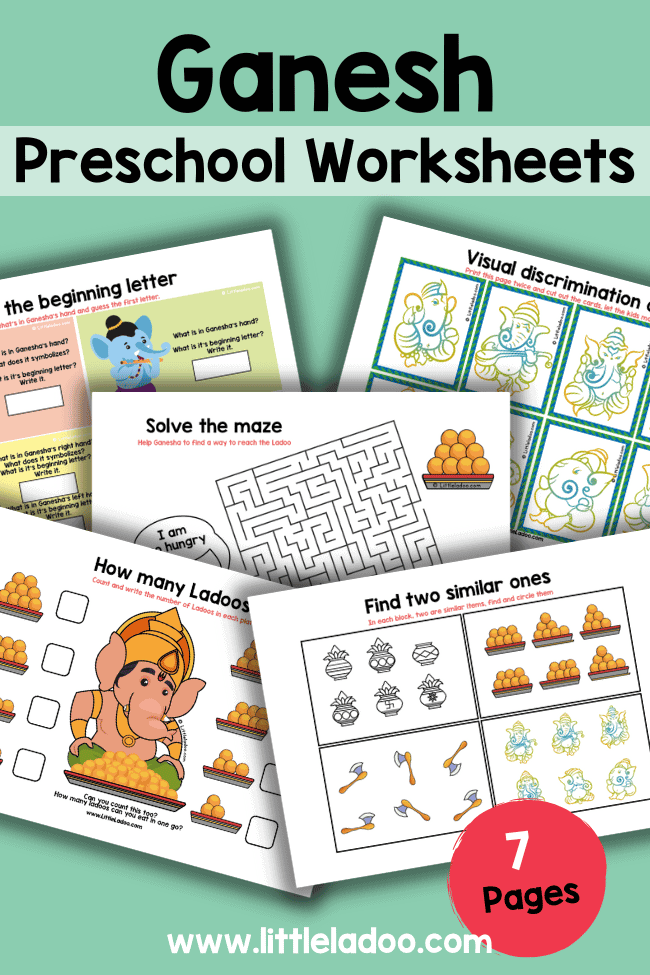 We also have fantastic Free worksheet sections tailored for preschoolers on our website. Be sure to check it out!
Look inside the Ganesh Worksheets Pack
This pack contains 7 pages of activities that will captivate your kids. Each activity aids in developing various skills such as visual discrimination, counting, and reading.
Here's a list of the included activities:
1. Solve a Maze
2. Count the Laddos
3. Ganesh Visual Discrimination Matching Game
4. Read and Match the Pictures
5. Find the Beginning Letter
6. Find Two Similar Pictures
7. Draw and Color
The colourful pictures of Lord Ganesha in the worksheets will keep your kids engaged and in the festive spirit.
The counting activity assists children in counting the laddos in Ganesha's plate and writing numbers from 1 to 10.
Another worksheet requires kids to read words and match them with pictures. And Follow the instructions to complete the Ganesh pictures. After drawing, kids can also colour the pictures.
There are two more enjoyable activities: Finding Two Similar Pictures in the given blocks and solving a maze, which kids love so much!
Among all the worksheets, the Visual Discrimination Cards activity stands out. This hands-on activity helps kids practice their visual discrimination skills.
There are 8 nearly identical Ganesha images. You can print the page twice and cut out the cards. Kids then find and match the identical Ganesha cards.
Next, You can read questions to your kids about Lord Vinayaka and have them write the beginning letter of the answer.
These worksheets offer an excellent educational approach to celebrating Vinayakar Chaturthi. Download them at the end of this post.
Explore more Ganesh Chaturthi Crafts
Similar worksheets for kids
Download the free printable Ganesh Worksheets
Download the free printable Ganesh Worksheets PDF by signing up. Remember, these are intended for personal use only!