All activities should be supervised by an adult. As an Amazon Associate, I earn from qualifying purchases. This post may contain affiliate links.
If you're planning an Elephant-Themed activity with kids, these Free Elephant worksheets are perfect for beginners who are just learning to hold a pencil.
Also, Make sure to check out all our Worksheets for Preschoolers which include a wide range of Themes and Topics for holidays and beyond.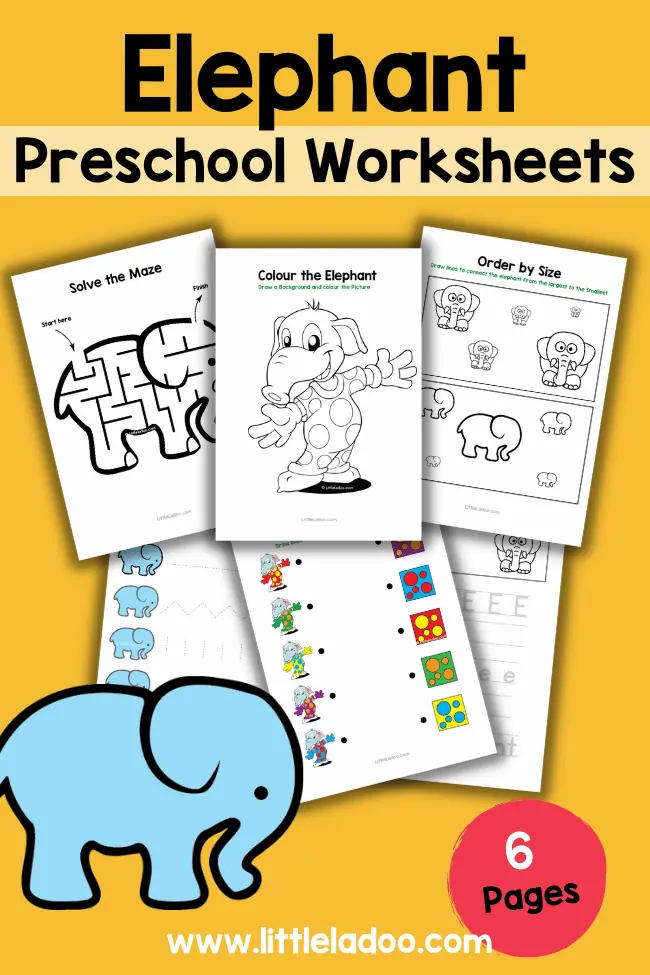 Elephants are fascinating animals that children enjoy learning about, and these Preschool worksheets will introduce your little ones to these gentle giants.
Related: Elephant Facts for Kids
Elephant Preschool Worksheets
This free printable pack includes Six Elephant Theme Worksheets suitable for Toddlers and Preschoolers.
Here is the list of various activities included in the preschool pack!
Colour matching
Colouring
Tracing the lines
Complete the maze
Sort from biggest to the smallest
Letter E tracing
You can download the file through the link provided at the end of the article!
The colour-matching worksheet aims to develop visual discrimination skills. By recognizing the colour combination of the dresses and connecting it with the respective blocks, the kid gains pencil control as well.
Kids will love to colour this fun elephant worksheet.
The Simple elephant maze is a fun activity that challenges kids to navigate their way through a series of twists and turns to reach the end. It's a great way to improve problem-solving skills and critical thinking abilities.
The tracing worksheets are designed to help kids develop their fine motor skills, which are essential for writing and other tasks that require precision and control.
The last two sheets are the Letter E tracing worksheet and the Order by Size worksheet!
The ability to put objects in order by size will help kids with future measurement lessons. This worksheet introduces them to comparative adjectives like bigger and smaller.
Almost all these activities are aimed to engage them for a while and focus on pre-writing skills.
How to use worksheets multiple times?
I have designed these worksheets for one-time use, however, if you want to use them multiple times, consider doing one of the following.
Laminate these printables and make it easy just to wipe clean each time.
Use these wipe pockets. You can simply slide the sheets into these pockets and wipe them when done. Here is ours.
These pouches are quite pricey but we are loving them. The pouches are very transparent and you can use this for all the worksheets other than the colouring pages. You can find them on Amazon as Dry Erase pockets
Similar Worksheets for Kids
More Elephant Activities
Combine these worksheets with any of these activities, if you are doing Elephant-Theme activities.
Download the Elephant Worksheets
If you like these Elephant theme worksheets, please fill in the form below to receive the Printable straight to your Inbox.
Have Fun learning with these elephant worksheets!
Please note that the Printable is for personal or classroom use only. If you have a family or friend who would like a have this, please send them over to this post to download their own copy.