All activities should be supervised by an adult. As an Amazon Associate, I earn from qualifying purchases. This post may contain affiliate links.
Ganesh Chaturthi is a wonderful Hindu festival that happens in August or September to celebrate Lord Ganesha's birthday. It's a great time to have lots of fun with kids!
We've put together some fantastic Ganesh Chaturthi Activities for kids, like making a Ganesha out of play dough, Ganesha crafts, reading stories and books, Printable activities, and colouring pages.
These fun activities help kids learn about Indian culture and traditions. So, let's dive in!
Also, explore our collection of kids' activities for Major festivals in India too – it's a fantastic way to combine learning and fun!
What is Ganesh Chaturthi?
Ganesh Chaturthi is one of India's widely celebrated Hindu festivals. It is celebrated to honour the Elephant-headed God Ganesha's birthday.
Ganesha is the son of Lord Shiva and the goddess Parvathi and is the god of prosperity and wisdom.
When is Ganesh Chaturthi this year?
Ganesh Chaturthi is typically celebrated on the fourth day of the waxing moon period in the Hindu month of Bhadrapada. This usually falls in August or September, depending on the lunar calendar.
This year, 2023, Ganesh Chaturthi is celebrated on September 19th. 
How do people celebrate Ganesh Chaturthi?
Ganesh Chaturthi is a 10-day festival that is celebrated throughout India. But Each region has slight variations in the ceremonies and rituals.
On day 1, the Statue of Ganesha is installed at home or in a public place.
People offer flowers, fruits and Ganesh's favourite food, Modaks and chant slokas and Bhajans.
Elaborate pujas (rituals) are performed, including the recitation of sacred texts.
Devotees often participate in processions, dancing and singing alongside the idol.
On the tenth day, The statue is immersed in a water body.
This grand finale is marked by music, dance, and fervent celebrations, creating a sense of unity and devotion within communities.
Ganesha Chaturthi Activities for kids
We really enjoy doing crafts and activities that match the festival themes. These Ganesh Chaturthi Activities are all about Ganesha, and they're sure to keep kids of all ages engaged.
Read on to learn more details on each craft and Activity and Download Printables at the end of the post!
Make a Ganesha Idol with Play-doh
The top activity I'd suggest is creating a Play-Doh Ganesha with your little ones. While it might seem intricate, it's surprisingly simple and looks lovely. We used a type of modelling clay similar to playdough called air clay.
Our Little One was really into this activity. She did most of the idol-making herself, with just a bit of assistance. We had a picture of Ganesha for reference, which made it even more enjoyable.
Another great idea is for kids to get involved in crafting eco-friendly clay idols.
This not only encourages their creativity but also raises awareness about the environment.
Plus, decorating these idols with colourful paints and ornaments lets their artistic talents shine through.
Create an Umbrella for the Ganesh Idol
During ceremonies, Ganesh idols are often adorned with umbrellas, which symbolize both protection and royalty. You can create a charming umbrella for your Ganesh Idol too.
We crafted a delightful umbrella for our Ganesha Idol using cardboard and Corrugated Paper.  It's incredibly easy to make and can be made with things you already have at home.
Simply fashion a circular base from cardboard, attach a skewer using a glue gun, gather some coloured paper for decoration, and your umbrella is ready to go.
These Paper Modaks make beautiful decorations for the Festival and kids will love the simplicity of the Craft project. Download out Free Modak Template and Enjoy Making Three-Dimensional Modaks.
Involve kids in making Modaks
Ganesha has a fondness for Modaks, and kids love them too! They're among the tastiest and healthiest treats in Indian cuisine.
You can engage the kids in making Modaks.
When I was a child, I used to create various shapes of Modaks and relished eating them.
So, let the kids unleash their creativity and fashion their own Modaks. Just ensure that the stuffing and dough aren't too hot.
Kids can even try making a No-Cook Dry Fruit Modak recipe, which is perfect for the little ones.
Create an adorable Ganesha craft using our printable templates and a tissue paper roll.
If you don't have a roll handy, you can easily use a paper cup instead.
Find detailed instructions with accompanying pictures in our blog post – Tp Roll Ganesha Craft
Try your hand at making a Paper Plate Ganesh Craft for an enjoyable and decorative project, perfect for Ganesh Chaturthi. The free printable Ganesh template makes this craft a breeze.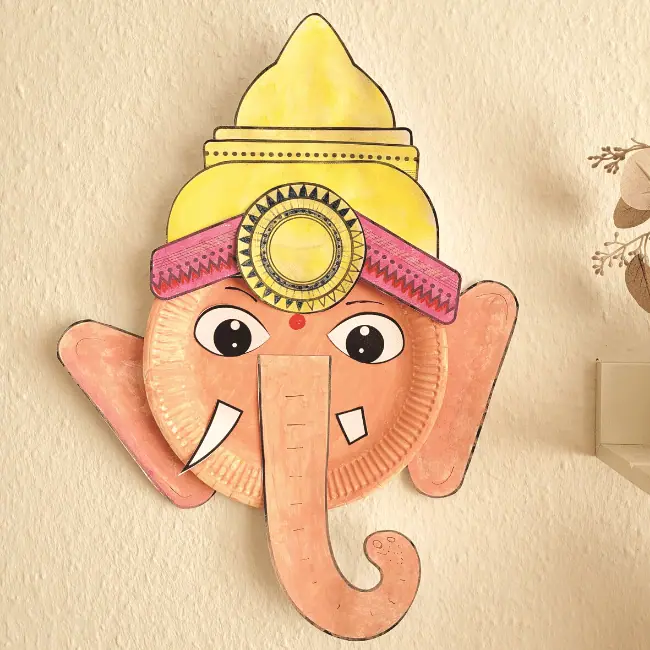 Cut-and-paste crafts offer fantastic activities for preschoolers for several reasons. They are simple to set up, mess-free, and allow kids to create beautiful masterpieces.
What's even better is that they help develop fine motor skills.
Make this adorable Ganesha Craft with our Cut and Paste Template
During Ganesh Chaturthi, let's create a Paper Mouse craft to honour the mouse's special role as Lord Ganesha's vehicle, known as "Mooshak."
Crafting a simple mouse using blue paper, or even better, brown paper, is a wonderful way to pay tribute to this meaningful association.
You've probably seen Lord Ganesha seated on a lotus throne while holding sacred items, including a lotus flower. Let's create a lotus craft for Ganesh Chaturthi.
Lotus crafts are versatile, not only perfect for various themes like the flower unit, Diwali, or an India unit but also a Great DIY decoration.
Our free printable pack has Drawing props, colouring, a maze, counting and many fun printable activities. Perfect for toddlers and preschoolers.  This pack can be downloaded at the end of the post by signing up.
Our free printable pack has Drawing props, colouring, a maze, counting and many fun printable activities. Perfect for toddlers and preschoolers.  This pack can be downloaded at the end of the post by signing up.
Read the story of the birth of Ganesh
Ganesh is the son of Parvati and Siva. How Ganesha was born and how he got an elephant head is a fascinating story.
We had this book set, which has 5 mythological books; it is pretty awesome to learn the story of Ganesha. The illustrations are so cool, and kids will love them.
Here's an enjoyable activity designed especially for preschoolers to enhance their visual discrimination skills.
It has 8 closely similar illustrations of Ganesha that need to be matched. For toddlers, it's best to start with just four cards to make it more manageable and enjoyable.
Simply print the pages twice and cut out the cards from one of the pages. Then, challenge the toddlers to match them with the base page.
Printing on cardstock is sufficient; there's no need for lamination.
Download Learning materials from Twinkl
Twinkl has some great Learning resources to learn about Ganesha and the festival. We printed a few and also checked the PowerPoint presentations about Ganesh Chaturthi. They also have resources for each Hindu god.
Ganesh colouring Page
Download this Fantastic Ganesh Colouring Page for free at the end of the post and have fun making this Ganesha Poster colourful!
Read the book Ganesha's SweetTooth
Have you noticed that one of Ganesha's tusks is broken? This book is loosely based on the Mythological tale of Ganesha breaking his tusk to make a pen.  The story is humorous and charming. This is a great book to read with your child during Ganesh Chaturthi.
Learn Ganesh Slogan
The Slogan "Vakratunda Mahakaya" is a prayer to Lord Ganesha. It is one of the most popular Ganesha mantras and is typically chanted at the beginning of any new undertaking or even any activity.
Introduce this Ganesha slogan to children along with its meaning. You can download and save the image of the slogan for reference.
Watch Ganesh Chathurthi Videos
Witness the vibrant celebrations of Ganesh Chaturthi in Mumbai through this video, which captures the concluding day of this 10-day festival.
Engage in Elephant-Themed Activities
This is the best time to do elephant crafts and activities. Sharing a few ones that we have on our website. They are suitable for toddlers.
That's all for now; We plan to keep expanding this list of Ganesh Chaturthi Activities with more fun activities and printables each year, so be sure to save it for later.
We've put together numerous activities for kids for various festivals, and you might also find these enjoyable:
Download the Ganesha Colouring Page