All activities should be supervised by an adult. As an Amazon Associate, I earn from qualifying purchases. This post may contain affiliate links.
Looking to enrich your Peacock Unit Study with engaging and educational activities? We have the perfect solution for you! Our collection of seven free printable peacock worksheets offers diverse learning experiences.
From literacy and math to science, mazes, and colouring, these worksheets will captivate young minds while exploring the fascinating world of peacocks.
Additionally, don't forget to explore our extensive selection of worksheets for kids, covering a wide range of themes and topics for holidays and beyond.
Related: Peacock Facts for Kids
Peacock Worksheets for Kids
This free printable pack includes seven Peacock Worksheets suitable for Preschoolers, Kindergarten and Beyond.
This would be a great addition if you are learning about Peacocks or doing a Peacock weekly theme in Classrooms.
Cut and Paste Part of a Peacock
This hands-on activity promotes fine motor skills and spatial awareness.
By cutting out and pasting different parts of a peacock, children learn about the bird's anatomy while developing their scissor skills and hand-eye coordination.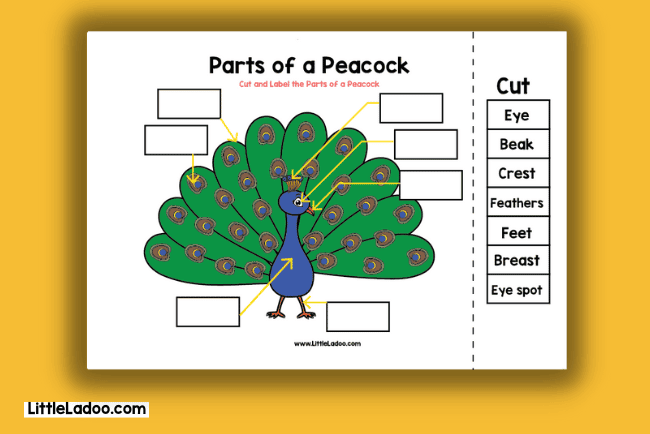 Peacock colouring Page
With their intricate feathers and vibrant hues, peacocks provide a fantastic canvas for young artists to explore their imagination.
Colouring not only enhances fine motor skills but also helps children learn about colours and develop artistic expression.
Peacock Maze Worksheet
Mazes are not only entertaining but also boost problem-solving and critical-thinking skills. Our peacock-themed maze worksheets challenge children to navigate twists and turns to find the correct path.
Letter "P" worksheet
This worksheet offers a structured approach to letter P formation and helps children become more confident writers.
By tracing and practising writing this letter, children strengthen their fine motor skills and begin their journey into literacy.
Fill in the missing Numbers and Letters Worksheet
These worksheets reinforce number and letter recognition and sequencing skills.
By incorporating peacock illustrations and vibrant colours, these worksheets make learning numbers an enjoyable experience.
So here is a summary of various activities included in the Worksheet pack.  Download these worksheets at the end of the post by signing up!
Peacock colouring Page
Cut and Paste the Parts of the Peacock
Fill in the Missing numbers
Fill in the missing letters
Complete the Maze
Practice writing the Letter P Worksheet
More Fun Worksheets for Kids
More Peacock ideas for kids
Download the Peacock worksheets
Download and print these engaging resources today, and watch as your children have a blast while developing essential skills.