All activities should be supervised by an adult. As an Amazon Associate, I earn from qualifying purchases. This post may contain affiliate links.
Today is Vinayagar Chadurthi/ Ganesh Chadurthi which means the Birthday of Lord ganesha. I am sharing a Fun project that we did yesterday – the Paper Plate Ganesh Craft.
It is an easy project that can be done with kids of all ages. It is a great way to teach them about the Hindu god, Ganesha.  Let's get started.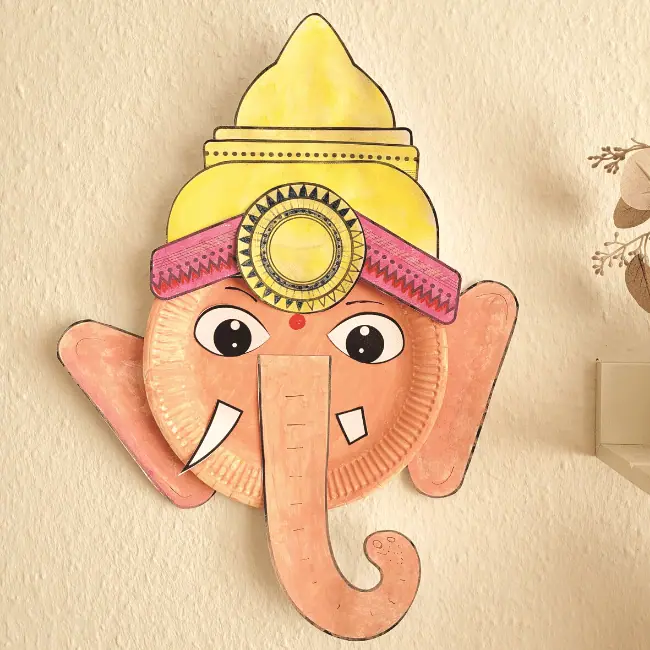 Who is Lord Ganesh?
Ganesha is a popular Hindu deity and is the son of Shiva and Parvati. He is typically depicted as a human with the head of an elephant. Ganesha is widely revered as the lord of good beginnings and the remover of obstacles.
This craft is an easy way for kids to make their own Ganesha.
You will need
23 cm Paper plate
Scissors
Ganesha Template
Crayola washable paint
Cardstock for printing
Directions
I did this along with my daughter and I do not have any progress photo as such and I am sharing only the final result. I will soon add a Step by step Picture s and a Video Tutorial. Now here is a Brief of the process.
Download the template at the end of the post. Print it on cardstock for better results. If you use regular printing paper, the paint will soak the paper.
First, paint the paper plate skin colour. we got  skin colour while mixing yellow, while and Pink. Paint the ear and Trunk as well with the same colour.
All crown related parts except one should be painted Yellow. The v – shaped part of the crown one can be painted with any contast colour.
Now cut out all the pieces and glue it respectively on the paper plate. I have a Ganesha picture on the template for you to refer and make.
Finally you can add some details like Bindi, trunk marks, Eyebrows. You can also add details on the crown with 3D Puffy Paints or glue some fancy stones. We chose to keep it simple and so here is ours.
Now are you ready to try this paper plate craft? if you want to save it for later, pin the above image.
Download the Ganesh template
I am thinking to make a few more Paper plate Gods Next month. Let me know what you think of this craft and if you would be interested to see more of these. Thanks!