All activities should be supervised by an adult. As an Amazon Associate, I earn from qualifying purchases. This post may contain affiliate links.
If you are doing an Educational adventure about India with your child, the first step is to familiarize them with India's location on the global map, specifically within the continent of Asia.
For the same, I've created a pack of engaging India Worksheets that provide valuable insights into India's geographic context.
Kickstart your India Unit Study with the India Location Worksheet Pack! 
Our journey has already encompassed a ton of India-India-themed crafts and Activities for kids, all conveniently accessible through the Master List of India-Themed Activities.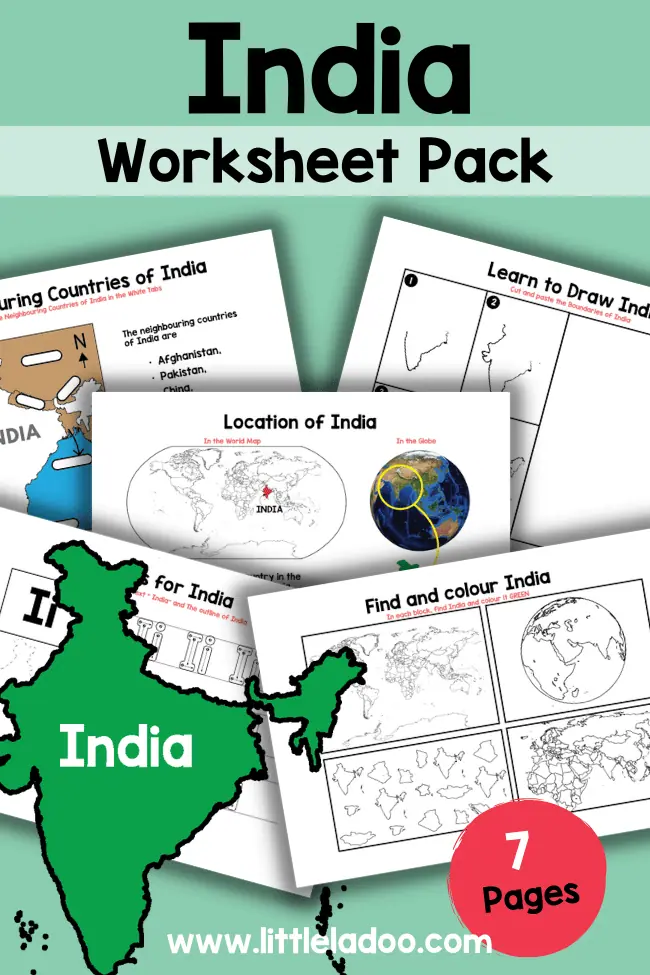 The Contents of the India Location Worksheets Pack:
This Free printable pack has 7 pages that help kids learn and practice
1. Location of India
2. Boundaries of India
3. Neighboring Countries of India
4. Guided Drawing: How to Draw India
Check out the Pages in this invaluable collection, designed to assist children in comprehending and mastering the following key aspects:
The exact location of India on both the world map and the globe, accompanied by intriguing facts about the nation.
Hands-on practice: Children will joyfully engage in locating and colouring India within designated blocks.
Enhancing fine motor skills: Tracing the term "India" and honing drawing abilities by sketching the country's outline.
Guided Drawing: A dedicated sheet providing step-by-step instructions on artistically rendering the map of India.
Children will colour India while identifying the number "28," symbolizing the total states within the nation.
A creative cut-and-paste exercise: Children will cut out the boundaries of India and affix them precisely in their designated locations.
Kids learn the boundaries of India and inscribe their names with parental guidance.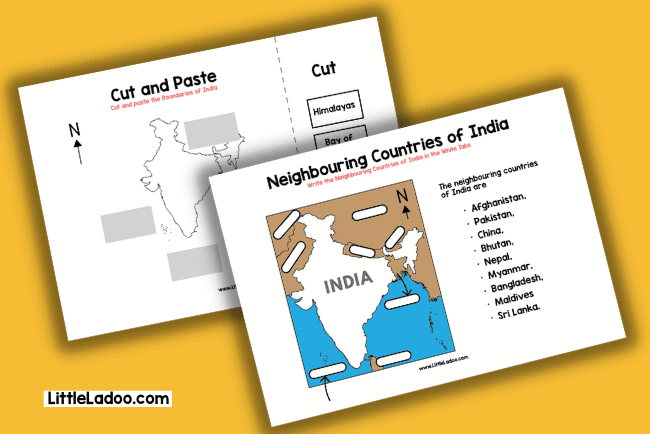 This immersive learning experience is thoughtfully crafted to ensure active engagement.
By writing, colouring, tracing, cutting, and pasting, children will forge lasting memories of vital concepts, including India's location, boundaries, neighbouring nations, the number of states and union territories, and the art of map drawing.
Elevate your child's India Unit study with this remarkable Worksheet Pack, available for free download at the end of this post, with a quick sign-up process.
To check this blog later, Pin this image for the Future!
More India Activities for Kids
Extend the learning journey by delving into India's physical features with a playdough map, adding a tactile dimension to the exploration.
For a more extensive and immersive educational experience, consider getting the Political Map of India Pack, a comprehensive resource that encompasses flashcards, location cards, entertaining puzzles, and more.
India Busy Book Printable
We have an all-in-one Learning binder printable covering 11 topics about India's Location, national symbols, Food, dance, monuments and more!  There is so much information that you can teach your child with this binder.
Watch a Quick preview of the Activity pages of the India Learning binder.
Download the India Worksheets