All activities should be supervised by an adult. As an Amazon Associate, I earn from qualifying purchases. This post may contain affiliate links.
Tulips are stunning flowers that come in various colours and are often associated with springtime. Creating a Fork-Painted Tulip Craft is a perfect way to celebrate the beauty of this flower and engage in a fun activity with kids.
In this tutorial, we will show you how to make a Tulip Craft using a free printable template and washable paint.
The end result is a colourful and textured craft that kids will love. So, let's get started!
Be sure to also explore our collection of Fork painting ideas for even more creative inspiration.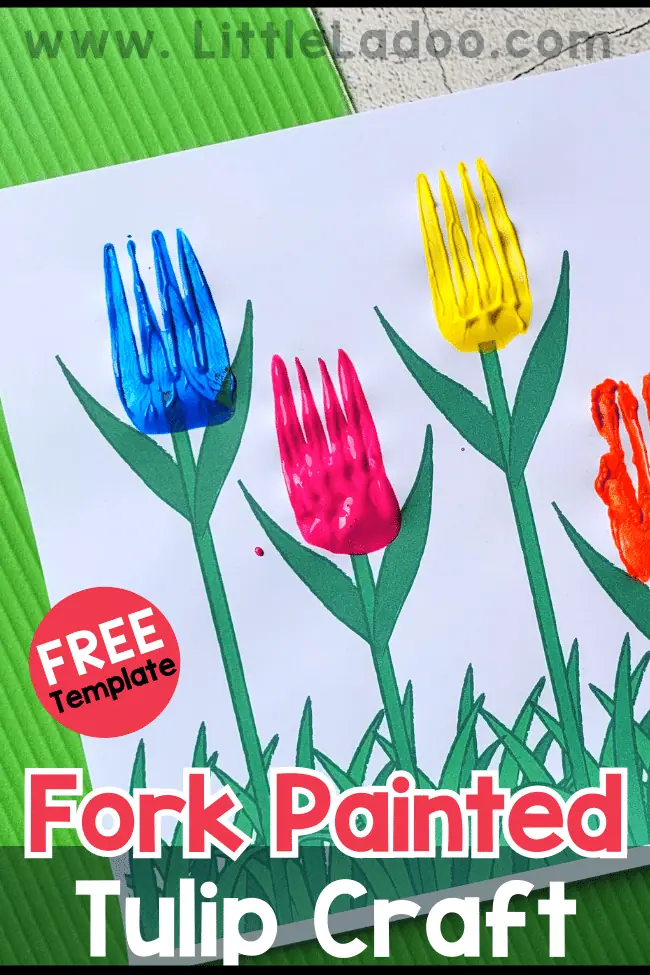 Things you will need to make this Fork-Painted Tulip Craft
Tulip Template Printable
Fork
Direction to make the Fork-Painted Tulip Craft
To make a Fork-Painted Tulip Craft, start by downloading the free printable tulip template provided at the end of this post. Print it on Thick paper like card stock.
Prepare the desired tulip colours of washable paint and have a fork ready.
Dip the fork into the paint and press it above the stem on the template, with the prongs of the fork facing upward.
Repeat this process to create up to five tulips on the template, using different colours for each to make a unique and colourful artwork.
This simple craft is perfect for kids of all ages, and even toddlers can make it with fantastic results. However, it's essential to keep an eye on young children while they work with a fork.
The end result is an adorable tulip craft that kids will be proud to display.
Tips and Tricks to make beautiful Tulips
For optimal results, it is recommended to print the template on cardstock or paper with a weight of at least 120gsm. Regular printing paper with a weight of 80 GSM may tear or get soaked when the paint is applied.
Instead of disposable wooden spoons, it is better to use steel forks from the kitchen, which can be washed and reused for future craft projects.
To achieve beautiful fork impressions, make sure to dip the fork generously into the paint before applying it to the template. This will ensure that the paint is evenly distributed and creates the desired textured effect.
More Fork Painting Crafts for kids
If you love this Tulip craft, you will also enjoy doing these ideas.
So ready to do this Tulip Crafts? Download the tulip template from the end of this post. To do the craft Later, save the image for future reference and complete the craft at your convenience.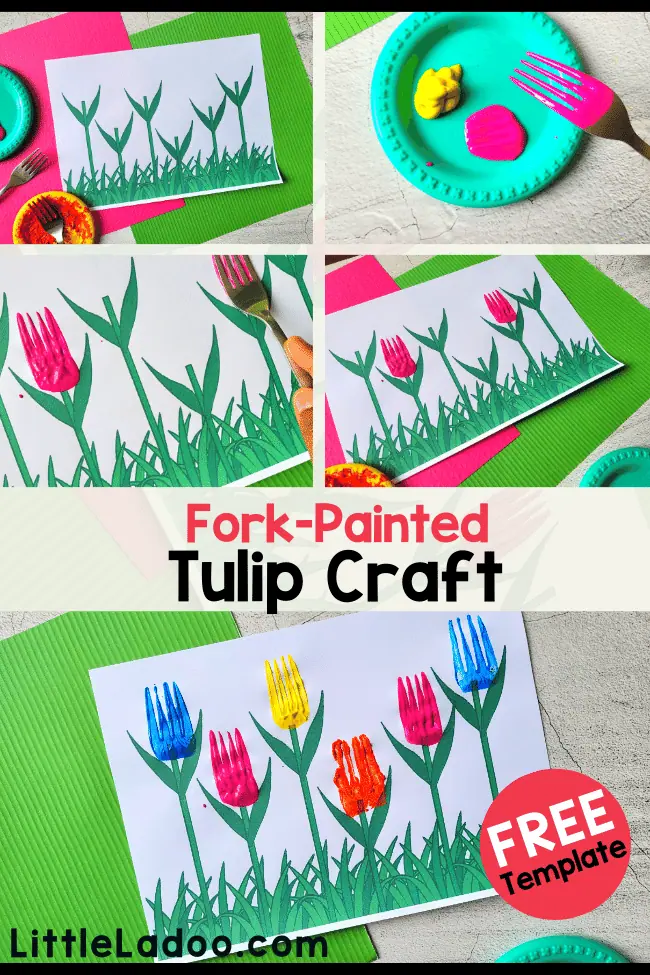 More Flower Ideas for Kids
Tulip Facts for Kids
Tulips are part of the lily family and are native to Central Asia.
Tulips come in many colours, including red, yellow, pink, purple, and white.
During the 17th century, tulips were so valuable in Holland that they were traded for goods and land.
Tulips are known for their unique shape, which resembles a cup or a bell.
The Netherlands is the largest producer of tulips in the world, with over 3 billion tulip bulbs produced annually.
Shop Supplies for Fork Painting Crafts
Download the Tulip Craft Template