All activities should be supervised by an adult. As an Amazon Associate, I earn from qualifying purchases. This post may contain affiliate links.
This Fork-painted Sun craft is one of the easiest crafts we have made. You just need a fork, Yellow paint and paper to have fun creating Bright sun!
To find even more creative inspiration, be sure to check out our collection of Fork painting ideas for Kids.
Things you will need to make this Fork-Painted Sun Craft
Fork
Yellow and blue Construction Paper
Direction to make the Fork-Painted Sunflower Craft
You have the option to create a Sun craft using either blue or white paper. We experimented with both colours, but we will be showing the Step by step process using white paper.
To begin, cut a circle with a diameter of approximately 5 to 6 cm and paste it at the centre of the paper.
Next, it's time to start the fork painting. Dip the fork in yellow paint and press it onto the paper around the yellow circle.
Once you've completed one layer, expand the circumference by painting another layer. You can create 2 to 3 layers to make a large, fork-painted sun craft.
Allow it to dry. Here is another Sun craft we created in a similar fashion on blue paper.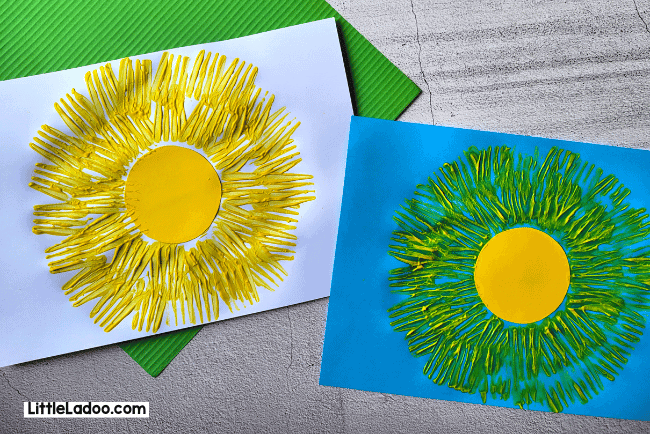 Although we initially thought that white paper would be the better choice, the blue paper resulted in a more vibrant sun after drying.
We recommend trying this fork-painted craft on blue paper.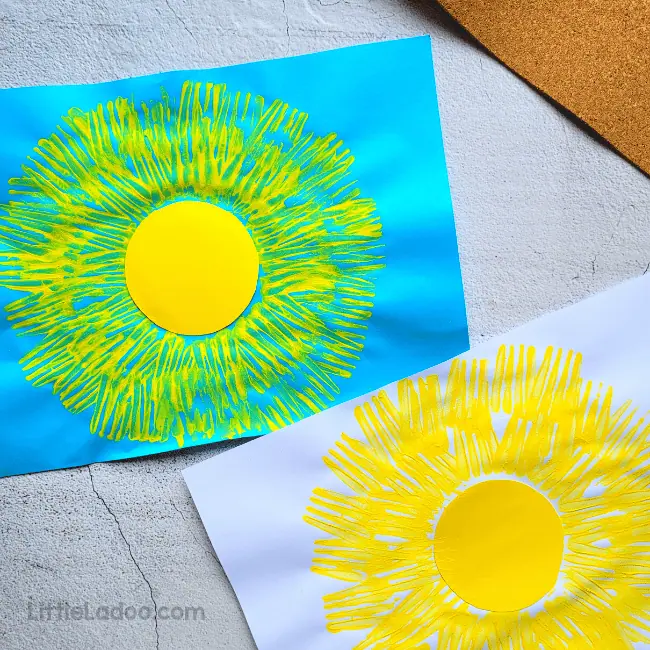 If you are looking for more Sun themed Activities, check out our Sun Roll and Cover Mat
Similar Fork Painting ideas for kids
If you love this sunflower craft, you will also enjoy doing these ideas.
The results of fork painting are often surprising and unpredictable, which can be exciting and enjoyable for kids.
Fork painting also allows kids to express their creativity and experiment with colour mixing, all while developing their fine motor skills and hand-eye coordination.
If you're eager to do this enjoyable craft later,  you can pin the image for future reference and return it at your convenience.
Learn Sun facts with a Fun Video for kids
Solar System Printable
Learn the Planets and Facts with this fun Interactive Matching Game! The Perfect addition to your Child's  Learning Binder.
3 Books about the Sun for kids
Combine this Fork painting craft with some fun picture books Featuring the Sun!
The Sun is my favourite Star is about a young boy who adores the sun for waking him up in the morning, following him wherever he goes, casting shadows, and playing hide and seek.
Sun Up, Sun Down teaches the basics about the sun, including its rising and setting, shadow-making, plant energy, and its role in forming rain.
The Sun is Kind of a Big Deal: This book is an informative resource for children who have an interest in the solar system. It presents facts in a fun and engaging way that is both interesting and suitable for kids.