All activities should be supervised by an adult. As an Amazon Associate, I earn from qualifying purchases. This post may contain affiliate links.
Children will find great joy in crafting this delightful Fork-Painted Wreath for Christmas. This project is perfect for engaging kids in creative activities as it's low on mess and doesn't demand specialized skills or equipment.
They have the freedom to pick their favourite colours and relish in the process of crafting their very own one-of-a-kind wreath
Don't forget to explore our wide range of enjoyable Christmas crafts and activity ideas for kids available on our blog.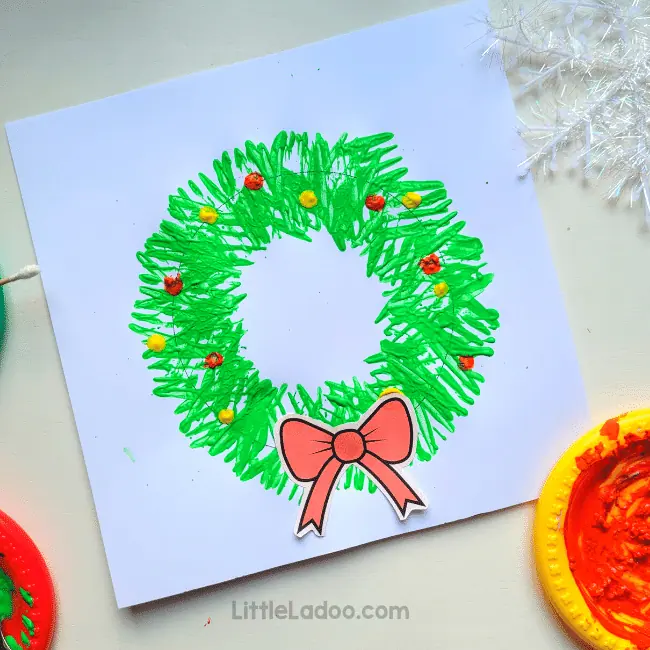 Things you'll need to make the Fork Painted Wreath
Directions to make a Fork-Painted Wreath Craft
You can make this wreath craft with our free printable template. This makes it easy enough that even younger kids can do it! Here's how to do it.
Download the template at the end of the post and print it on Thick paper. Cut the Red Bow out.
Gently dip the Fork in the Paint and Place it over the Circle on the Paper.
Repeat the process until the circle is fully covered.
Continue the process by changing the angle of the fork and making patterns of the wreath all around.
Make the Wreath denser. The fork creates the beautiful pattern of the wreath. For a more appealing look use different shapes of green.
Now let's make some colourful dots with Q-Tips and paint. You can Stick small-sized Pom Poms to give a 3D effect.
The Fork-Painted wreath is almost done!
A few more Fun Christmas crafts that kids can create easily by painting with a fork are the X-Mas Tree Craft and the Baby Jesus Craft. 
Complete the Wreath look by pasting the bow over the Wreath.
The wreath is ready! Once completed, it can be proudly displayed on the wall or door, adding a festive touch to your holiday decor.
I hope you liked this easy craft idea made with Fork.  On our Website we have a number of Fork Painting Art Ideas, check them out as well!
You might also like our Christmas Activity Bundle
More Wreath Ideas for kids
Pin this Fork painting idea for later!
Download the Template
Although you can do this craft without a template, it is much easier when you do it with a template. Get the wreath Template now by signing up in the form below. The printable has 2 wreath templates.