All activities should be supervised by an adult. As an Amazon Associate, I earn from qualifying purchases. This post may contain affiliate links.
What's more fun for kids than doing Holiday-themed Activities? Here are 22 Interesting Christmas Activities for kids that keep them engaged and have fun at the same time.  From Easy Crafts to Printable Activities, there is something here for everyone who loves to get into the Holiday Spirit with Fun Activities.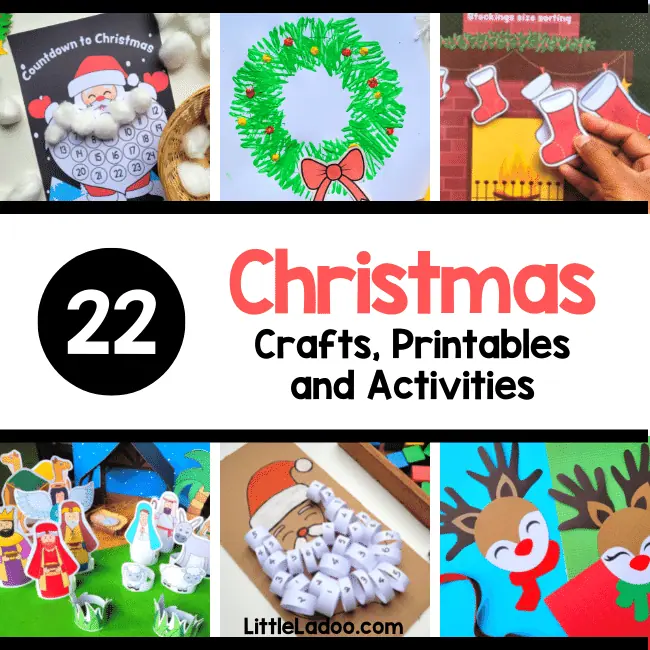 Best Christmas Activities for kids
I have listed 20+ Christmas ideas for kids. To learn more about each idea, please click on the Heading and it will take you to the respective Blogs, where you will be able to Learn more and download the free printables.
Now let's Dive in.
Do you have the Tradition of having an Advent calendar for your Kids?
You can Download this Free printable Countdown to Christmas and let your kids add a Small cotton ball to each circle every day starting on December 1. When Santa's Beard is Full, Christmas will be here.
Advent calendars are a Kid's best friend to keep track of "How many more days until Christmas," on their own and monitor their excitement.
Nothing says "Merry Christmas" more than a Homemade Santa Craft! You just need a Paper plate, Paint and our Free printable template to make this Paper Plate Santa craft.
This keepsake art is super easy and Turns out adorable. Kids always love handprint crafts and this one is no exemption.  The best part is you do not need any special supplies other than Paper and Scissors. Don't forget to download our free template to make the project easier.
Looking for a much easier version? Make this Paper Plate Reindeer Craft! You get to make 4 Reindeer with a Single Paper plate. Just Cut, Paint and Glue the Eyes, Nose and Antlers. Tada!
This is one of the easiest ways to make a Christmas tree. All you need is just a Fork and paint. Dip it in Green paint and make the pine needles of the Christmas tree. Although you can make this craft without a template, The template helps kids to make it perfect.
The wreath craft is very similar to the Xmas tree craft! You can decorate it with small pom poms or ornaments. This is perfect to display your artwork on a wall or window.
A Nativity scene is a great way to teach kids about the story of Christmas. And what better way to set up your own Nativity scene than with a craft printable?
Just print out the template, cut out the pieces, and assemble. It's that simple! Plus, you can use the Printable over and over again, so it's a great way to save money. So why not give it a try? Your kids will love it!
Get the Printable here
What would bring more joy than a Greeting card made by a kid? Here are 4 easy ideas to make Christmas cards.
Here is a Free printable letter for kids to write what they wish for this Christmas. You can simply print out a pre-written letter and get started right away. This is especially helpful to know what the child desires the most.
There is two version – where the child can write the name or Draw the desired gift.
Get into the Christmas sprint with these free printable Christmas colouring pages. There are 7 pages in the printable pack.
Looking for another No prep activity for preschoolers? Print out these 5 fun Christmas worksheets!
A challenging Visual perception activity for Preschoolers. Kids need to find a colour block that has the same colours as the present and match them. The free printable pack has 12 sets and it is perfect to make a busy bag Activity.
This activity can be introduced to toddlers as well, starting with 3 or 4 sets.
Snowman Hat matching is a fun Hands-on Activity for Toddlers to match and learn colours. There is another set for preschoolers, where they match the hats that has the same pattern. Visit the Snowman Hat matching Blog to download the Printable.
This Christmas Busy book is all you need to keep your Toddlers and preschoolers engaged with tons of Learning Activities and fun Games. It is Jam-packed with 20+ unique activities that kids love to do. Includes 8 playdough mats as well.
Kids love cutting with scissors! Lets the kids Trim Santa's beard with these Santa Scissor Skills cards. This is an interesting way to improve Fine Motor Skills.
We created this Santa Math game on Cardboard. It is perfect for kids to practice counting and number identification. Playing with Dice also helps with Number subtitling (The ability to say the number of things without Counting)
You might enjoy this Cardboard Dexterity Puzzle, the Goal is to get all the marbles in the Holes! It is super easy to create this DIY. You just need a Shoe Box and some popsicle sticks.
Wreaths are easy to make if you have disposable paper plates at home. Just Cut the centre part and give any materials for your child to decorate it! Here is my little one's craft using crepe papers and Pom poms.
We also created this Wreath with twigs we collected during the Fall season. Kids may need a little help while doing this Activity!
A complete Christmas activity pack that included Literacy, math, art and craft and also a Few worksheets that cover basic skills.  It is a must-have bundle for the Holiday season to have kids learn in a Hands-on Way! See all the Activities. 
One of the best ways to get the kids into the holiday spirit is to read Christmas picture storybooks aloud. These books always contain a festive message that reminds us of the true meaning of Christmas. They also feature charming illustrations that bring the stories to life. Reading Christmas storybooks is a tradition that can be enjoyed by people of all ages, and it's one that will help to create lasting memories. Check out all the Picture Christmas books for Children. 
Christmas Video
This Christmas video is perfect for kids to learn
What is Christmas?
What is the History of Christmas?
What are the Christmas traditions?
Christmas Movies
Here are some of the Christmas movies that we love and would recommend.
Klaus (2019)
Rise of the guardians (2012)
Star (2017)
The Grinch (2018)
Angela's Christmas (2017)
Arthur Christmas (2011)
All I Want for Christmas Is You (2017)
The Polar Express (2004)
All I Want for Christmas Is You (2017)
Olaf's frozen adventure (2017)
All of the above lists are Animation movies.
Jingle Jangle: A Christmas Journey (2020)
The Christmas Chronicles 1(2018) & 2 (2020)
We like watching Seasonal and holiday movies on the weekends as a family. Save the list for later and have fun!
Did you find these 22 Christmas Activities for kids helpful?
I hope you will try a few Activities and let me know how you enjoyed them!
I will be adding more Ideas every year. So Pin this Image to come back later. Thanks:)