All activities should be supervised by an adult. As an Amazon Associate, I earn from qualifying purchases. This post may contain affiliate links.
Looking for a fun craft project for kids with Paper Rolls? Why not make a Toilet Paper Roll Macaw craft?
This bird is one of the most popular pets in the world, and kids will love creating their own version of this colourful pet.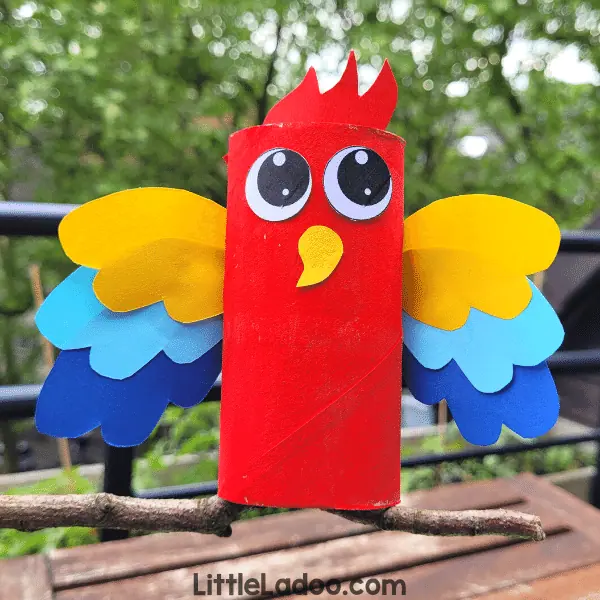 This post contains affiliate links.  As an Amazon Associate, I earn from qualifying purchases.
Toilet Paper Roll Macaw Craft for Kids
This Easy project is Perfect for Kids of all ages. Not only is it fun and easy to make, but Great to play with afterwards. Plus, there's a free template to make the project even easier.
The finished product will look great on a shelf or hanging on a wall.
Things you will need to make a Macaw craft
You just need a couple of things to make this Toilet Paper Roll Macaw Craft
Toiler Paper Roll
Macaw Craft Template (Download it at the end of the post)
Scissors, Glue
Construction Paper or Cardstock in colours – Yellow, Blue and Red
Red Paint
If you do not have Toilet Paper Roll at home, You can Buy a Pack of Paper Roll tubes. 
Watch the Video Tutorial Here
How to Make a Toilet Paper Roll Macaw
Download the craft template, print and cut the pieces out. Use these template Pieces to cut The Wings in three shades, a beak and the head feature.
Pro Tip: To cut the wings (6 pieces) stack the 3 three colour paper, fold them in half and cut the wings at once with the template (Please check the video to see how we did it)
Now Paint the Tissue Roll Red. Let it dry for 10 mins.
After the Tissue roll dries, Press it a little to flatten a bit such that the cross-section is now oval.
All the Parts are ready. Let's glue them together. First, arrange the Wings in order and glue them together.
Attach either wing to the rear of the Tissue roll with glue.
Consequently, attach the Eyes and the Beak.
Finally, add the Head feature to the inner side of the paper roll and your Macaw is ready!
This is such a great idea to recycle the Tissue Rolls at home and make something fun for kids to play with.
We have many such fantastic ideas using Toilet Paper rolls
For more similar Chafts check out Toilet Paper Roll Craft for Kids
Love this Toilet Paper Roll Macaw craft and want to save this idea for Later? Pin this image.
Download the Macaw Template
Click on the button below to download the Template. Each Page has 2 Macaw Craft Templates.