All activities should be supervised by an adult. As an Amazon Associate, I earn from qualifying purchases. This post may contain affiliate links.
This Easy Toilet Paper Roll Frog craft is perfect for kids of all ages! Not only is it fun to make, but Great to play with afterwards.
Plus, there's a free template to make the project even easier.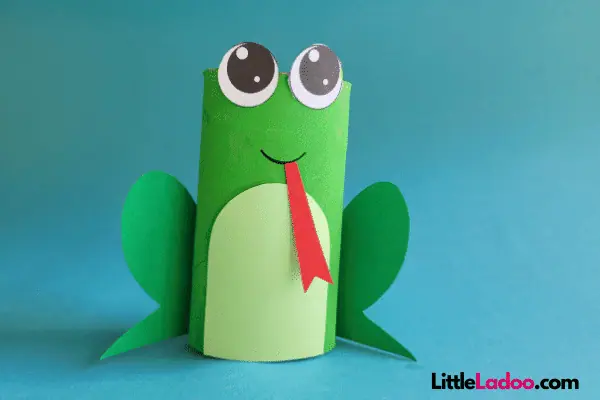 This post contains affiliate links.  As an Amazon Associate, I earn from qualifying purchases.
Toilet Paper Roll Frog Craft
Frogs are a popular topic for kids' crafts because they have interesting features and are colourful! Kids can also get creative and make frogs in different colours and add their personalities to them.
Things you need to make this Frog craft
You just need a couple of things to make this Toilet Paper Roll Frog Craft
Toiler Paper Roll
Frog Craft Template (Download it at the end of the post)
Scissors, Glue
Construction Paper or Cardstock in colours – Red and 2 shades of Green
Black Marker
Green Paint
If you do not have Toilet Paper Roll at home, You can Buy a Pack of Paper Roll tubes. 
Watch the Video Tutorial Here
How to Make a Toilet Paper Roll frog
Download the template and cut the pieces out. Use these template Pieces to cut The Legs, Body and tongue with Green, Yellowish green and red.
Now Paint the Tissue Roll Green. Let it dry for 10 mins.
After the Tissue roll dries, Press it a little to flatten it a bit such that the cross-section is now oval.
All the Parts are ready. Let's glue them together. First Paste the legs to the rear of the Tissue Roll. Next, the Eyes and the Yellowish Green Body are Pieces to the front.
Add a Smile to the frog's Face with a Black Marker and Paste the Tongue.
Optionally, You can add some Lily pads for the frog to Hop! Hoppity Hop Hop!! The Frog is Ready!
This is such a great idea to recycle Toilet Paper Rolls at home and make something fun for kids to play with. We have many amazing ideas that you can do with Toilet Paper Rolls.
Cut them in half, fringe edges, paint and make Toilet Paper Roll tealight Holders!
Press the Roll, close the edges, paint and make Cool Toilet paper Roll popsicles! 
Or make Simple Owl Craft with a free printable template. We love these beautiful Toilet Paper roll Bracelets!
Love this Frog Craft and want to save this Craft for Later. Pin this image.
Learn the Life Cycle of Frog
If you are doing a Unit study about frogs, check out this Interactive learning page to Learn the Life Cycle of frogs.
Books about Frog
Club your Frog craft with some Fun Frog themed Picture Books! We personally love the entire Oi frog Series! It is very Hilarious.  Check out all our Favorites
Download the Frog Template
Click on the button below to download the frog template and enjoy making your own Toilet Paper Roll frogs!